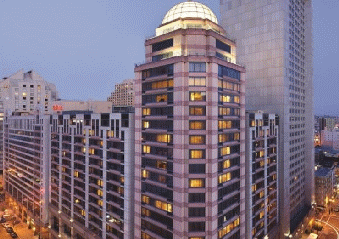 "San Francisco--On this trip it was a road down memory lane"

by Joe Hilbers
Writing about travel is not the same when the subject is the city where your grew up. For now the names have meaning and often memories. All this came to mind as I looked out at my San Francisco from Hilton's Union Square CityScape Bar and Lounge 45 stories high. Here the view was 360 on a wonderfully clear evening and the whole city lay before me.
San Francisco is a city with colorful names. Its hills are legendary and part of its character. There is Russian Hill, Nob Hill, Mt. Davidson, Lone Mountain, Bernal Heights, Telegraph Hill, Twin Peaks, and Potrero Hill, to name a few.
Then the memories of other names .My folks had friends who had once lived on Russian Hill, North Beach was my grandparents home until they had to flee their residence forever when the earthquake struck in 1906. South of Market is where my Father worked and the Mission District was home to many of my cousins. The Embarcadero was my workplace for a few months between my graduation from Lincoln high school in the Sunset District and induction into the U.S. Army.
Always the interesting names. Hunters Point, Lands End, China Beach, Mt. Davidson, which was my playground as a youth, and the list goes on with Chinatown, Maiden Lane , Fisherman's Wharf and Tenderloin.
All of this we viewed over cocktails at the dramatic Cityscape Bar and Lounge. For any visitor this should be considered a must for seeing almost all of this city that is unique not only to the USA but the world.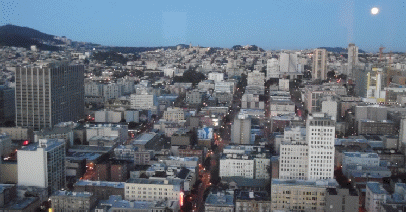 Our room on the 42nd floor of the Hilton tower showed an equally exciting panorama view of the city looking west all the way to the ocean. This four Diamond Hotel was our lodging on an assignment to write about, what was once upon a time, my home and workplace. And what lodging indeed. In another direction the Golden Gate Bridge and a large sweep of bay.
From the moment we pulled into the garage with valet parking and immediate check-in we knew that this Hotel was indeed special.
We thought the Urban Tavern was a particularly interesting hotel dining room.
This restaurant has been designed to show a contemporary California cuisine with a decor that hints of the past with unpainted wood beam ceiling and native southwest designs but otherwise strictly 21th century.
We had the opportunity to meet and discuss Urban Tavern with James McCasland, Hotel Concierge Manager and a member of Les Chefs d'Or USA.
The menu is divided with names like smalls, not so smalls, bowls and sides. Chef is Michael Raub who offers foods that emphasize fresh vegetables that appear in every entree.
From Smalls that included chicken meatballs or spiced cucumbers we chose the braised Spanish Octopus which came with gigante beans. Our Not so Small entrees were the Brandt Beef Skirt Steak which came with crispy potato, wild mushroom and toy box tomatoes. Also Pacific Northwest Arctic Char with beluga lentils, roasted brassicas and fennel.
Pastry Chef is Caryn Martinez and from the desserts listed simply as Sweets we chose the TCHO Sea Salt Brownie Skillet with honeycomb candy, brandied cherries, hazelnut and orange whiskey jelly For the quality of the food and personal excellent service we thought the prices moderate.
There is a full bar and lounge and places to enjoy snacks. The wine list extensive, both by the glass and bottle.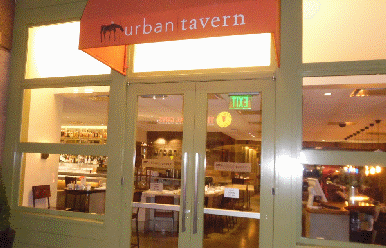 Visitors are drawn to San Francisco for its atmosphere, ambiance, scenic beauty and restaurants. Leading attractions for visitors are in order Pier 39, Golden Gate Bridge and Golden Gate Park. Attractions like Fisherman's Wharf, Chinatown, Alcatraz and North Beach, then add the City's legendary fog, and you find the reason that San Francisco hosted 24.6 million visitors last year, some from other countries around the world.
For better or worse, from its earliest beginnings, San Francisco has always been in the limelight. It was the port of entry for the Gold Rush which made it a sprawling town almost overnight. Then the 1906 earthquake and fire were events known worldwide.
Also many famous writers have written about San Francisco. They include Richard Henry Dana, Bret Harte, Mark Twain, Jack London and Peter B Kyne to name just a few.
There is its cosmopolitan ambiance as the most European of any American city with so many ethnic groups and neighborhoods. Most recently one can add the Thai and Vietnamese sections of the city adjacent to Van Ness and Latin dominance of the Mission District.
With Pier 39 listed as number one tourist attraction we had to go there. And sure enough there were people there, lots and lots of people. The California Welcome Center is there along with dozens of specialty shops. It is also a great place for taking photos of Angel Island, Alcatraz and both the Golden Gate and Bay bridges.
We would have liked to visit the Aquarium of the Bay but time was not on our side. Here there are fourteen restaurants and since seafood is our thing we chose the Fog Harbor Fish House and we will have a full review of this most interesting restaurant.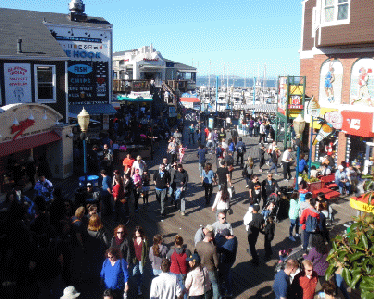 On this visit I took another travel writer with me on a tour of homes, streets and places that played important roles in my family's history. This included my grandparents places of residence as well as my scenes of adventure while growing up in Sunnyside district. Also the restaurant site where my Father proposed to my Mother and the museums and places of interest I visited as a child. Then the former homes of my aunts, uncles and cousins.
While San Francisco has changed since the days of my youth much has not. I had no trouble locating all the homes of family and friends. They were all still there and most looked unchanged but also well kept. There were still familiar memories to recapture on a drive down Mission Street. My Uncle's barber shop is still there. And Dolores Street still looks as it did when my folks took a picture of me there as an infant.
The abundance of cars has changed the residential districts in some ways. The street where I grew up had plenty of room for street games of football or baseball but because of car street parking it is now one way and many of the other streets in my old neighborhood are one way as well.
The view from our room on the 42nd floor of the Hilton was entertainment of its own. The weather remained clear and the sunsets were truly dramatic. One evening, as we watched, after the sun set a golden glow appeared and seemed to get brighter and brighter until at last it was dark and the show was taken over by Venus.
In early morning there was a full moon with its light glistening on the waters of the Bay. We would just stand there and watch as the city awakened and slowly came to life. Then it was time to start our day which included a visit to the Marina District and luncheon at The Dorian which will be reviewed.
Then there was the drive to the great Ocean Highway and on to the Sunset District and one more look at Abraham Lincoln High School where I had attended so many years before.
Back to Table of Contents..
Last Update:3/19/17
&copy 2017 Joe Hilbers All Rights Reserved.
Graphic Design by Impact Graphics