San Francisco--At Pier 39 our dining at Fog Harbor Fish House was memorable
When talking about dining and restaurants in San Francisco the subject sooner rather than later will move to Dungeness Crab. This crustacean is identified with San Francisco the way Lobster is linked to Maine. The Dungeness Crab season, which occurs in the winter months, is looked for with anticipation. The alumni of my high school scheduled a "Crab Feed" each year as one of its scheduled events.
So when we learned that at Pier 39 the Fog Harbor Fish House even had a special menu devoted to Dungeness Crab it was a given that we would seek it out. It also happens that Pier 39 ranks as the number one tourist destination in San Francisco.
And there was no reason to believe this was not so for indeed there were people everywhere the day we were there. And it follows that the Fog Harbor Fish House was very busy as well. It was immediately apparent that many other people had learned of its Dungeness Crab menu as well.
However the regular menu is also large and devoted to many seafood cocktails, an award winning clam chowder and a large selection of fish and seafood entrees. Moreover the meat and poultry menu is complete as well.
The restaurant has a full bar and lounge and a whole page is devoted to the premium wines of nearby Napa and Sonoma valleys. Lake County is famed for its Sauvignon Blanc so we selected a 2016 Robledo and were not disappointed.
We met with Shawn Hall, dining room manager and then Ryan Simmons, general manager, to learn more about this amazing restaurant. Then a window seating with a view to the Bay, Angels Island and the Golden Gate.
The Simmons family operate two other restaurants in San Francisco, Wipeout Bar & Grill and Pier Market Seafood Restaurant. Ryan explained that all three restaurants recently made the transition in menus and now showcase all sustainable seafood offerings aligned with the Monterey Bay Aquarium's 'Seafood Watch' guidelines. Three generations of the Simmons family are a part of San Francisco's hospitality industry and Warren Simmons was the creator and developer of Pier 39 which opened in 1978. Ryan is Warren's grandson.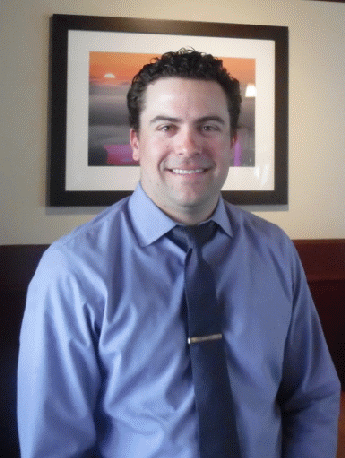 Learning of my devotion to Dungeness Crab Ryan suggested the steamed crab served in the shell with butter and roasted fingerling potatoes. Other exciting possibilities included Dungeness Crab Louis, a Crab Roll or the other Fisherman's Wharf classic, the Crab Cioppino, a tomato based stew with onions, celery and a whole crab topped with garlic toast.
When we asked Ryan if the restaurant is always as crowded as it was the day we were there he laughed and said actually it was a slow day and in summer the wait can be long for a table.
The restaurant does enjoy an ideal location on the second level of Pier 39, has both outside and indoor seating in the reception area and a perfect ambiance for its location.
Pier 39 has much to offer with sixty specialty shops, the Bay Aquarium and Fog Harbor is one of fourteen full service restaurants there. For more information on hours at Fog Harbor Fish House call 415 421-2442, on the web at www.fogharborfishouse.com.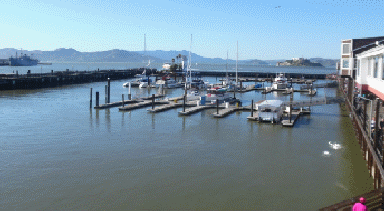 .
Back to Table of Contents..
Last Update:3/19/17
&copy 2017Joe Hilbers All Rights Reserved.
Graphic Design by Impact Graphics