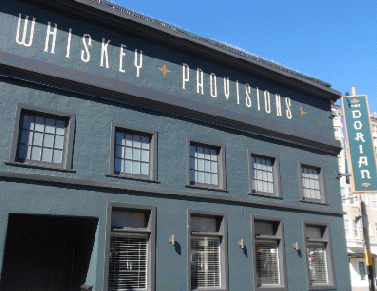 "San Francisco--When dining at The Dorian you know you are in this cosmopolitan City"

by Joe Hilbers
When we entered the Dorian Restaurant we knew we were in San Francisco. This restaurant suggests the rich Victorian culture of a bygone era with a decor of panels of antique artifacts and art, a classic chandelier and several seating options. We were there for Brunch while touring the Marina District of the City. As it turned out Brunch was a new addition to this restaurant which is known for its dinner service.
The cosmopolitan array that is San Francisco was immediately apparent to us as we noted people from three continents sitting together at one table.
The menu at Dorian emphasized that everything from snacks to entrees is designed to be shared if desired. The restaurant is divided with a circular bar and lounge at one side and dining in adjacent room. The wine list is large and there is a full selection of craft beers as well. The main bar area, with brass accents and a teal and purple color scheme, is anchored by a prominent whiskey display while upstairs there is a study which incorporates leather and dark wood.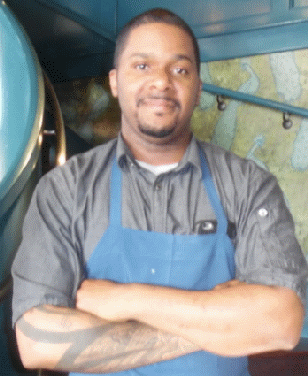 Our waitress was Courtney and she was wonderful, friendly and most helpful explainng the menu. We also had the opportunity to meet Chef Pierre Tumlin.
My dining partner and I had brought our appetites with us and so we both ordered the Dorian burger which came with fancy sauce, bacon jam, white cheddar, caramelized onion and fries. Other selections included mussels and clams, roasted Mary's chicken and American wagyu flat iron steak.
Some of the brunch offerings included Huckleberry Scones, grilled shrimp chop and soufflied French Toast with huckleberry and apple, which we were tempted to order before settling on the burger. Also steak and egg flatbread and mini royal burger sliders.
Unchanged is the signature dinner of classic American fare with highlights such as a Seafood Tower, Mussel Fries, Steak Tartare with smoked quail egg and a Ribeye with bourbon steak sauce. < P>We noted that a large selection of vegetable dishes like marinated beets, grilled baby eggplant, brussels sprouts with toasted hazelnut, hasselback potatoes and a spring vegetable succotash.
News that the Dorian was now serving Brunch on weekends must have got around fast since the restaurant was full when we arrived. As usual the only problem was parking, always the problem in this City.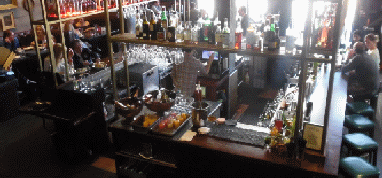 The Dorian is located at 2001 Chestnut Street at the corner of Fillmore Street in San Francisco. The restaurant serves dinner Tuesday through Sunday and brunch on Saturdays and Sundays from 11 a.m. to 3 p.m. For more information call 415 814-2671, on the web at www.doriansf.com.
Back to Table of Contents..
Last Update:3/19/17
&copy 2017 Joe Hilbers All Rights Reserved.
Graphic Design by Impact Graphics