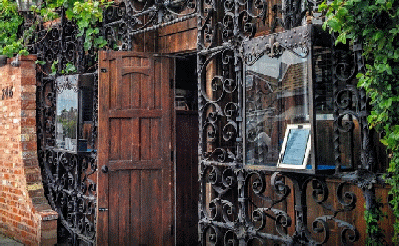 "Santa Monica--L'Ami Restaurant, in ambiance and cuisine, takes one to the French Riviera
The stars were indeed in their courses when we discovered L'Ami Restaurant. On 26th Street, where Santa Monica and Brentwood meet, we arrived at a restaurant that whisked us back to the French Riviera and the Mediterranean. For here was French ambiance, culture and cuisine that ensures fine dining in a romantic setting.
Owner Marc-Antoine Rambaud, General Manager Tropez Aubour and Chef Francis Bey were born and spent their early years in Southern France. At L'Ami they have combined their talents to show a menu that offers enticing appetizers and entrees, all with a Mediterranean influence.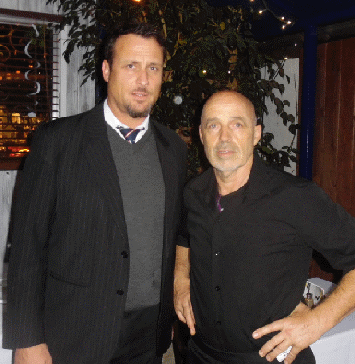 Adjoining the restaurant ,which you enter through an intriguing ivy covered iron gate, is a delightful bar and lounge, complete with fireplace, white shearling draped bar chairs and the perfect setting as a destination of its very own. Our dining party of three asked Chef Bey to display his talents and select some of his favorite appetizers and entrees for us to sample and enjoy. So soon before us was the Mezze Appetizer with homemade Pita, flatbread, kibbeh, falafel and Spanekopita. Also grilled Octopus, broiled mussels with crispy bread crumb and spinach and the beets-burrata tower that included baby arugula and candied walnuts. Also an outstanding Foie Gras au Torchon. which we all agreed was one of the best we had ever experienced. Our entrees started with Chicken Grand Mere that included mushrooms french beans, bacon, pearl onions and fingerling potatoes. To go with it the wild mushroom farro risotto.
Other entrees on the menu include Scottish salmon, roasted Maine lobster, baby lamb shank, and filet mignon. Service here is impeccable with the table swept clean after each course to be replaced with fresh china and silver. The wine list is large and offers selections from the best wine producing countries, world wide. Summing up L'Ami presents a classic French cuisine in a quiet, serene ambiance and an elegant graceful decor.
And like everything else the desserts are created on premise and showed great variety.
Chef Bey is no stranger to California having had his own restaurant in Venice for over a decade. Soon after our arrival we knew we were in a five star restaurant matching a memorable cuisine with exquisite service.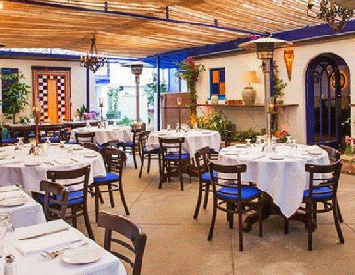 L'Ami Restaurant is located at 246 26th Street in Santa Monica and in the evening offers valet parking. It is open for dinner Tuesday through Sunday from 5:30 p.m. to 10 p.m. Lunch is served Monday through Friday from 11:30 a.m. to 2 p.m. On Saturday and Sunday there is a Brunch from 10 a.m. to 2 p.m. A special menu is available for those enjoying the bar and lounge.
Telephone 310 310-8064, web www.lamirestaurant.com.
Back to Table of Contents..
Last Update:12/16/16
&copy 2016 Joe Hilbers All Rights Reserved.
Graphic Design by Impact Graphics