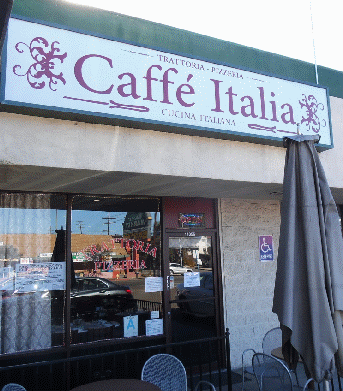 "Sherman Oaks--Caffe Italia delights with classic Neapolitan and Sicilian cuisine"

By The Editor
.
The San Fernando Valley, when it comes to restaurants, offers a large assortment of small eating places showing a huge variety in ethnic cuisines. Once we counted eleven restaurants within five miles of where we live all offering a different ethnic cuisine.
Which brings us to our latest discovery, Caffe Italia, which we found practically hidden in the backwaters of Sherman Oaks. Located in a strip mall on Burbank Blvd. here one finds excellent Neapolitan and Sicilian Italian appetizers and entrees as well as excellent pizza. The Sicilian dishes caught this Writer's eye since his heritage is from that Island . Caffe Italia is relatively new, opening earlier this year with a well planned menu, a chef with excellent credentials and a modest, comfortable rustic ambiance.
Owners are Partners Ferdinando Donadelli and Cosimo De Vaia, both, like this Writer, with Italian heritage and the concept of targeting the restaurant as a place for everyday dining with classic hearty fare of the Old Country.
We opened with the calamari and noted that it came with fried zucchini as well. We had not seen this pairing before but liked it and left not a morsel on the plate. Also the Burrata with creamy mozzarella, oregano, basil and arugula with a balsamic dressing.
There is, naturally enough, a large selection of pasta, some most intriguing, but this day we decided on classic spaghetti and meat balls in a light marinera sauce.
My dining partner, with more appetite, selected the grilled ribeye steak which arrived smothered in sauteed mushrooms, pan fried cubed potatoes and heaps of veggies. Our meat balls were excellent and the plate was so heaped with pasta that we had a full helping to take home with us as well. We did taste the ribeye and found it tender, moist and flavorful.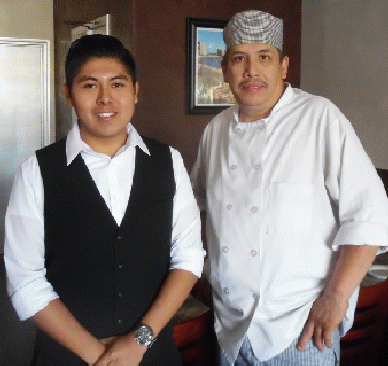 We had to find out more where all this good food was coming from and so cornered the chef, Gerardo Posa, when he wasn't busy. Gerardo has a much traveled career since starting in 1988 including a stint at one of the top restaurants in Aspen, Colorado.
He has been with Caffe Italia since opening and we told him how impressed we were with his talents. Our waiter was Edwin Vargas and he was a true gem. Actually he has been a waiter for only six months, but, my, how well he has learned his craft.
We did want a dessert and Chef Gerardo suggested the Torta di Ricotta which was a wonderful Ricotta Cheesecake. Unlimited refills of black tea completed our most satisfying luncheon at Caffe Italia.
Caffe Italia is located at 14056 Burbank Blvd., Sherman Oaks, 901401, Telephone 818 465-3690, web www.caffeitalia.biz. I t is open for lunch Monday thru Friday from 11:30 a.m. to 2:30 p.m. and dinner seven nights a week. Hours vary on weekends so call 818 465-3690.
Back to Table of Contents

Last Update:12/22/16
&copy 2016 Joe Hilbers All Rights Reserved.
Graphic Design by Impact Graphics