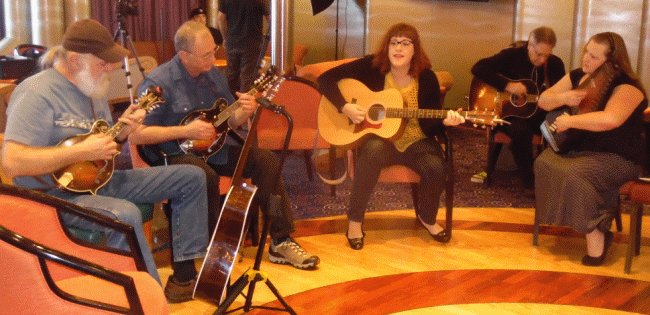 "Long Beach--We were 'picking and jamming' Blue Grass aboard Carnival Imagination"

By Joe Hilbers
.
Once again it was 'all aboard' for the Cruise2Jam taking place on the Carnival Imagination four day trip to Mexico.
This was the ninth year for this event and the fourth time we have attended. Early on Jerry Turner, the man who conceived the event, decided to make me a part of the group, not as one of the musicians but to write about it.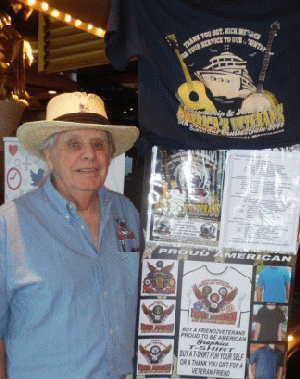 Again a large group of musicans were present ready for picking and jamming Blue Grass which has truly become a part of America's culture and heritage.
Aboard ship their circle gatherings take place on various parts of the ship deserted by regular passengers and scheduled events. One of the things I enjoy is how easy it is to meet individual musicans and learn about them and their music.
If anyone asked how to describe Blue Grass music in one word I would say it is mellow. The instruments are basically string with mandolin, upright bass, guitar, fiddle, resophonin guitar, banjo, but also mouth harp and harmonica.
We were fasicanated with meeting John Deckard who is a true artist with the Jewish Harp and Harmonica. We learned that the concept of the Mouth organ or Jewish Harp dates back to biblical times. We sadly recall having one as a youngster but never achieved much music from it.
Blue Grass is a form of country music that evolved over generations of Americans. Gospel and folk tunes enjoy major roles. It was in the 1950s that a musician named Bill Monroe coined the name Bluegrass after his native Kentucky. By the 1960s Bluegrass came into its own with aid from the soundtrack of the movie "Bonnie and Clyde".
Early on Jerry Turner decided to include some disabled veterans, from the Middle East conflicts, and their families on his Cruise2Jam events aboard Carnival ships. And again this year we had veterans joining the musicians. When I told each of them I am also a veteran the conversation began to flow.
Bluegrass is alive and well in Southern California. There is an annual Bluegrass Music Festival each year in Temecula. A San Diego North County Bluegrass Festival takes place each year in Vista as well.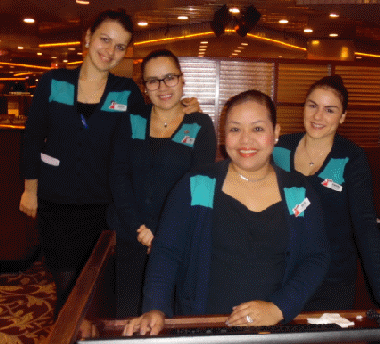 We were impressed with the quality of the food aboard Carnival Imagination both at Lido but especially in the two dining rooms, Spirit and Pride.
One menu showed appetizers including shrimp cocktail, Italian wedding soup, salmon cake and flatbread with bbq chicken to name a few. Also each evening there is listed "Rare Finds-- food you always wanted to try but haven't yet dared" One evening it was frog legs, another escargot bourguignonne. Entrees included penne mariscos, chicken chow mein or jerked pork loin and from the grill Salmon fillet, chicken breast, grilled beef tenderloin or pork chop.
The service is, without question, five star since most of the waiters and culinary staff are true professionals. Our Waiter, Miguel, who is from Costa Rica, is typical with some 20 years Carnival service. Maitre D' Sameer at the Pride Dining Room has been with Carnival 22 years.
Desserts included creme brulee, chocolate hazelnut cake, and coffee cream cake plus an assortment of ice creams.
We used the Pride Dining Room when ever possible but at Lido we did try their luncheon which features a different cuisine each day. The day we enjoyed lunch there it was French and most impressive and authentic.
Aboard we had the opportunity to renew our acquaintance with Hotel Director Guna Chellam and had our photo taken with Captain Antonio Durante. Also a photo shoot with Executive Chef Erwin Gomes and members of his staff.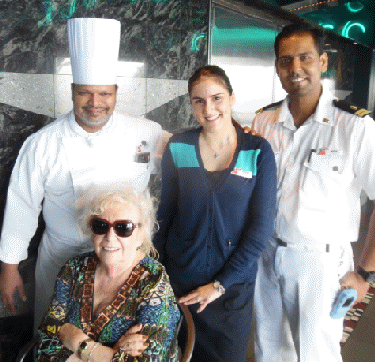 Back to Table of Contents

Last Update:2/10/17
&copy 2017 Joe Hilbers All Rights Reserved.
Graphic Design by Impact Graphics