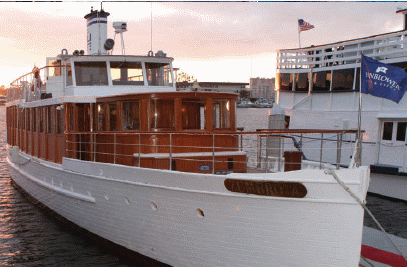 "Marina Del Rey--We enjoyed our cruise on Hornblower's 'Zumbrota'"
by The Editor
Nothing quite gives one a feeling of detachment from daily life like being on the water. We were reminded of this once again recently when we went aboard Hornblower Cruises good ship "Zumbrota" at Marina Del Rey. There to greet us was Captain Keith Schwartz, smartly attired in uniform and a veteran of twenty one years with Hornblower.
We mentioned the detachment and we certainly needed that after yet another harrowing drive in I 405 which we long ago named 'nightmare alley'
Our cruise was entitled "Sights and Sips", well named since for the next two hours we languishingly glided over the waters of the Marina while enjoying cocktails from the adjacent bar and imbibing in Chef Leo's wonderful selection of hot and cold appetizers smartly presented to us on trays by Waiters Maddy and Joseph. We were much taken with Maddy's lovely smile and her wonderful personality. In fact we were pleased with the smiles and friendly approach of the whole staff of Zumbrota.
The appetizers included a whole selection of cold veggies with sauces and crackers on a buffet table and then hot tasties like salmon and meats on skewers, stuffed mushrooms and chicken on crackers passed by the staff on trays. We noted that fellow passengers had decided on champagne served in a iced bucket and another with a tasting of several wines.
Zumbrota is a roomy ship, at 103 feet in length, with a great history. It was built in 1918 by the Charles Ringling of Ringling Bros. circus fame as his personal yacht and named for the Circus's famed elephant Zumbrota. Later it was owned by Mae West and then during World War 11 passed into U.S. Navy service. There are two comfortable decks for passengers, the top deck open with seating for the best views. The deck below is enclosed with chairs and tables for enjoying the cocktails, refreshments and the appetizers which kept coming and coming. There is plenty of room for passengers to move about like this Writer who acted like executive officer on deck watch as he wandered from bow to stern and from port to starboard.
The "Sights and Sips" cruise at Marina Del Rey takes place each Wednesday evening through September 28, leaving Fisherman's Village at 6:15 p.m. and returning at 8:15 p.m. During the summer there are Sunset Yacht races with the Zumbrota offering a perfect place to view them. From Newport Beach the cruise takes place each Thursday evening with same hours. For more information call 800 On-the-Bay, on the web, hornblower.com.
Back to Table of Contents..
Last Update:6/19/11
&copy 2011 Joe Hilbers All Rights Reserved.
Graphic Design by Impact Graphics