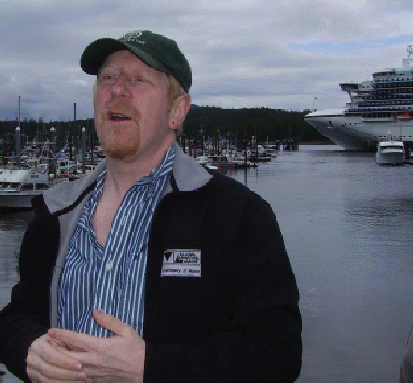 Ketchikan, Alaska--The Mayor gave us a tour of the city
.. By Joe Hilbers
Once again we were in Alaska this summer, this time aboard Holland American's Westerdam taking part in the International Food, Wine & Travel Writers conference aboard ship. One of the highlights of our cruise was ashore when we were treated to a Taste and Tour of Ketchikan that took place at the Southeast Alaska Discovery Center.
Hosted by the Ketchikan Visitors Bureau and greeted by Mayor Dave Kiffer we gathered at the Discovery Center, first to see a movie entitled "A Fish Story" which told of the important role salmon has played in both the past and present of Ketchikan. Following the movie we were treated to a sampling of food from local restaurants and chefs including the Cape Fox Lodge, the George Inlet Lodge and Experience Alaska tours. We chatted with Landon Morgan , food and beverage director of Cape Fox Lodge and will long remember Anna who served us claws and legs of fresh caught Dungeness crab, a feast indeed.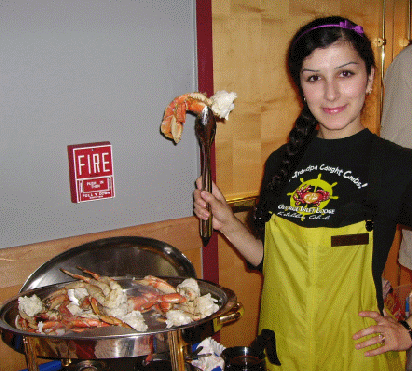 The Southeast Alaska Discovery Center is a handsome structure and a 'must see' for cruise ship visitors since it is a short one block walk from the docks. Here there are exhibits of the coastal rain forest and native culture. There are interpretive programs by Rangers and movies like the one we saw in the theatre.
Then Mayor Kiffer took us on a guided historical walking tour of the city including Creek Street which in the early 1900s was the Red Light District. This area of Ketchikan was built on long pilings as were many of the first buildings in the township because of the lack of ground above the tide zone.
In Juneau we were left to our own individual plans. Like many Juneau visitors we went to the Mendenhall glacier. This is part of the Tongass National Forest and attracts some three hundred thousand visitors each year, most like ourselves, off cruise ships. Here the Forest Service has provided a network of trails and viewing sites for seeing the vast wall of ice that makes up the glacier. There is also a Visitor Center with exhibits and films that describe the formation of glaciers, how they are constantly moving as well as life size specimens of animals that frequent the Tongass Forest.
All the cruise lines offer tours of the Mendenhall but we chose to go it alone and found a city operated bus line that took us within walking distance of the Visitor Center. Riding the city bus also gave us a chance to see much of the residential areas of Juneau as well as a most economical fare.
We were fortunate to have some sunshine that afternoon which made the glacier sparkle with color, perfect for photography. We were not alone as folks were racing about in all directions looking for photo opts. The Visitor Center is staffed with friendly Rangers who will answer your questions and explain the exhibits. We studied a huge block of clear ice which the Ranger assured us was once snow that had fallen 250 years ago and then pressured into what we viewed.
One of our group, my son Brian, then went on a long hike to explore some of the surrounding mountains but James Woodin and I were content to find a Glacier Express bus to take us back to Juneau and the Westerdam.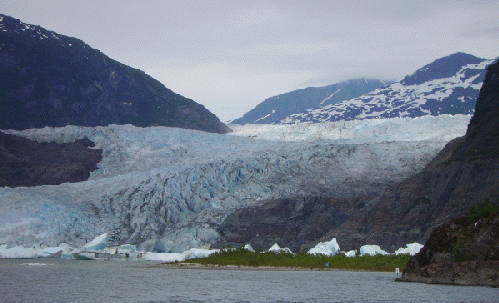 Back to Table of Contents..

Last Update:9/1/11
&copy 2011 Joe Hilbers All Rights Reserved.
Graphic Design by Impact Graphics