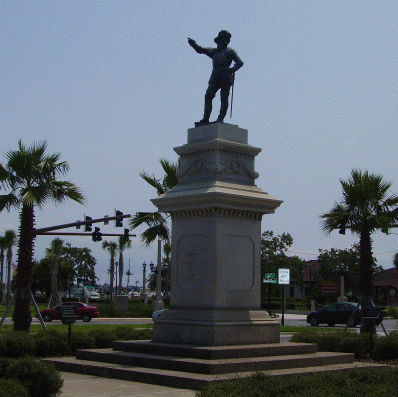 St Augustine, Florida--The oldest city offers history, charm and elegance" By The Editor
We cannot recall ever being in a relatively small city and finding such an overwhelming number of places to go, and things to see. But that was exactly the way it was on our recent, all too short, visit to St. Augustine, Florida Granted that this city of 18,000 people has a lot going for it. After all it is the oldest city in the United States.
The first European to step ashore on the actual continent of North America occurred here as well. The man was Ponce de Leon and the year was 1513. As can be imagined the upcoming five hundred anniversary in 2013 will be marked in a big way in St. Augustine.
The town itself was founded in 1565 and has flown the flag of six nations. One of our first places to visit was Castillo de San Marcos. This fort was built by the Spanish in 1672 to protect the new town and guard their New World possessions from other European powers. Today Castillo de San Marcos is a national monument and operated by the National Park Service. Though occupied by several powers including Spain and Great Britain the Fort was never defeated in battle. Visitors can roam at will on a visit including a theatre which explains the cannon and muskets of that era and the Spanish soldiers drill.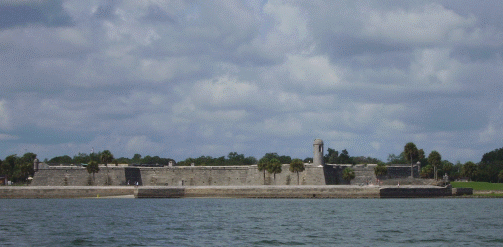 We depended on the Old Town Trolley tour vehicles and their knowledgeable drivers to move around the city and learn its history.
In the late 19th century St. Augustine attracted some very wealthy men from the north who enjoyed its mild winter weather. Foremost of these men was Henry M. Flagler. He came to St. Augustine and in a positive way changed it in many ways. He built a magnificent hotel, a wonder in its day, called the Hotel Ponce de Leon. Today it is home to Flagler College with an enrollment of 2,700 students. In it heyday as a hotel it attracted the rich and famous who stayed and played and carried it fame far and wide. Flagler never stopped his projects in St. Augustine, building churches and a railroad to Key West.
And we were still not done exploring the legacy of Henry M. Flagler. Another of his construction marvels was the Alcazar Hotel. Much later the Alcazar Hotel became the Lightner Museum. We toured this museum listening to mechanical musical instruments that whisked one back over a century, then on to marvel at the collected glass works of Louis Comfort Tiffany. The museum includes three floors of exquisite paintings and antique furniture.
Our dining experience at this magnificent structure will be related in a future issue of Vittles..
Another Northerner, this one from Boston, was Franklin W. Smith. He was fascinated by the Alhambra Palace in Granada, Spain so built a scaled reproduction as his winter home in 1883. Today it is the Villa Zorayda Museum.
Owners Marcia Mussallem Byles and James Byles were our hosts and guides as we toured this treasure house of art and antiques collections acquired by the original and later owners. The building is still considered one the best examples of Moorish architecture in the U.S..
Among other treasures is a 2400 year old Egyptian rug that survived a tomb burial and numerous owner exchanges before now being on exhibit at Villa Zorayda.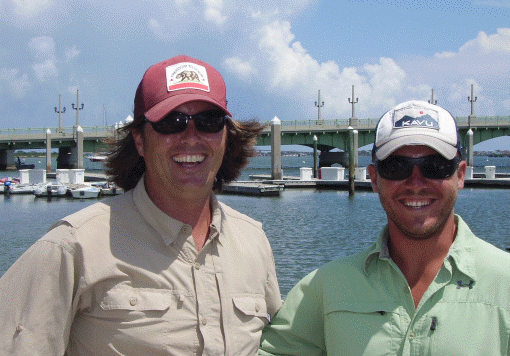 One of the highlights of our visit was a Eco boat excursion. Captains Zach and Kyle took our group on two comfortable Zodiac styled boats seeking the marine life of Matanzas Bay. We watched dolphins, some occasionally breaching, ospreys fishing and American oystercatchers at work. Capt. Zack McKenna pointed out to this Writer two local surfing points, Blow Hole and A Street. We also saw salt grass marshes as well as protected estuaries and shores of Anastasia Island.
This Old House takes on a new meaning when visiting the Gonzales Alvarez House in St. Augustine. It is one of the oldest houses in North America with first construction started in 1702. Made with the unique stone of the region, coquina, the walls still stand. As the violent periods of St. Augustine rose and fell the house changed ownership but in 1723 Tomas Gonzalez y Hernandez, a Spanish artilleryman, lived and raised a family there.
Finally in 1918 the St. Augustine Historical Society acquired the house and continues to use it as showplace for 400 years of life in the City. Besides the house the property includes a beautiful garden and the Albert Manucy Museum. The Museum presents the history of the city in a series of exhibits listing the many nationalities that have played a roll in the 500 years. Starting with native American Timucue, then the Spanish, French, English, Minorcans, Seminoles and later Greek, Italians and Polish immigrants.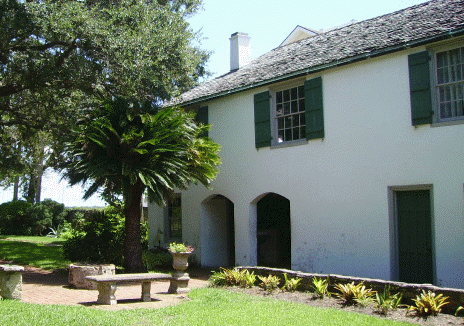 Oldest House is located at 14 St. Francis Street and is open daily from 9 a.m. to 5 p.m. Call 904 824-2872, web www.oldesthouse.org.
What was it we did not have time to see? The list is too long but yes we would have liked to see the newly opened Pirate Museum, Ripley's Believe it or Not Museum, the Alligator Farm and the Lighthouse tour and museum. Well, perhaps another time.
If Saint Augustine started 450 years ago as a violent place it has evolved today to a must friendly and livable city of about 18,000 residents. What we found particularly interesting were the number of people, both past and present, who visited St. Augustine, liked what they saw and stayed.
In our conversations with people we found this true time and again. St. Augustine, it seemed , was just the place to restart a career, or launch a new one at a more relaxed pace and life-style.
And both old and new residents seem to quickly establish an 'espirit de corps' that has created a society friendly and helpful. New businesses are greeted enthusiastically and the 2700 student body of Flagler College contribute new talents to the community.
This is certainly true for the arts and craft community who have established St. Augustine as a flourishing center for artists and craftsmen. We met a charming couple, Hookey Hamilton and Joel Bagnal who are now members of this group. She is a Photographer and Owner of Avilles Gallery while Joel is a Goldsmith and owns Designer, Craftsman. Like this couple many have brought successful careers with them in their move to St. Augustine
Of interest is that these artisans have established their colony on Aviles Street, the oldest street in the United States and this includes the businesses of Hookey Hamilton and Joel Bagnal.
In future issues we will explore St. Augustine's Bed & Breakfast Five Inns of Elegance as well as the culinary delights we encountered on our visit.
Back to Table of Contents..
Last Update:9/1/11
&copy 2011 Joe Hilbers All Rights Reserved.
Graphic Design by Impact Graphics