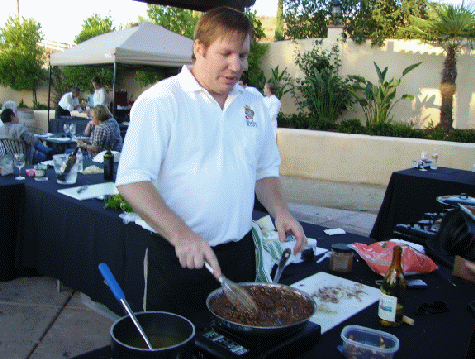 Temecula--The Vampires were kept at bay during this Garlic Cook Off..
.. By The Editor's Vineyard
Legend has it that garlic is a sure defense against vampires. If so it was hard times for these denizens of Transylvania one recent evening.
The event was the Secret Ingredient Recipe Cook Off and that ingredient was garlic. That evening, with whiffs of this noble product present everywhere, they didn't stand a chance.
For regular folk however the event proved to be a most convivial social event taking place on the expansive two level patio of the Danza Del Sol Winery in Temecula. Sponsored by Temecula Night Out.Com the finals pitted Jeff Grace with his 'Black Garlic Risotto with Crimini Mushrooms' against Cindy Lemos' "Murrieta Backyard Grilled Garlic Salmon.
Over one hundred people showed up for this gourmet event to select a winner while moving through a tasting menu that included wine pairings of Mike Tingley, Danza del Sol winemaker. And the press, including this Writer, were there for another grueling reporting assignment.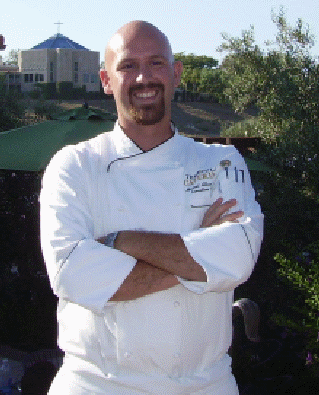 Professionally handling the cook off was Chef Michael Cragg of Temecula Catering. He brings a culinary background that includes five years at the Ritz Carlton in Laguna Niguel. The tasting menu that evening included a Chef Cragg starter appetizer; 'mushroom cap with garlic Brushetta which was paired with Danza del Sol 2008 Grenache. This was followed by another Cragg creation 'hearts of Palm salad with coleslaw medley stuffed with garlic Jalapeno Basil dressing paired with Sol 2010 Gewurztraminer.
Then it was down to business with tastings of Jeff Crace's "Black Garlic Risotto with Crimini Mushrooms" paired with Danza del Sol 2009 Tempranillo. Followed by Cindy Lemos's "Backyard grilled Garlic Tangerine Salmon which was paired with Sol 2010 Chardonnay.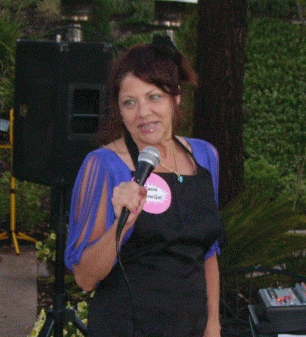 There were three officially named judges but all those present were also to act as judges and there was agreement all around that Cindy Lemos' Grilled salmon be declared the winner. For those doing the tasting our work was not finished. For an 'extra surprise' we received Pete's Firehouse BBQ which proved to be delicious tri-tip which arrived with Sol's 2008 Syrah. This wine took top place on our score card. Then to finish the tasting Chef Cragg presented his Lime Berry Garlic Mojito Sorbet with honey garlic brittle. The wine, Danza del Sol Orange Muscat.
All of this was accompanied by music with Tres Winos, a combo of Sax, Trumpet and Flute. Then Diego Mondragon with his classic styled Violin which this evening played jazz.
As dusk turned to full night there was a resilient, happy group of people, reluctant to depart and who didn't appear to have a care in the world, certainly not about vampires.
Back to Table of Contents..

Last Update:9/10/11
&copy 2011 Joe Hilbers All Rights Reserved.
Graphic Design by Impact Graphics