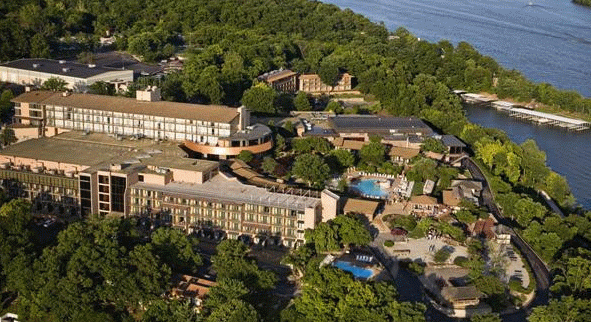 ---
A Lake Of The Ozarks--Bountiful and often elegant was our dining adventures by The Editor
Our dining experiences at Lake of the Ozarks included visits to two five star restaurants. The first was at The Lodge of Four Seasons which offers just about everything for visitors including two golf courses, boat docking and rentals, Spa Shiki and for the kids, the Adventure Club. We had a personal tour of the Lodge by Peter and Susan Brown, proprietors of the famed resort.
Susan is the daughter of the late Harold Kaplar who was a legend in St. Louis as owner of the Chase Park Plaza, at one time St. Louis most famous hotel. He also was the one with the vision to create the Lodge of Four Seasons at Lake of the Ozarks acquiring 3,500 acres for a European styled hotel and resort. There are 350 guest rooms and a Japanese garden which demanded much picture taking by our group.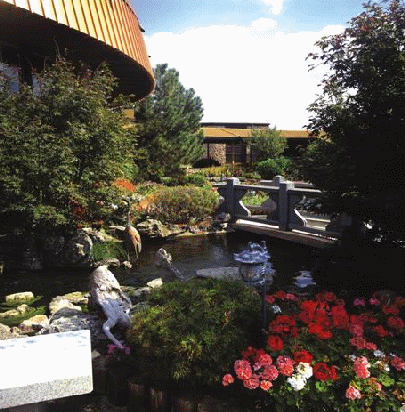 Then we adjourned to MK's Restaurant for a truly fine dining experience. The ambiance, dedication of the service staff and quality from the kitchen all worked to make this a memorable evening.
We opened with Farmstead cheeses and Charcuterie with pickled vegetables. This evening our wines were all from Italy and with the first course it was 2008 Tenuta Dei Mille, Fiano. Next came a Confit of Missouri Quail with petite greens salad, raisin cous-cous and a 2008 CaVazza Creari for our wine glass.
Executive Chef Joe Elliott had our attention this evening. He trained at the Pennsylvania Culinary School and then went on to the James Beard House in New York City. Entree was Wagyu Fillet toped by Duck egg with asparagus, horseradish puree and grilled heirloom tomato. The red 2008 Nicosia Cerasuiol di Vittoria matched the entree perfectly. The dessert called for a sparkler, Bonotto Delli Tesse Prosecco Frizzante with the warm fallen chocolate cake. There is no question about MK's being a five star restaurant.
Most recently Susan and Peter Brown have created The Residences at The Lodge which offers a variety of housing choices and homes. The Lodge of Four Seasons Golf Resort and Spa Shiki is located at Horseshoe Bend Parkway, 315 Four Seasons Drive, Lake Ozark, Mo. 65049. Phone 1-800-TheLake, on the web at www4seasonsresort.com.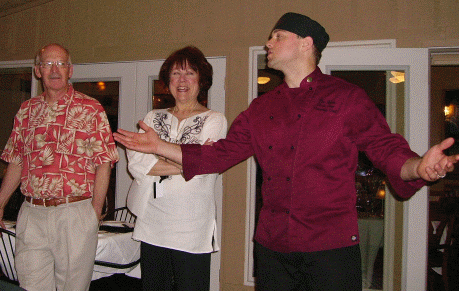 Another evening we knew we were going to a special adventure when arriving at The Duck Restaurant located at the Lake's edge in another bay. First there were photographs to be taken of a dramatic sunset, then some most interesting appetizers.
We opened with a medley of these including oriental styled ahi tuna, steamed mussels with a Thai sauce and as well as Tempura and a kitchen smoked stuffed trout.
The menu here is extensive and the wine list is truly exceptional with a world wide selection of vintages. The proprietors, Donna Ziegler and Mark Hooker, spent some years working in Europe and while there acquired an extensive knowledge of Continental cuisines and wines. When they purchased The Duck, which already had been in business for many years, they put their knowledge of cuisines to good use.
Our group was then offered samples of many of the Duck's premiere entrees, including sliced duck breast with oriental sauce, tournedos of beef with caramelized onions, rack of lamb chops was well as sea bass Provencal in a Mediterranean style and a chicken Jaeger Schnitzel, a Chef special from his time working in Germany. The Chef, Chris Case, is a graduate of the Culinary Institute of America and then spent two years in Germany before returning to the U.S. In the kitchen Chris shows touches of Asian style flavoring especially with his seafood dishes.
Our wine included an Arnold Palmer Cabernet Sauvignon from California North Coast. This restaurant also showed a superior trained wait staff and this combined with the Lake's ambiance for an exceptional dining experience. The Duck Restaurant is located at Lake's edge, 67 Cherokee Road, Lake Ozark. Telephone 573 365-9973, web wwwtheduckretaurant.com.
For breakfast one day we went to Stewart's which has been serving locals and visitors since 1953. It appeared they were all there the day we sat down to a menu that considers breakfast one of the big meals of the day. Some of its fame rests with its Cinnamon Rolls which are the biggest we have ever seen and also the tastiest. With all traditional breakfast items here you will find corned beef hash (we tasted it and it was delicious) as well as grits and biscuits and gravy.
We enjoyed a long visit with Stewart's owner, Steve Beck, who hit on the successful formula of serving only breakfast and lunch, open from 6 a.m. to 2 p.m. In an region which is definitely seasonal for visitors, this formula allows him to have a permanent trained staff and remain open seven days a week. For the quality and quantity of the food we thought the prices most moderate. Stewart's is located at 1151 Bagnell Dam Blvd., Lake Ozark, telephone 573 365-2400.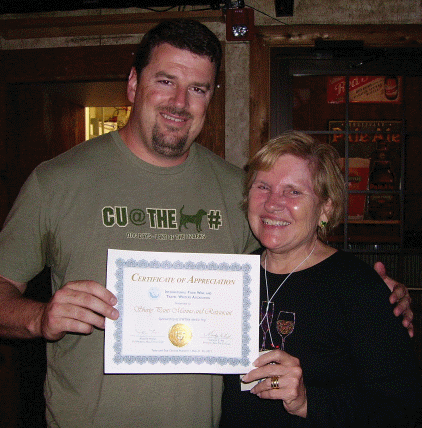 One evening we were at Shorty Pants, located at the Lake with full bar and both indoor and lakeside patio seating. The menu is downhome Ozark with Big & Easy Shrimps, green fried tomatoes, fresh baked corn bread, Por Boys, fried catfish and dirty Jambalaya.
Owner Brian Barratt was on hand to greet us and Chef Scott Munsterman in the kitchen. Shorty Pants displays a menu with many Cajun Creole favorites and often blends his own spices for Etouffee or his crab and seafood broils.
Besides all the good food we were treated to a wonderful rainbow that filled a good part of the sky as we were leaving. Little did we realize at the time that only one hundred miles away that sky was bringing death and destruction to Joplin.
Shorty Pants Lounge and Restaurant is located at 1680 Autumn Lane, Osage Beach.
For dessert we moved on to Randy's Frozen Custard and as we tried the Ozark Turtle, a local favorite, we were all struck with the amazing look of the clouds as the last glows of light disappeared.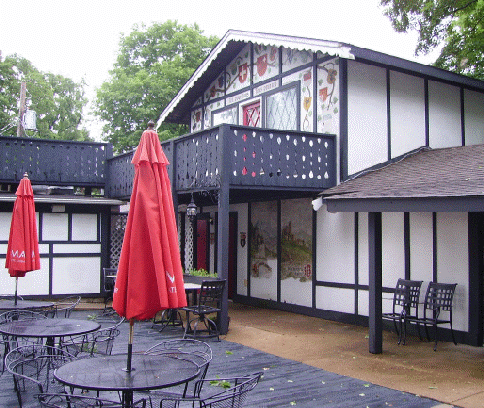 A luncheon that took much of an afternoon was at Michael's Steak Chalet. This restaurant has a long and colorful history. It is also called Swiss Village and its decor and ambiance is reminiscent of Europe since it was founded by Swiss immigrants in the 1920s. It soon evolved into a restaurant which Partners Michael Ismail, Brent Boyles and Terry Pabst purchased in 1994 and created Michael's Steak Chalet to immediate fame and fortune. This restaurant offers extensive facilities with a dining room and bar lounge on two levels, both with views of the Lake, as well as expansive outdoor patios.
Executive Chef Robert 'Skip' Blackburn has produced a menu at Michael's that has created comment and awards. Our luncheon was made up of sampling from the main menu including lobster stuffed mushrooms, Escargot with scallops, slow roasted pork and prime rib bites served with horseradish sauce, this latter voted 'best entree at the Lake.' Dessert was Key Lime Pie.
Michael's Steak Chalet is open for lunch and dinner daily from May to October. Lunch 11 a.m. to 5 p.m. and dinner from 5 p.m. It is located at Highway 54-59, Osage Breach, telephone 573 348-3611, web www.steakchalet.com. .
.
Back to Table of Contents..
Last Update:9/10/11
&copy 2-11 Joe Hilbers All Rights Reserved.
Graphic Design by Impact Graphics