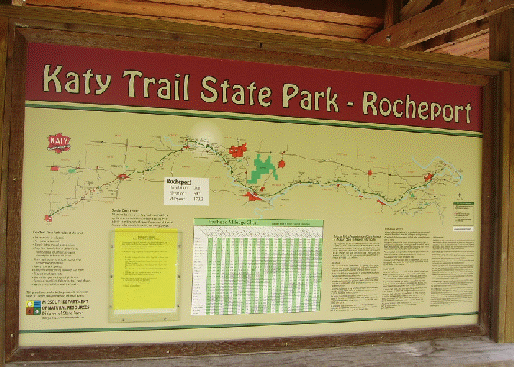 "Rocheport, Missouri--Small in size but large for tourists"

by Joe Hilbers
In our Missouri explorations we discovered Rocheport, only a fifteen minute drive from Columbia. Rocheport was founded on the banks of the Missouri in 1825. It now has the population of 240 people. With its well kept houses and quiet streets it appears that time has stood still here. But that is deceptive for it offers much for the visitor.
For one thing it is on the Katy Trail State Park. This Park offers the longest trail in the U.S.A. stretching 238 miles. It follows the former railbed of the Kansas-Texas Railroad and is also a part of the Lewis and Clark National Discovery Trail. The Trail runs from Clinton to St. Charles.
We took to the trail at mile 178.3 located at Rocheport which also has one of two restored railroad depots on the trail. Conrad Yates was our guide as we walked the trail far enough to discover views of the Missouri river which here must look just as Captains Lewis and Clark viewed it from their keelboat. You can learn more about Lewis and Clark's 1804 'Voyage of Discovery' at trhe Rocheport Museum. For more information on Rocheport visit www.rocheport.com.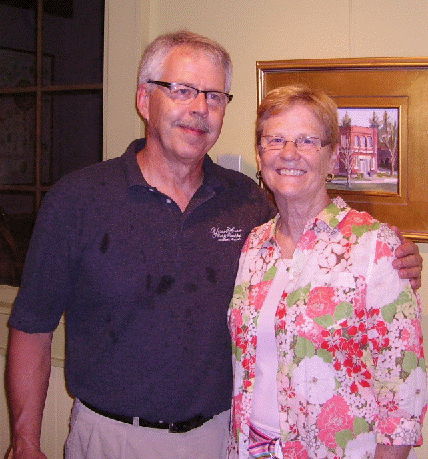 After our walk Conrad took us to the Yates House Bed and Breakfast which he operates with his wife Dixie. Dixie had been busy in her kitchen to produce for us a delicious plate of her famous crusted goose berry pie a la mode. This was truly Rocheport hospitality at its very best. She also signed her Recipe book entitled "Dixie's Kitchen at Yates House" for us. Previously Conrad gave us a tour of Rocheport which took about three minutes but we did stop to visit another Bed and Breakfast, this one Mission School B & B. This building served as Rocheport's school from 1914 to 1972. Now it is a most comfortable hostelry operated by Vicki Ott and Penny Province and is listed on the National Historic Register.
We can always find a winery and at Rocheport it was Les Bourgeois Vineyards. Here Curtis Bourgeois has established a winery and visitor center including the highly rated Blufftop Bistro. Besides wonderful food and wine the restaurant offers commanding views of the Missouri River. We enjoyed an excellent three course luncheon here prepared by Executive Chef AAron Wells-Morgan. Curtis Bourgeois and members of his staff including Winemaker Jacob Holman and Cellar Master Drew Lemberger were present as well.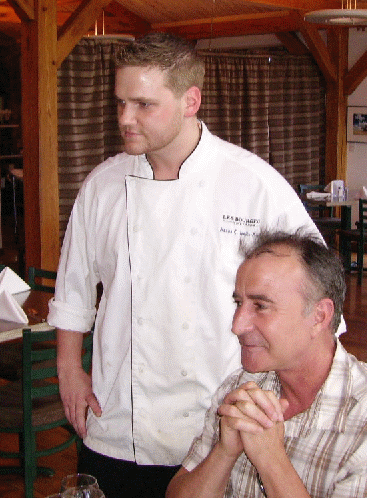 Les Bourgeois has thirty three acres of vineyards with grapes that have been selected to do well in Missouri's terroir. The winery is large and is currently expanding both its production and cellar capacities. We toured the winery and saw these new facilities nearing completion. We also learned that Missouri oak is excellent for wine barrels and that there are two cooperage firms in the State producing wine barrels from the local oak.
We then adjourned to the tasting room to taste wines made from a French hybrid and native American varietals. Chardonel does well in this region and we liked the Estate 2009 Chardonel we tasted which offers touches of oak and a dry finish. Also a dry red Chambouran with soft tannins. Norton is a red native varietal much used in Missouri. We thought the 2008 Norton from this winery the best vintage of this varietal we have ever tasted. Winemaker Jacob, who schooled at Davis, explained that Norton requires careful handling and long barrel and bottle aging.
Les Bourgeois Vineyards is located fifteen minutes west of Columbia with Tasting Room open daily and the Blufftop Bistro for lunch and dinner Tuesday through Sunday. Call 573 698-2300 for reservations. On line at missouriwine.com.
Back to Table of Contents..
Last Update:9/1/11
&copy 2011 Joe Hilbers All Rights Reserved.
Graphic Design by Impact Graphics