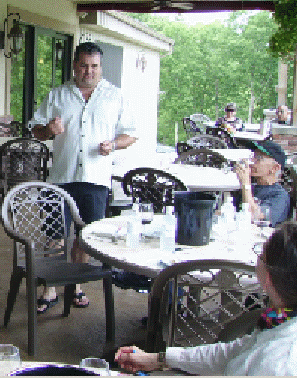 "Consumer wine tastes vary greatly across the U.S."
By By the Editor's Vineyard.
In California most wine drinkers tend to the dry table wines but when you travel to other parts of the country one finds that this is not necessarily true. We were recently traveling in Missouri and naturally visited a few wineries there as well. Missouri vintners point out that there was a time when the region was the leading producer of wines in the U.S. Today it has a flourishing wine industry, one area featuring itself as the Hermann wine trail.
In a talk with Vintner and winemaker Mike Bleile, owner of the Seven Springs Winery which is nestled near the Lake of the Ozarks, we learned that six of the seven wines he produces are what might be termed sweet wines. The seventh is a dry wine but also his slowest seller.
When back in California we wondered if any sweeter wines were available. We already knew that Moscato was becoming a very popular varietal and seller and that more was being produced. And we see more of it in restaurant wine lists as well. We recently tasted the Crane Lake 2010 Moscato, attracted first of all by its $6 price tag. This was a bargain for the wine showed wonderful aromas and a variety of flavors. At ten per cent alcohol it was perfect with appetizers of fruit, melon or cheese.
Feeling we were on to something we also tried a wine that looked like a rose but was labeled Pink Truck 2009 Pink Wine. After tasting the wine we thought it an interesting wine that while not dry was not overly sweet for our palate either. It offered many flavors and a nice light finish. Again we thought of this as a nice addition to a tail gate party or picnic especially as it has a 10.5 alcohol content.
Next we tasted the Fox Brook 2008 Sweet Red Table Wine and wondered what Winemaker Jevet Daniel had in mind since most people at least in California do not serve a sweet wine with dinner. However we kept an open palate, so to speak, and decided it was a very palatable bottle of wine and with a $6 price tag could be big seller in Missouri.
Eco-friendly, sustainable and organic are words one is seeing on more and more wine labels. Through the Wine Institute many California vineyards and wineries are moving in this direction. We tasted Cottonwood Creek 2010 Red Table Wine which is being marketed as from organic grapes as well as a lighter glass bottle. Winemaker John Allbaugh offers this as a pleasant red with soft aromas and flavors that pair well with many entrees. It is as easy on the wallet, at $7, as on the palate.
We were surprised with the quality of a Motos Liberty 2008 Cabernet Sauvignon we tasted recently. This wine is very true to the varietal with a rich color and a host of flavors but soft tannins showing its barrel aging. A speeding biker on the label was a turnoff for this Writer but then that is probably just a generation thing. But the wine we liked and at 13.5 per cent alcohol it offered a long pleasant finish. Priced right too at
Back to Table of Contents

Last Update:9/5/11
&copy 2011 Joe Hilbers All Rights Reserved.
Graphic Design by Impact Graphics