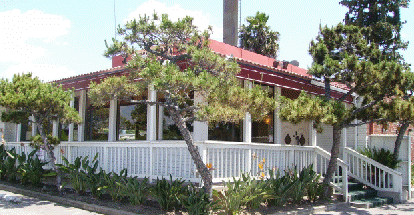 "City of Orange--Shiki has been pleasing people for 36 years with its Japanese cuisine""--"
.
Being a cautious person this Writer will not casually wander into a restaurant featuring sushi. However when I learned of Restaurant Shiki, thirty six years in business and the oldest Japanese restaurant in Orange County, I beat some speed records to try it.
And after meeting Partner owners Chef Steve Yamamoto and Gerald Edery I knew that Shiki was indeed very special. Chef Yamamoto opened Shiki in 1975 and Gerald came on board eight years ago after an illustrious 18 years as proprietor of another Orange County restaurant called Bistro Cafe.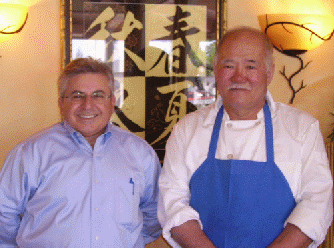 We were much taken with the ambiance of this restaurant which gives the customer the choice of tables, booths or the sushi counter. The restaurant seats one hundred and twenty five and the colors and bright light from windows gives one the feeling of space and casual elegance. If you want to watch one of the five chefs, all Japanese, in action you can sit at the counter with its 18 seats.
My dining partner and I selected a booth where we could watch all the action of staff and customers and managed to have Partner Gerald Edery sit long enough for us to learn about this restaurant which was awarded four stars by the Southern California Restaurant Writers.
Gerald said the way to find out about Shiki was to try the food and so soon had a bowl of miso before us. Then a mixed Sashimi that arrived with Albacore, Tuna, Yellow Tail, White Fish and Salmon. Also slices of ginger which were the best this Writer has ever experienced. It had all the flavor ofginger but minus any fire afterwards. I had to ask Gerald about how this was done and he explained that only the white Ginger is used and then marinated in their special sauce. I also learned that I was not alone in appreciating this ginger since customers often purchase some for home use. Besides our Sashimi we also enjoyed the house Shiki Roll which came topped with ahi tuna. P>At the counter the choices are huge with twenty six kinds of Nigiri sushi and thirty four varieties of Maki rolls.
The menu at Shiki, the name means four seasons, is classic Japanese with combinations like beef Teriyaki and Tempura, and Sukiyaki with New York steak beef, yam noodles and vegetables with Tempura. Then there is seafood like fried oyster or calamari steak Teriyaki or fried, or a chicken breast cutlet. Following our wonderful Sashimi we followed up with a shrimp and veggie Tempura. We marveled at the lightness of the Tempura with no evidence of cooking oil. Also offered is Donburi served on a bed of steamed rice, Udon, noodle soup, and side dishes like baked Mussels or Shumai pork dumplings. Our dessert were sweet slices of banana done tempura style.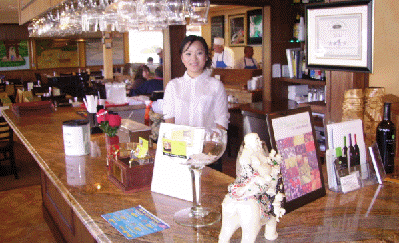 Shiki also features Teppanyaki with its own round table setup and a most artistic chef. Everything served at this restaurant is made on the premises.
Class shows at this restaurant right to the rest rooms. The men's features a voice from a speaker offering lessons in Japanese useful phases. The women's with mirrors which allow a 360 view to check hair, etc.
Shiki is located at 1936 E., Katella Avenue, Orange where it meets the 55 Freeway. There is ample off street free parking. The restaurant is open Monday thru Friday for lunch from 11:30 a.m. to 2 p.m. Dinner is served seven days a week from 5 p.m. to 9 p.m., on Friday and Saturday till 10 p.m.
Back to Table of Contents

Last Update:9/1/11
&copy 2011 Joe Hilbers All Rights Reserved.
Graphic Design by Impact Graphics