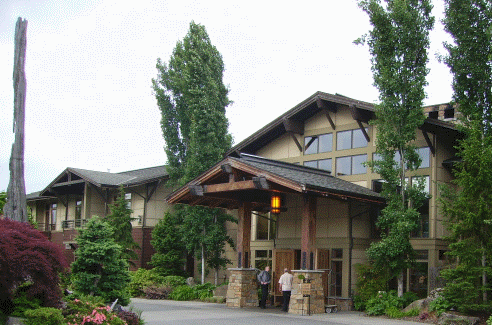 ---
Seattle--"So much to see in Seattle kept us awake"
Seattle was always a city whose image had somehow eluded us. Perhaps this was because it was never the sole destination in our visits to the northwest. However all this changed when we had the opportunity to take part in a 'Best of Seattle' tour sponsored by the International Food, Wine and Travel Writers Association. We knew that this was going to be special event the moment we checked into the Willows Lodge located in Woodinville. This community also is headquarters for several of Washington's most famous wineries.
The Willows Lodge is a member of Preferred Hotels and Resorts which has premier properties world wide. Our room at the Lodge fit this group with fireplace, jacuzzi tub, patio overlooking lush woodlands and just about every amenity. Willows Lodge is located in the Woodinville wine country at 14580 NE 145st Street, Woodinville, telephone 877 424-3930, webwillowslodge.com
Another day we took a boat tour of Lake Washington which was a pleasant and most educational experience. The boat was the Woodmark II, a cabin cruiser which took us to view some of the most astonishing homes this Writer has ever seen. One we saw could double for an opera house, another for the State Court House. Our view that shore line bordering Lake Washington must have some of the most expensive real estate in the country. We also had time to admire the beautiful kept grounds of these estates as well as early evening cloud patterns over the lake.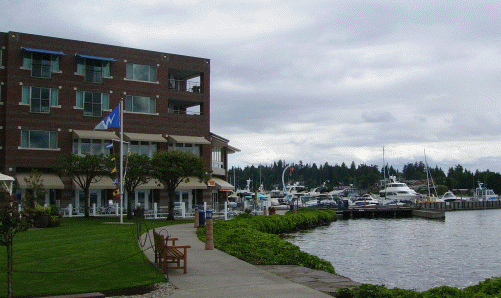 This evening we lodged at Woodmark Hotel and Yacht Club situated at the shore of Lake Washington. We enjoyed the hotel with its views of the lake as well as amenities like the Hotel Library which offered a perfect escape with lounge chairs, fireplace and shelves of books. Just steps away is the Beach Club coffee shop as well as the elegant dining at Bin On The Lake. Outside a place to walk and enjoy the constantly changing sweep of the Lake. Woodmark Hotel is located at 1200 Carillon Point, Kirkland, phone 800 822-3700, web thewoodmark.com.
We recall a big band era song whose lyrics cited the joy of "Going Downtown" and this is precisely what we did our last day in Seattle. Our stay at Hotel 1000 at the corner of First Street and Madison avenue placed us in what seemed to be the center of the action. It appeared to us that most of the city's population was afoot 'going downtown' also.
Of course we had to visit the Pike Street Market which year after year is one of the city's top tourist attractions. It appeared from the crowds that everyone else was going there too. We needed a guide for this foray and followed Mike Rogers who does this on a regular basis. When we noted that Pike Street was a wee crowded he pointed out that 40,000 visitors a day is the average during the summer season.
Pike Street Market has a long history dating back almost a century organized as a place for local farmers to sell their produce, meat or fishermen's catch. Today it still serves this purpose with the addition of many upscale food stores as well as a host of places with 'good eats'.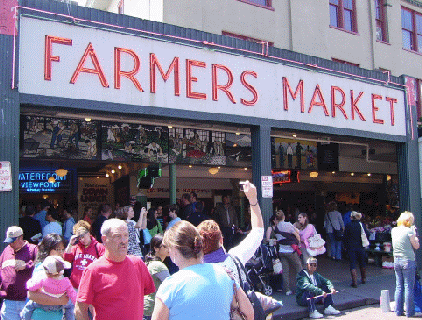 We were right about the 'good eats' department sampling the world's best clam chowder, an Italian Gelata, a classic British crumpet and roast beef on a bun at Seatown Rotisserie.
Now fully committed to this Seattle downtown two of us set out to find the Klondike Gold Rush Museum which is located at or near Pioneer Square. A brisk walk including some hill climbing (Seattle has lots of hills like our native San Francisco) we found the Museum which is operated by the U.S. Park Service. We had just finishing reading a book entitled "The Floor of Heaven" which was about the Kondike Gold Rush and some of its principal characters so a visit to this museum was a "must see" for us.
And we were not disappointed. If the gold was in the Klondike much of the riches ended up in Seattle as the principal port for the thousands who headed north for untold riches and the gold returned with the lucky few who had indeed 'struck it rich'. The museum follows the lives of several people who headed north to the Yukon and Dawson and how it affected their lives through the years.
Also the trek over the mountains to get to the gold fields, how it was mined and the effort it took. We also watched a film, one of two, that can be viewed about what it did for Seattle and the trek itself. Klondike Gold Rush, a national historical park, is located in downtown Seattle at 319 2nd Avenue South, phone 206 220-4240, web www.nps.gov/klse
We thoroughly enjoyed out stay at Hotel 1000 with its upscale contemporary decor and ambiance. Our room was indeed hi tec with a fascinating tub which fills with water from the ceiling. Hotel 1000 is at 1000 First Avenue, Seattle, Call 206 957-1000, web hotel1000seattle.com.
Our dinner at Hotel 1000 as well as our other dining experiences will be told in the next issue of Vittles.

Back to Table of Contents..
Last Update:9/1/11
&copy 2011 Joe Hilbers All Rights Reserved.
Graphic Design by Impact Graphics