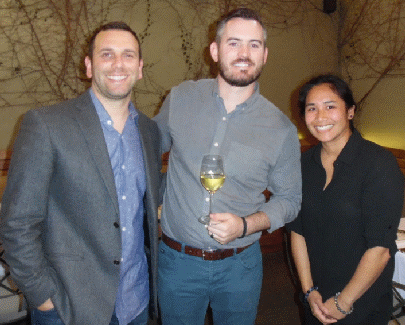 "West Hollywood--The matching of food and Austerity wines at Lucques was perfect" By The Editor
.
Our introduction to Austerity wines took place at a dinner held at the five star Lucques Restaurant in West Hollywood. There we met Austerity winemaker Steven Decosta and were served some outstanding wines. The dinner was presented to the media by the FeedFeed Team with the very special menuj prepared by James Beard Award Winning Chef Suzanne Goin.
We had a long conversation with Steven and learned much about his philosophy and technique in selecting grapes and the production of his wines. We noted both his knowledge and passion for what he does. Austerity wines are made from established California appellations known for particular varietals. The 2015 Austerity Chardonnay was from Monterey's Arroyo Seco region while the 2015 Austerity Pinot Noir from the Santa Lucia Highlands. The 2014 Austerity Cabernet Sauvignon from Paso Robles, an appellation well known for its bold and hearty wines of this varietal.
Introduced by Kevin Masse the dinner opened with Leeks Vinigette with Prosciutto, Dandelion, Mustard Breadcrumbs & soft cooked egg. The wine a 20015 Austerity Chardonnay from Monterey's Arroyo Seco. We especially appreciated this vintage since we had been to this appellation in Monterey just weeks before.
Our entree was Braised beef short ribs with sauteed greens cipollini onions and horseradish cream. Winemaker Steven introduced his 2015 Austerity Pinot Noir. This was from Santa Lucia Highlands and again we had visited this area in the foothills of the Salinas Valley just weeks before and already knew of the high quality of its Burgundian varietals.
Our dessert was Chocolate Cremuex Tart with Cardamom Cream and our wine a 2014 Austerity Cabernet Saauvignon from the Paso Robles appellation. In conversation with Steven we noted the robust character of this cabernet with bold flavors and a long lasting finish.
At Austerity Steven Decosta is making wines from selected appellations and regions of superior quality while holding the prices as reasonable levels. All three wines served have received bronze awards in an international competition.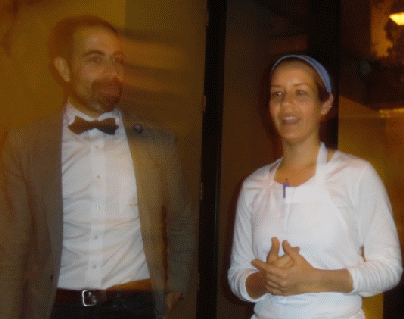 We also met with Alex Parra, director of marketing, for O'Neill Vintners & Distillers of Larkspur, owners of Austerity.
Upon introduction by Kevin Chef Suzanne Goin received a most enthusiastic reception from the forty fortunate Media representatives that attended the event
Austerity terms its wines as of the highest discipline and the Lucques dinner certainly proved it
Lucques is located at 8474 Melrose Avenue in West Hollywood. Telephone 323 655-6277, web www.lucques.com.
Back to Table of Contents

Last Update:4/1/17
&copy 2017 Joe Hilbers All Rights Reserved.
Graphic Design by Impact Graphics