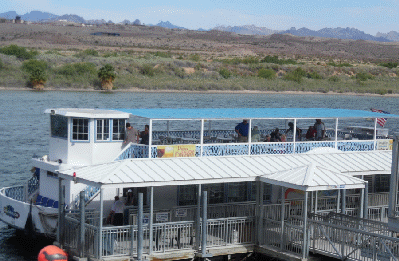 "Laughlin--This city on the Colorado River offers much in a compact area"
.
<
By Joe Hilbers
Our recent trip to Laughlin, Nevada reminded us once again just how unique this city is with nine hotel casino resorts stretched in a row along the Colorado River. These resort hotels, nestled side by side, make access easy and almost car free, although they all offer free valet parking to one and all.
The Colorado River is all things for Laughlin providing water for essentials, recreation and yes, transportation. The numerous water taxis offer an easy, delightful way to move from Casino to Casino so one can leave the personal car parked. Or to whisk one from the Arizona side of the river to Laughlin. Every Casino has its own dock for this service.
One of our trips on the river was aboard Celebration which offers visitors scenic river cruises. With two decks, one open, the other closed with wide windows the Ship provides a serene way to relax and enjoy the river shores and desert views beyond. A tour guide aboard offers a running commentary on the role the River has played in the history of the region. We enjoyed the cruise and received a good deal of information as well. The lower deck of the Celebration has a booth for beverages and snacks to be enjoyed while cruising.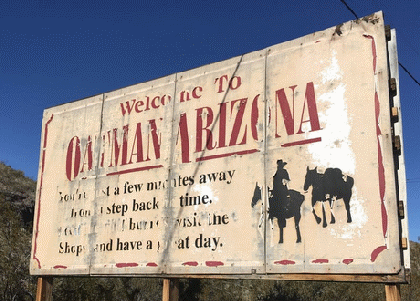 One day we moved across the river to Arizona and Bullhead City enroute to Oatman which bills itself as an authentic western ghost town and mining camp. All true enough since it started as a tent camp and center for gold mining which eventually produced 36 million dollars in gold at 1930 prices. Today it is host to a half million visitors each year which visit places like Fast Fanny's Place, Jackass Junction, Olive Oatman Restaurant & Saloon and much more. Oatman also has a plentiful supply of wild burros who are not wild at all as they roam the streets, peer at the quaint newcomers each day and hold up traffic. The town is located on historic Route 66 and has been the site of the movie making of 'How the West was Won" and "Edge of Eternity" to name just two of many.
In Laughlin we spent one morning wandering through some of the casino hotels. We became reacquainted with Aquarius where we stayed on a previous visit, the Edgewater, Golden Nugget and Harrah's where we stayed this visit. Buffets are popular in Laughlin and we tried Harrah's Fresh Market Square for dinner with complete satisfaction and the Edgewater Grand Buffet for breakfast one morning.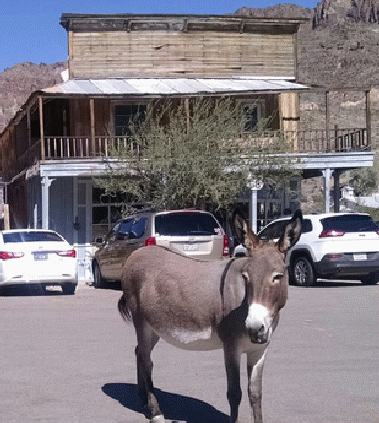 The Colorado River and upstream Mojave Lake make Laughlin a great place for aquatic pursuits. Then there is the surrounding desert with a whole new pattern of hiking and biking trails that have been developed. One day we entered Lake Mead National Recreation Area to visit Davis Dam, Katherine Landing and Lake Mohave. This involved about a fifteen minute drive from our hotel. The scenic beauty was in plentiful supply and the blue waters of Lake Mojave most inviting.
For us we found one can escape the hurly and burly almost entirely by stepping outside to the river walk. Here all is serene with the silent flow of the water, never ending clear skies and with patios and green gardens adding to the scene. The river path also is the perfect way to move from one Casino to another.
We thoroughly enjoyed our evening spent at Golden Nugget. The entrance to this Casino Resort is very special as one enters to a scene of living tropical plants, trees and a waterfall. This Arboretum was also our view one evening when we enjoyed a special dining experience at the Claim Jumper Restaurant located adjacent to the Casino.
While there are three Claim Jumper Restaurants in the San Fernando Valley, where we reside, this Writer had never visited one. So our visit to the restaurant located at the Golden Nugget was new to us. We were impressed both with the ambiance and efficient service as well the menu which offered such an excellent variety. My dining partner started with a cocktail and then looking over the menu noted the Senior menu and so selected the roasted Tri Tip & Shrimp. The sliced tri tip came medium rare as ordered and showed a delightful flavors of herbs and peppercorn and was most tender. Rarely do we touch vegetables as served but this night was an exception since they came well flavored and cooked only slightly al dente.
We fortunately decided to share a dessert and when our Cookie Finale arrived we knew we had made a good decision. It included oversized chocolate chip cookies with vanilla ice cream and topped with chocolate sauce and whipped cream and so large that the two of us could not finish it.
We like Laughlin since it offers so much in a compact area. There are ten casino resorts, nine of them lined up along the Colorado River. In total they offer the visitor all that one deems desirable in lodging, dining, gaming and entertainment. For the visitor it is all neat, tidy and manageable and offers easy movement from one casino to another. Laughlin has a slogan that says "It's like you own the place" which describes it very well. And then of course there is the Colorado River which gives Laughlin recreation opportunities that are completely its own.
Our room at Harrah's offered a view where we could watch activity on the River, and there is always activity on the River day and night. Since the Don Laughlin family purchased a ten room hotel and cafe in 1966 it has mushroomed into a collection of ten casino resorts and ten thousand hotel rooms.
Who goes to Laughlin? . Think snow birds from October to April representing all the northern regions of the U.S., many arriving in their RVs for extended stays.
Some Casinos have special parking areas for them and there are many RV parks. There is a good deal of gray hair in this group.
In summer the visitors are much younger mostly drawn to the attraction of the Colorado River and Lake Mohave. While visitors come from all parts of the U.S. and many foreign countries as well Southern California is still the primary market. Laughlin has many special events and festivals throughout the year.
For many tours, especially those made up of Asians, Laughlin has been established as a hub for viewing the surrounding national parks including the Grand Canyon, Bryce Canyon and Zion as well as Las Vegas and Boulder Dam. One night there were fifteen tour busses at Harrah's Resort.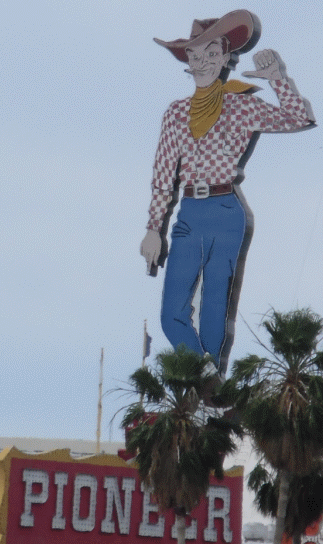 For more information on what Laughlin has to offer there is the Southern Nevada Regional Office of the Visitors Bureau. Call 1 800 452-8445, on the web at visitlaughlin.com.
Back to Table of Contents..
Last Update:6/1/017 &copy 2017 Joe Hilbers All Rights Reserved.
Graphic Design by Impact Graphics