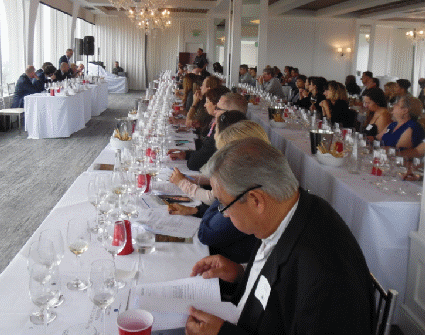 Los Angeles--We learned much about Italy's Moscato d'Asti sweet wines
.. By Joe Hilbers
The Moscato grape is as much Italian as pasta and pizza. When made into a wine it is a ready made dessert in a bottle. Piedmont, a region in Northern Italy of rolling hills, often with steep slopes, is where the Italian farmer over a period of five hundred years has learned to grow this grape and make an exceptional wine. P>Today the wine is called Moscato d'Asti and regarded as Italy's very best sweet wine.
Along with about one hundred members of trade and media we learned much about this wine at a seminar held at Mr. C Bevery Hills. Present were six representatives of the region's prominent vintners, some a third or fourth generation member of a family owned estate.
How this Moscato grape is grown, harvested and made into a low alcohol, intense flavored wine is a most interesting story. Although the wine has been made for centuries modern techniques have boosted the quality and flavors to a new level. Today the Piedmont winemaker keeps the grape climate controlled from harvest until it reaches the bottle. Fermentation is in stainless steel vats and for only a short period of time for as soon as the juice reaches a five per cent alcohol level, it is stopped.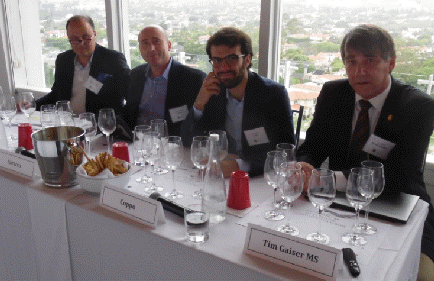 We tasted six Moscato d'Asti wines, all at this five per cent alcohol level, and all from the 2016 harvest. With these wines think intense fruit aroma and flavors. What was of much interest to this Writer was a light fizziness some of these wines had when poured into the glass. This natural light fizziness is produced by the fermentation process producing carbon dioxide which is captured when bottling. The name for this fizz is perlage making the wine unique, neither still or sparkling.

Probably no other grape offers such a variety of aromatic flavors and fragrance which is so well captured by the Moscato d'Asti D.O.C.G. vintner. The result is a perfect dessert wine, so low in alcohol content, that it becomes a casual refreshing drink for any occasion.

Temperatures in the Piedmont region can be harsh in winter with snow not unusual. In summer temperatures are mild but fog is often present. Harvest takes place in September.

The six wines we tasted were from separate regions but all showed the same intense orange blossom and peach aromas and flavors and natural sweetness. In color generally a straw yellow with greenish hues and the perlage fizz added to its appeal.

Generally the Moscato wines are bottled and marketed as young wines but we were told that they age well for at least five years in the bottle.

Americans are recognized as having a sweet palate so it figures that the Moscato d'Asti wines are very popular is the U.S. So much so that four million bottles were exported and sold in the first quarter of 2016.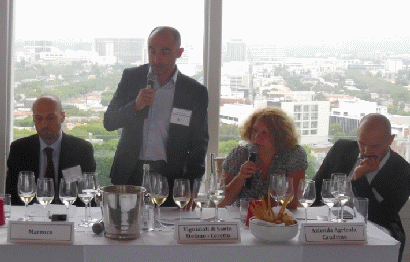 The seminar was very ably moderated by Master Sommelier Tim Gaiser who resides in San Francisco. Mr. C proved the perfect location and an memorable luncheon was served at the seminar's conclusion.

Back to Table of Contents..

Last Update:6/10/17
&copy 2017 Joe Hilbers All Rights Reserved.
Graphic Design by Impact Graphics