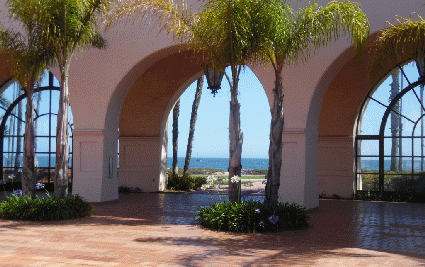 "Santa Barbara--Fess Parker's Resort proved the perfect place so see the region'"
by The Editor
Our beachside stay at Fess Parker's Doubletree by Hilton resort immediately offered us a completey new prospective of Santa Barbara. Upon checking in the first thing we noticed was the wonderful feeling of spaciousness that both the large collection of buildings and the gardens surrounding them offers the visitor.
Santa Barbara has long enjoyed the major role in the concept of a Southern California Riviera and the beachside setting of Fess Parker's, located steps away, added to it..
Our assignment was to check out another segment of Hilton's California Road Trips. Earlier we had visited Hilton Union Square Hotel in San Francisco and participated in that part of the Hilton Road Trip.
So equipped with the complimentary California Road Kit which included Tote bag, Visitors Guide, Vintners Association and Urban Wine Trail Maps, Downtown Organization Map of Shopping and Cultural Attractions, Waterfront Map, and two Santa Barbara Trolley Passes we were more than ready to begin our explorations.
On our last trip to Santa Barbara we embarked on Santa Barbara's Car Free Promotion. It involved leaving your car at home and traveling to Santa Barbara on Amtrak's Surfliner Train. This 2017 promotion invites visitors to travel to Santa Barbara by train. The Car Free offer includes savings on accommodations, wine tasting and activities like sailing cruises and horseback riding. These savings are achieved by the traveler showing his train tickets.
For us it promised and delivered a care free mini vacation, ideal for anyone living in Southern California since Amtrak's Surfliner has a schedule that covers several trains each day leaving in San Diego with a stop at Santa Barbara. For this Writer living in the west San Fernando Valley it meant catching the Train at the Chatsworth Station with free overnight parking and being in Santa Barbara two hours later
However this time we used our car since we planned some excursions out of the City to enjoy the countryside and explore a couple of Santa Barbara County's six wine appellations.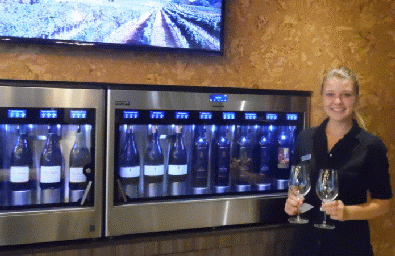 P>But first we wanted to take part in some of the many amenities offered at this Hilton Resort which includes 24 acres. Our room was in one of several different buildings which offer 350 rooms, either with balcony or patio. Ours was on the ground floor with patio equipped with table and two chairs and just steps away from our automobile.
In exploring the Resort,we ,of course, noticed the wine tasting cellar room located in the lobby of the Hotel and learned that wine tastings were conducted there from 3 to 6 p.m. And it was a given that on that very first afternoon we were there to taste some of the vintages of Fess Parker Winery.
We were greeted by a smiling Hostess named Brooklyn who said she was from Utah and when I told her I had spent years writing sports in Salt Lake City we were immediately on the same page.
In all we tasted seven wines from the Parker and Epiphany labels. We restricted our tasting to red wines. My partner was much taken with the 2012 Parker Family Reserve Red Wine while my favorite was the Parker 2013 Pinot Noir from the Rita Hills appellation. From the Epiphany label, which showed mostly Rhone style varietals, we gave high points to a 2013 Petite Syrah from Rodney's Vineyard as well as the 2013 Syrah-Cabernet Sauvignon blend
We truly enjoyed this tasting which was low key and left very much to the individual on what choices to make. Not to mention the convenience of having it in the hotel where we were staying.
After this tasting it was on easy decision to saunter across the lobby to Rodney's Grill for a light dinner which included cocktails, an excellent calamari and pasta entree.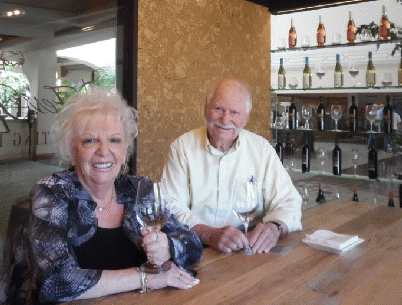 Once we hit the road high priority for this Writer was the Santa Barbara Urban Wine Trail. The concept of a wine trail in the heart of the city came about by eight wine makers in 2007. By the time of our visit it has grown to twenty one wineries This wine trail could not be more convenient since it is located just a few short blocks from the Train Station and about ten minutes from our hotel.. A pamphlet is available that lists the address of each winery, its hours of operation and includes a map for better orientation.
We have always considered Santa Barbara's State Street the prettiest main street in California with its trees and row on row of store front shops offering wares and services of every description. This street invites the walker, stroller, visitor and wanderer with its serene scene and casual ambiance.
The 1925 earthquake destroyed much of the downtown region. After the earthquake new buildings were limited to four or five stories only, a restriction that continues to the present. The value of this concept can readily be seen by just taking a walk on State Street
During our stay the Farmers Market was held on several blocks of State Street one evening. So we became a part of this busy street scene and bustling with street musicians entertainment adding to it. This watch of the street scene was no discovery of ours for State is lined with restaurants, many with open store fronts and patios reaching to the sidewalk.
There appeared no end to the many amenities placed before us during our stay at Fess Parker's Santa Barbara Resort.
The Roundhouse Restaurant located adjacent to the lobby was perfect for breakfast and included both a buffet or orders from your table. The buffet besides offering all the traditional breakfast items also included some classic Southwest dishes.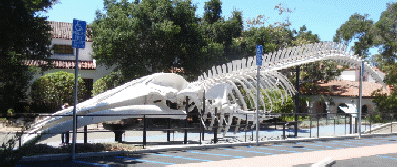 One day we planned to use the Trolley Tour bus which shows tourists the main attractions of Santa Barbara. The Trolley Tour is great for travelers since the ticket allows you to get off at any of its stops and then catch a later bus to continue the tour.
Our joy was complete when we learned that Fess Parker's Hotel was one of the regular stops on the tour. We took advantage of this and so boarded from the Hotel.
We left our bus at the Santa Barbara Mission and adjacent Natural History Museum. . A visit to this museum was high on the list of things we wanted to see. Its location is perfect being adjacent to the Mission and enjoying high ground that looks over the City to the Ocean.
The first thing we noted at the museum, which is the oldest in the City, was that it is made up of a collection of buildings that match perfectly the surrounding gardens and area. We enjoyed the Chumash Life Hall that tells the ten thousand year history of the original Central California people.
Adjacent is the Marine Life Hall that shows the huge number of species that inhabit the Pacific Ocean in the region and the important role it had for the Chumash way of life.
We did have to limit our time on this visit since we wanted to re-board the Trolley Tour to continue our explorations before finally ending it once again at Fess Parkers Hilton Hotel..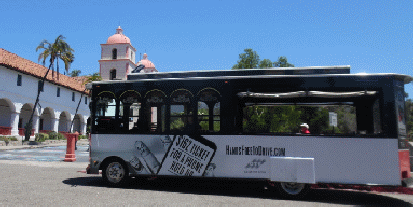 There is no better place to enjoy ocean views than scenic Highway One as it leaves Santa Barbara going north and hugs the Pacific through the Central Coast.
Lompoc is gateway to the Santa Rita Hills wine appellation, one of six in Santa Barbara County, which in a short period of time has achieved a great reputation for the quality of its Burgandian style wines--Pinot Noir and Chardonnay.
The Wine Ghetto in Lompoc is the wine tasters dream come true for here are clustered the tasting rooms of twenty eight local wineries. Located in the industrial part of town, grouped in work stations designed for small businesses the tasting rooms are generally small, intimate and designed to show off some of California's best wines.
Just before you reach Lompoc on Highway One a county road takes you to Jalama Beach Park. This fourteen mile drive winds through cattle country, scenic hills, valleys and meadows and then to the Coast with its view of the ocean and a huge sweep of coast line north to Government Point. Jalama Beach Park offers camping, picnics, surfing, fishing and a store featuring great hamburgers. To the south from Jalama Point Conception can be seen with its lighthouse and its place in the history of the region.
As usual we had to leave many of visits to another time. We wanted to drive to Los Olivos to visit the Fess Parker Winery and some other wineries on the Foxen Canyon Wine Trail and perhaps enjoy a lunch at Solvang. But then there is always another time and something else to look forward to. As the lyrics of the Broadway musical song say, "Oh well, we'll meet again, some other time".
Back to Table of Contents..
Last Update:6/19/17
&copy 2017 Joe Hilbers All Rights Reserved.
Graphic Design by Impact Graphics