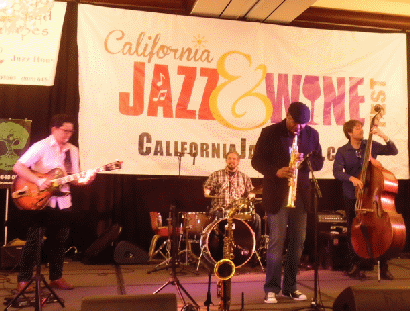 "Westlake Village--The California Jazz & Wine event was a great success
By The Editor
The 6th annual California Jazz & Wine event proved to be a wonderful way to spend a beautiful Spring day in the Conejo Valley. It is produced each year by the Rotary Club of Westlake Village Sunrise as a benefit for the Boys & Girls Clubs of Greater Conejo Valley as well as other non profit organizations.
We attended the event for the second year in a row to enjoy the jazz of the Danny Janklow Quintet, taste wines from both local Ventura county wineries, as well as the Central Coast, and yummy bites from some of Conejo Valley's best restaurants.
Actually the entertainment included a lineup of jazz performers including the Adam Clark Quartet and Lao Tizer Quartet performing from two different stages.
Eight craft and Micro Brewery were there as well, both local and as far away as Lagunitas in Petaluma and Firestone Walker in Paso Robles.
The gourmet foods presented included the Italian from Grissini Italian Ristorante, meats from Mastro's Steakhouse, BBQ from Conejo Valley Catering and Dottie's Sweet Delights to mention just a few of the twenty eateries present.
We learned about the Malibu Coast Wine Trail which now includes seven tasting room of wineries belonging to the Malibu Coast Vintners and Grape Growers Alliance. Also a little history of the Malibu Coast apellation which saw its first vineyard in the early 1800s. Now there are more than fifty vineyards along the Coast. < P>We met Greg and Janet Barnett of NABU Wines and promised to check in at their tasting room located at 2649 Townsgate Rd in Westlake Village.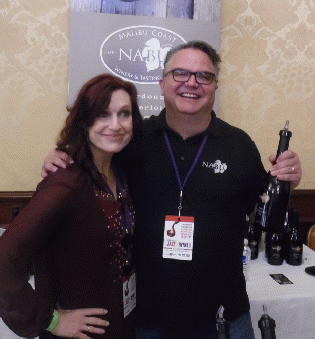 Vin Alegre is a winery located in Paso Robles and we stopped at their booth to meet with Robert Behlendorf, owner and winemaker as well as Matthew and Bonnie Midura who handle sales and marketing for the brand.
The Jazz & Wine event also included a good representation of local craft brewers. John Bird was there for Enegren Brewing Co and told how Brew Captain Chris Enegren has grown to now operating a fifteen barrel brewery and tasting room located at 444 Zachary St. in Moorpark.
This Writer admits to having a sweet tooth so it was no surprise that we hovered some at the booth where Dottie's Sweet Delights were be served and meeting the charming girls who kept handing them to us.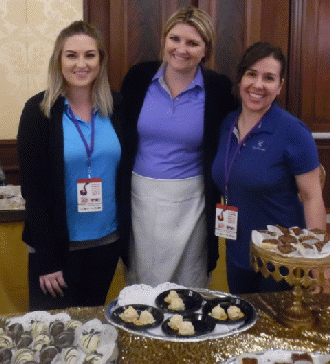 The Jazz & Wine event was a great success and our compliments to Rotary Club of Westlake Village Sunrise, one of 33,000 clubs making up Rotary International, for sponsoring it
Back to Table of Contents..
Last Update:4/14/17
&copy 2017 Joe Hilbers All Rights Reserved.
Graphic Design by Impact Graphics