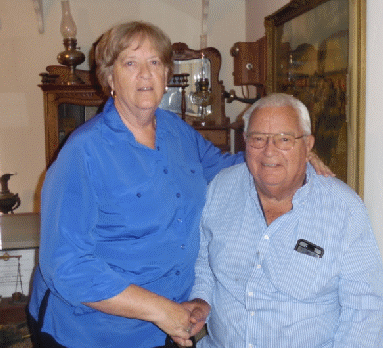 "Yuma--It is always a sunny day for a party or festival'"
by Joe Hilbers, Editor
On this visit to Yuma, Arizona the question arose is partying a way of life here or is it that we only visit when there is a party? Anyway this visit with members of the International Food, Wine and Travel Association proved to be a series of special events.
First was the People's Choice Salsa Queen Competition and Kick-off Party taking place at the Yuma Civic Center. To say that this was well attended was an understatement. Soon the corn chips were out and the tasting of the best salsas in town was taking place along with the music and dancing.
Then it was an al fresco dinner with Chef Juan on the Sunset Terrace of the Civic Center overlooking the golf course. With imported Cerveza or Margarita de la Casa for beverages we enjoyed Carne Asada Tacos with beef then chicken Adobo Tacos with shredded chicken breast, followed with Mexican street corn mixed with a creamy cheesy sauce.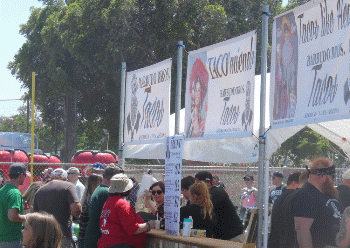 Yuma is a city with a history that is classic with the building of the American west. It is located at crossroads of the Colorado River that has been used for many centuries. Before the building of several dams the Colorado was a mighty river and finding fording places was difficult. So this crossroads and ford has been used by Native Americans, then the Spanish Explorers and finally for American expansion of the west and building of the railroad.
Officially the City was incorporated in April 1914. But long before the first train from California came in 1877 and it was already the headquarters for the U. S. Army in the southwest.
Yuma has been the location where some memorable movies were made. They include Road to Morocco, Spaceball, Star Gate, 3:10 to Yuma, Jarhead and The Getaway.
Aviation has played a large role in Yuma's history. It was the first touchdown on the initial flight across the Continent which took 55 days. During World War 2 Yuma played host to soldiers and air force personnel from nearby bases. It is now home to the Marine Corps Air Arm. Also the "City of Yuma" was the name of the plane that set a flying endurance record in 1949.
But getting back to our partying. A big event each year is the Tunes & Tacos Festival conducted at the Desert Sun Stadium. Fifty three taco stands were set up for people attending a Music Fest. Also there was a taco cookoff with stands competing for honors with a team of judges deciding the winners.
Locals and visitors alike have some outstanding facilities for play and pleasure. The Yuma Civic Center provides both with a huge amount of space for social events like reunions, banquets and weddings. In all there are seventeen rooms which can be used for private events with in-house catering. Carrie Ring, Events Specialist, explained all to us adding that it has been serving the community since 1974.
Located adjacent is the Desert Sun Stadium and Fairgrounds where the annual Taco Festival takes place. Also the Desert Hills Golf Course which has been named Arizona's best Municipal Course.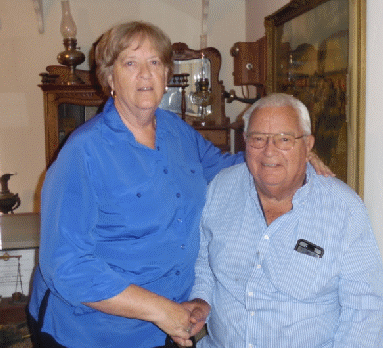 Our stay at Historic Coronado Motor Hotel was both pleasant and very informative. When John and Yvonne Peach took over the motel he was one of the ten businessmen that first organized Best Western which has become a symbol for outstanding lodging.
Yvonne Peach loves history and over decades amassed artifacts and memorabilia of the City of Yuma as well the story of the Historic Coronado Motor Hotel. To this end she used the original house on the property to house them and named it the Casa De Coronado Museum. We toured the museum and were amazed at the story it tells. Each room displays a history of both the Hotel and several decades of the 20th century.
One room shows the office of an earlier era complete with telephone switchboard. Another shows early office tools and appliances like calculators, typewriters, early TV, phonographs and cameras. The kitchen takes one back to a wood cook stove and matching utensils and appliances. Another gives the history of Best Western and the many awards garnered by the Historic Coronado Motor Hotel for over fifty years.
Our party styled trip continued with the evening we spent at Yuma Landing Bar and Grill which is part of the Historic Coronado Motor Hotel. Here we met our hosts John and Yvonne Peach for the "Yuma Landing & Mudshark Brewery Beer Pairing Dinner. This included four courses with a craft beer explained and served with each course. Appetizer was Chicken T-Bone, Caribbean spiced; then a huge baby Romaine salad with feta cheese followed by the entree of Pork Loin with bacon and onion stuffing on a bed of risotto, the brew named Full Moon. Dessert was a Brownie with dark chocolate and amartto.
Yuma Landing shows an American contemporary menu that fits well with the sports bar which is part of the operation. To be found on the menu are steaks, chops, ribs and combos like steak and shrimp. Like most Yuma restaurants southwest cuisine is well represented with items like street tacos.
The bar and dining rooms are a showplace for photographs and artifacts that depict a history of the City of Yuma through many decades. Farming, aviation, river traffic and railroads are all subjects covered on the walls and counters. They are all in keeping with the above described Casa De Coronado Museum.
We also had breakfast at Yuma Landing and found a large menu with entrees bountiful and well served. There is a complimentary breakfast menu for Hotel guests.
Yuma Landing is located at 195 S. 4th Street, Telephone 928 782-7427. It is open daily from 6 a.m. and serves breakfast, lunch and dinner. The Sports Bar is open till 10 p.m., 11 p.m. on weekends.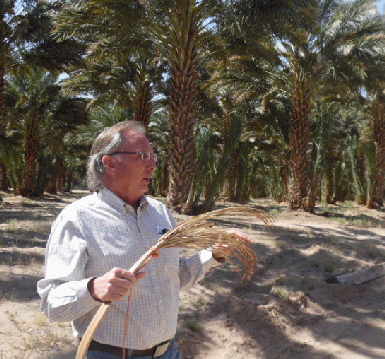 Yuma is the hub for one of the nation's most productive agricultural areas thanks to year round sunshine and Colorado River water. In winter the region provides 95 per cent of the entire nation's leafy fresh vegetables.
We journeyed to the hinterland one morning to meet Chris Dennng at Martha's Garden to learn about palm trees and date growing.
Several miles from the City we arrived at a grove of palm trees that extended in rows offering a lush green in shady splendor. Chris had a lot to tell us. There are both male and female trees with the male trees providing the pollen for the female trees. This pollination is not left to chance. The pollen is gathered from the male trees, treated and then sprayed onto the female trees. In the grove we saw, which had hundreds of trees, the ratio is one male tree to 50 female trees which actually grow the dates. There is one crop a year with harvest in September.
We learned just how intensive the labor is in caring for the trees throughout the year. Chris Denning is marketing manager and explained that much of the crop is exported to countries around the world and that only in recent years has the domestic market started to expand.
Martha's's Garden was started in 1990 by Nels and Martha Rogers and now tours are conducted on a regular basis. All processing of the fruit is done on site and there is also a store and fountain for enjoying the famed date shakes and ours was truly delicious.
Our partying continued at the Penitentiary Pint Fest which took place on the grounds of the Yuma Territorial Prison State Park. Here 24 craft breweries had stands offering samples of their favorite products. On arriving we were given a miniature mug and a ticket displaying 24 places for sampling. There was also live music and opportunities to enjoy burgers with the brews. It was a charity event sponsored by the Fort Yuma Rotary Club.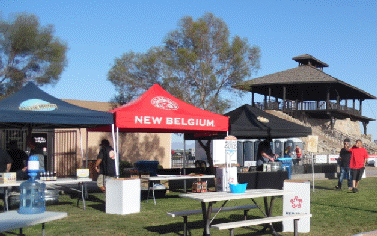 That afternoon we made a visit to the museum of the Yuma Territorial Prison State Park. We had been there before but it was a new exciting experience for one of the other travel writers. We much enjoyed looking at some of the movies that had been made on location at the prison through the years.
We also visited The Peanut Patch which has been a Yuma landmark since 1952. Owner Donna George was there to give us a briefing on what peanut bushes look like, how they grow and are harvested and what the peanut process entails. Donna took over in 1997. The bushes are planted in early Spring and then turned over to be field dried before gathered in the Fall by a mechanical harvester.
The peanuts are then sorted for quality and planned use. We were surprised to learn Spanish peanuts are from the same plant. The Peanut Plant processes the peanuts and also makes peanut butter and peanut brittle on the premises as well as a large selection of chocolate confections. The Peanut Plant is located at 4322 E. County 13th Street. On the web at www:peanutpatch.com.
Yuma, like many other cities, rediscovered its old movie theater, which was built in 1912. It was renovated, remodeled and again open in 2010 as part of the City's Park and Recreation Dept. Lindsay Beacka, Yuma Art Center Manager, was our guide as we toured the theater with its colorful murals and beautiful wood floors.
The Center also displays works of local artists. We were much impressed with the paintings by Elizabeth Daniel, a Kansas artist, and her exhibit which was entitled "Ad Astra Per Aspera".
Not quite a party but rather a most gracious event was our visit to the Sanguinetti House Museum and Gardens located in Yuma's historic downtown district. . Here we were greeted by Yanna Kruse, regional director of the Yuma County Historical Society.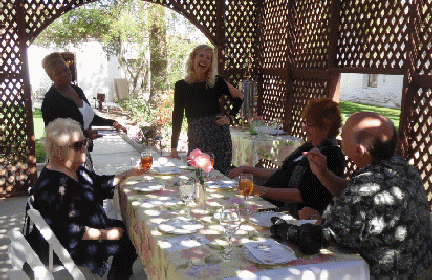 The Sanguinetti House was once the residence of a successful Yuma retail merchant during the Victorian era and the grace of the house and its furnishings mirror that era. Yanna offered some amusing stories about what life was like and what was considered proper behavior and manners for both gentlemen and ladies during the Victorian era. As we moved from the house to the patio we were seated in a most elegant latticed gazebo to be served ice cream on a perfect Yuma afternoon.
Did we mention that we like Yuma?
One day lunch time took us to Chretin's Restaurant which has been a long time favorite in Yuma since 1946. Their move some years ago to a new location and an ambiance that says Cantina just added to their famed classic Mexican cuisine.
After our farming explorations we had a good appetite as did our companions. I ordered the Orale burger which came with a choice of fries, beans or rice. I truly enjoy Mexican beans and so ordered them. The menu is large with plates like Beef Machaca or Chile Verde. The restaurant has a full lounge and bar and we particularly liked the colorful booths with their colorful mural like walls. Chretin's is located at 505 E 16th Street in Yuma with ample off street parking. Telephone 928 750-0060. web, www.chretins.com.
Our visit to the Yuma Crossing National Heritage Landmark proved to be an educational experience.. Charles Flynn is Executive Director and he was our guide. He explained that when the Colorado River receded in size after damming, large areas of river bank became a wasteland. The City of Yuma faced the problem and decided to clean up the area and return it to its original state of lush wetlands. In this they have been remarkably successful. The birds and wildlife have returned to what again is native natural foliage.
Now it has become a favorite recreational park with winding trails for hikers and bikers. There is also the Pivot Point Interpretive Plaza with its mammoth steam locomotive.
Charles Flynn, who was active with the restoration since its beginning, also explained the large role the railroad played in developing Yuma. The steam locomotive on display faces toward Madison Avenue where the railroad tracks originally ran. At one time there was also a Depot built by Southern Pacific in 1924 which quickly received acclaim for its classic southwest architecture. Unfortunately this depot was lost to fire five decades later.
On another day we toured the West Wetlands Park . Here at the edge of the Colorado River there is a large pond that allows fishing, a large castle for exploring by children and lush gardens. The pond and locale are perfect for picnics and outings. Our timing was perfect as Spring showed everywhere with flowers on some of the cacti, and both trees and bushes exploding with new blossoms. We did not let the opportunity for photography to pass us by but was busy with our camera. We strolled down to the River for yet more photos and watched activity at the boat launching dock
We took particular note of the monument of the Mormon Battalion which tells of their crossing the Colorado River there January 9 to 11, 1847. The reason is that my two sons have a great, great, great grandfather who was with the Battalion all the way from Illinois to the march that ended in San Diego. His name is Meltiar Hatch and he was 21 years old as he made the Yuma Crossing.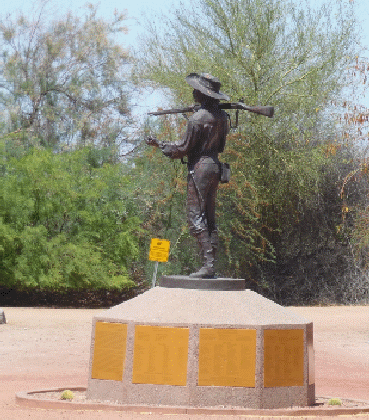 Together, the two wetland parks offer seven miles of riverside bike trails, a three mile hiking trail and four hundred acres of restored wetlands for recreation.
The two Yuma Crossing Riverside Parks are only a few city blocks away from the historic downtown area. For more information stop by the Visitor Information Center located on 4th Avenue just off Interstate 8.
Back to Table of Contents..
Last Update:4/19/17
&copy 2017 Joe Hilbers All Rights Reserved.
Graphic Design by Impact Graphics