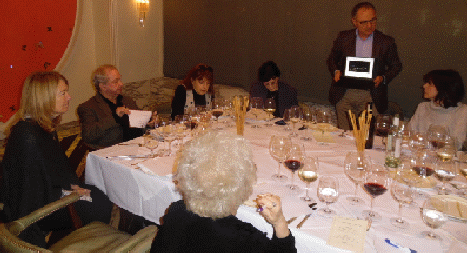 West Hollywood--Since 1883, and four generations, Cecchi Family Estates has been making outstanding Chianti Classico wines
.. By Joe Hilbers
Interviewing Andrea Cecchi was truly an enjoyable experience. Here we found an Italian gentleman with an friendly easy to know manner with much to tell us about the hundred and twenty five year history of his family, its winery and his own experiences as a fourth generation member of Cecchi Family Estates. It was founded in 1883 with its vineyards in Tuscany at Villa Cerna. Today it includes an award winning restaurant and plans for a cooking school as well.
We met Andrea at the five star Cecconi's Restaurant in West Hollywood and he told us of the family's devotion to producing Classico Chianti wines but has also moved on with an exciting white wine made from a local varietal called Maremma. We started our tasting with this Cecchi La Mora Vermentino Maremma DOC 2016. Andrea explained that the family has been making this wine since 1915, produced in stainless steel and generally around 12.5 per cent alcohol. We found the wine with a mild aroma, very dry with much freshness on the palate.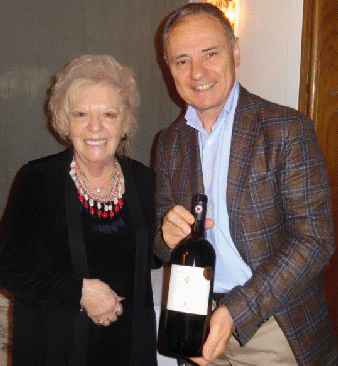 The restaurant, famed for its Italian cuisine, provided a family style luncheon that opened with meatballs, calamari fritti and butter lettuce salad as the first course. Here we tasted the first of the Cecchi Storia di Famiglia Chianti Classico DOC 2014. Produced from 90 percent Sangiovese and ten per cent Colorino Toje Ano, another local varietal, it showed deep color, prominent aroma and full body but with smoothness on the palate which is so typical of this varietal. Our entrees, again served family style, by our remarkable waiter, Miguel, included Garganelli Bolognese, Eggplant Parmigiana and organic salmon with caponate and aged balsamic.
Here we moved on to Cecchi Riserva di Famiglia Chianti Classico Riserva DOC 2013 which earned 94 points in a competition. This was a blend of 90 per cent Sangiovese and 10 per cent Cabernet Sauvignon. Andre explained that this wine was from vineyards in a smaller classico region. These Cecchi Chianti wines have earned an international reputation for their excellence and are exported to thirty countries with the U.S., Germany, the UK and Canada as major markets.
Prized as a super Tuscan blend is Cecchi Coevo 2011. This is an Italian version of classic red varietals blended together. The blend fifty per cent Sangiovese, ten percent Cabernet Sauvignon, 20 per cent Merlot and 20 percent Petit Verdot. This prized vintage with has long bottle aging. and every bottle numbered. In Italian Coevo means contemporary. We thought it a memorable wine with exploding aroma and deep richness and lasting finish.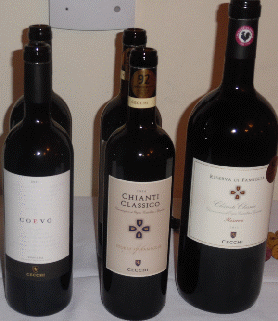 Our dessert was a selection of petit fours and we were as impressed with the cuisine and service at Cecconi's Restaurant as we were with the outstanding Cecchi wines. But most of all with Andre Cecchi for here was a man we wished we could have spent more time with and so enjoy his company another time.
Back to Table of Contents..
Last Update:5/11/17
&copy 2017 Joe Hilbers All Rights Reserved.
Graphic Design by Impact Graphics