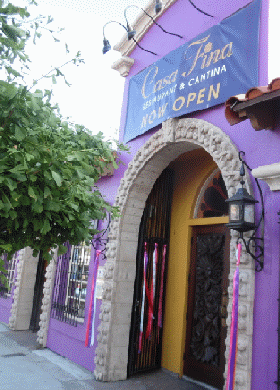 Los Angeles--Casa Fina maintains Boyle Heights traditions with authentic Mexican cuisine
by Ronnie Greenberg
In a city filled with culinary outposts that honor cuisines from all across the world, Casa Fina stands out for offering a unique authentic and heartfelt representation of Mexican food from taste to presentation... in an energized and festive atmosphere. Vibrant colors and art give way to a warm and friendly ambience and welcoming staff.
Josefina Lopez, the award winning playwright and screenwriter, the creator of the pop culture play and film, "Real Women Have Curves," and Founding Artistic Director CASA 0101 in Boyle Heights, celebrated her 30th anniversary as a writer with the opening of the restaurant. She has now added the title of Restauranteur to her Resume. Although primarily universally known as a writer, Josefina Lopez is also a Culinary Chef who graduated with a Supreme Diploma from the renowned Le Cordon Bleu in Paris France. She was inspired to write a culinary and erotic novel titled "Hungry Women in Paris", in 2009 and available for sale at CASA FINA and the kindle version on Amazon. She has also attended the New School of Cooking in Culver City where she studied cuisine with a California touch and making pastries as well as the Gourmandise Cooking School in Santa Monica, where she studied chocolate making, bread making, pasta making and pastries.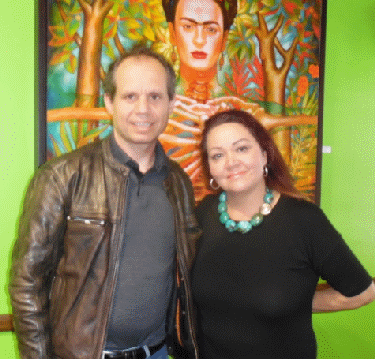 Josefina Lopez has now joined forces with three other business partners and immigrants like herself, Executive Chef Augustin Alvarez, and Restaurant Owners, Alonzo Ricardo and Emmanuel Deleage (Josefina's husband) to oversee CASA FINA Restaurant & Cantina, a celebration of color, women and Mexican cuisine.
Chef Alvarez presents the cuisine of Mexico with his unique twist on traditional dishes. With creative new techniques and innovative presentations, Chef Alvarez cooks the food he grew up eating in his grandmother Abuela Bernardina's kitchen, and who raised him and taught him how to cook. His colorful sauces are a vibrant blend of traditional herbs and spices, some spicy, some sweet and all packed with the bold flavors of its Mexican roots. His American and French inspirations were from working at restaurants in Newport Beach and Torrance. With a spin on a variety of traditional dishes, get ready for an explosion of incredible tastes.
Like the grand opening of an award winning play, Casa Fina dramatically plays out their menu. Highlights for the table include tortilla chips and fresh salsa.
Act One is breakfast with breakfast plates and burritos served anytime. Regular full breakfast is Saturday and Sunday until noon. American and Mexican specialties are available.
Act Two features botanas/appetizers such as quesadilla, shrimp, veggies and cheese; fish or shrimp ceviche tostada; Oyster shooters; fajitas salad with grilled chicken or steak; Caesar salad with grilled chicken; taco salad with chicken, carne asada, carnitas or ground beef. There is also your choice of caldos de pollo, de res,de Camaron or 7 mares.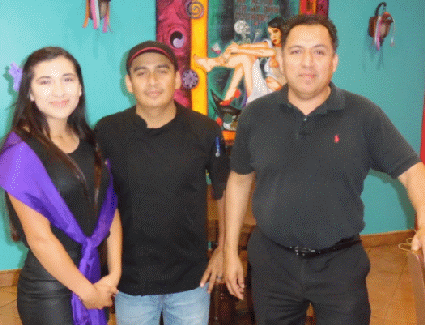 The Mexi Lite Menu features shrimp veggie, chicken veggie, or carne asada veggie bowl; grilled veggie plater; veggie, or super lite burrito; mushroom or black bean taco and ceviche vegetarian tostado.
Act Three -Entrees include burritos- fajita, shrimp, fish (grilled or fried),veggie, the popular California(with carne asada, potatoes, cheese, sour cream, and avocado),bean and cheese, or make any burritos "enchilada style" and you can add a side of rice and beans. In the Combinations that are all served with rice and refried beans you can have: El Pancho-any two, three or four items; Mexican Tacos with your choice of meat including soft ,crispy or bean or cheese chile relleno and flant. Your choice of pork or chicken Tamales.
Climax includes Fajitas, Combinations of chicken, steak and shrimp; carne asada plate; chile Colorado plate, Milanesa plate; and the signature Emmanuel's Favorite Flank Steak.con Fries There's more... Molcajetes, Mariscos featuring Librado de Camaron.. 1 pound of shrimp, cooked to your preference or half or dozen oyster on the half shell, and the always sought after fish tostada de ceviche
Resolution features burger combo; chimachanga; Tortas and more. The story continues with Dessert: What else but a rave worthy flan, deep fried ice cream, tres leches cake, Mexican wedding cookies, churros with chocolate dipping sauce, or strawberries dipped in chocolate with whipped cream, to top off your meal.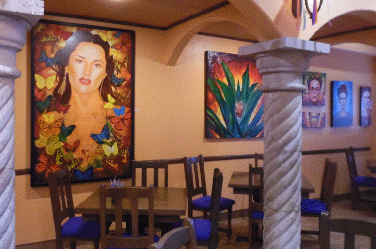 You will certainly need something to quench your thirst while enjoying the Cantina at Casa Fina. Some special cold drinks include Mexican coke, jarritos, horchata, Jamaica, tamarindo and lemonade with cucumber and mint. Unique and refreshing are the Wine Margaritas, served on the rocks or blended with lime, strawberry, peach or coconut. Other choices are El Guitarron shot algave wine, sangria by the glass or pitcher, and a selection of wines that includes those from Guadalupe Valley Baja to Kendall Jackson. There is also draft beer by the glass or pitcher
Hours of operation: Monday through Thursday, from 11 a.m. - 10 p.m. for both lunch and dinner; Friday from 11 a.m. to 2 a.m.; Saturday from 8 a.m. - 2 p.m. including breakfast, lunch and dinner and Sundays from 8 a.m. - 10 p.m. including Sunday Brunch from 8 a.m. to 12 noon. The Cantina is open from 10 p.m. -2 a.m. on Fridays and Saturdays with a limited Happy Hour Menu featuring daily specials. Highlights include Art on the wall that is for sale. When you eat at CASA FINA you support the arts in Boyle Heights. Casa Fina is proud to donate a portion of their profits to Casa 0101 Theater who supports actors, writers and artists, which also ensures that Latinos are represented in the theater, women's voice are heard, their stories acknowledged and their contributions celebrated.
Casa Fina Restaurant & Cantina is located in Boyle Heights Art District at 1842 E. First Street, Los Angeles 90033, phone (323) 604-9592 www.casafinarestaurant.com. Valet parking is available behind the restaurant.
Back to Table of Contents..
Last Update:5/20/17
&copy 2017 Joe Hilbers All Rights Reserved.
Graphic Design by Impact Graphics