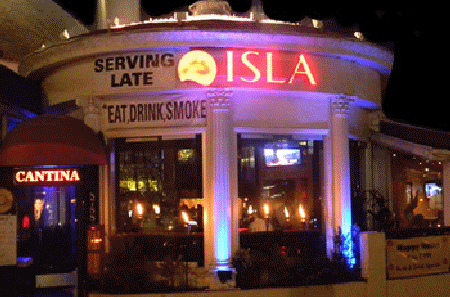 Sunset Strip--Isla Cantina pleases with innovative Mexican and Latino fare
The Editor
Thanks to cinema, television and the written word Sunset Blvd., the Sunset Strip, is one of the most famous streets in the world. For some decades it was part of my 'beat' as a reporter. In recent years my visits have been more infrequent but when I heard about a restaurant called Isla Cantina this Writer wanted to find out more. Isla is the creation of Igor Nicolas and partner and General Manager Whitney Kane. The menu is frankly Mexican and Latin American. But the kitchen shows unusual inventiveness and a flair for the unusual that we found most interesting.
Isla is now three years old and firmly in place as a one of a kind restaurant on the Strip. Igor, after a long career in the restaurant business, has put together a talented staff including Alex Jaimes behind the bar, innovation in the kitchen and friendly people on the floor. My dining partner and I decided to taste some of the unique creations of this restaurant starting with an Acapuleo tuna boat, then Ceviche Seabass Martin, followed by Calamari frita.
But we had only just begun. Next to arrive was an extraordinary Apache filet mignon, Isla style oysters on the half shell, and guacamole. Our entree was Isla street tacos, one soft with seabass and the other a ground Kobe beef crispy taco. These arrived with a plate of sides and add ons like guacamole, salsa, sour cream and dipping sauces. Our desserts two Souffle, one a dark chocolate the second a grand marnier coconut accompanied with whipped cream and fresh berries. This menu offers a large selection of tapas, pizza, seven varieties of street tacos as well as a large list of appetizers like those we tasted with satisfaction. Alex Jaimes commands a full bar and lounge with specialty drinks as well as a well rounded selection of beers and wine. He came to Isla from one of the top hotels in Acapulco.
One of the surprises of this restaurant are the modest prices for such exceptionally well prepared quality fare. Lunch specials range from $8 to $10 and street tacos ranging from Ahi tuna tartar to filet mignon are priced at $5. Then there is the Happy Hour from 4 to 7 p.m. each day with all drinks 2 for 1 and a long list of appetizers ranging from four to seven dollars.
Ambiance at Isla is casual and relaxed as one would expect of a Cantina. We admired the surrounding glass windows which look out to the always busy boulevard and the dining areas that are divided into small intimate areas.
Isla Cantina is located at 8788 W. Sunset Blvd., West Hollywood, telephone 310 657-8100, web. islacantina,com. The restaurant is open daily for lunch and dinner, hours from 11:30 a.m. to 2 a.m., with the kitchen closing at 1 a.m. Valet parking is available behind the restaurant
Back to Table of Contents..
Last Update:11/3/11
&copy 2011 Joe Hilbers All Rights Reserved.
Graphic Design by Impact Graphics