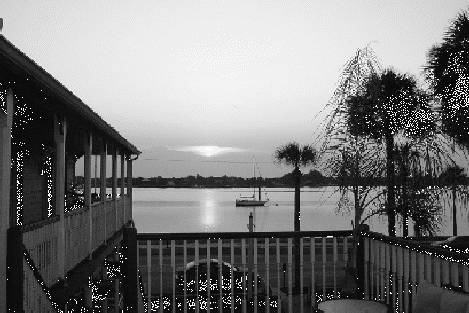 ---
A St. Augustine--Inns of Elegance enhance delight of B & B travel by The Editor
Bed and Breakfast Inns enjoy a unique niche in American travel. This was brought home to us once again when we enjoyed the hospitality of the Inns of Elegance on our visit to St. Augustine. As the popularity of B & B Inns has increased in the U.S. for marketing purposes several in the same city will combine their advertising efforts. One thing that sets many B & B's apart is that they are a treasure house of an earlier era. The houses themselves are also from a past age of opulence and then the furnishings are often true antiques.
Our hosts in St. Augustine were Mike and Sandy Wieber and their B & B Bayfront Marin House. We also had the opportunity to visit the other four B & B houses that make up the Inns of Elegance.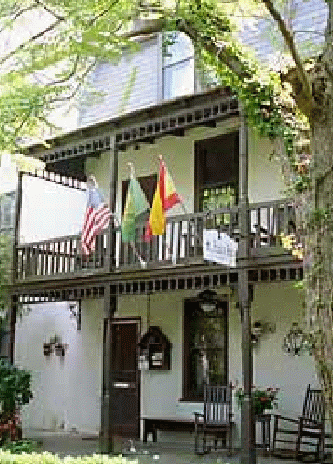 When we visited St. Francis Inn Owner Joe Finnegan was a storehouse of knowledge when it came to B & B's and their rise in status over the past quarter century in American travel. He pointed out that historically B & B's were in Europe first and there were recognized as providing inexpensive lodging. While in the U.S. the exact opposite is true with those in this country holding an upscale image appealing to an ever growing number of travelers.
He went on to explain the appeal B & B's offer a certain type of traveler. First and foremost there are no two alike and even one B & B generally offers several different decors and ambiances. Joe offers the opinion that B & B's attract people looking for new experiences when they travel, adding excitement to their trip since each B & B is a unique stay. Many people enjoy the social conversation that is part of a Bed and Breakfast stay.
Besides offering unique decor and furnishings the food varies greatly and an all inclusive price is also attractive. There are none of the innumerable 'extras' generally attached to hotel visits. Staying at a hotel, generally part of a chain, makes lodging predictable no matter where the location while the opposite it true of B & B's. With them identity with their location and environment is all important.
Joe Finnegan should know what he is talking about since he has been Owner-Innkeeper at St. Francis for 26 years and in fact is dean of B & B's in St. Augustine. St. Francis Inn is a member of "Select Registry, a Distinguished Inn of North America.'
We had the opportunity to visit some with Mike and Sandy Wieber during our stay at Bayfront Marin House. They are originally from Maryland but on a couple of visits to St. Augustine decided this was the place for a career change which they made two years ago. They purchased Bayfront Marin House which is actually three different dwellings that were combined in the 1930s. The first house dates from 1790 but it only became a B & B in 2003.
Bayfront Marin House has 15 guest rooms and extensive outdoor patios with relaxing views. Bayfront is well named since it fronts on Avenida Menendez Street that parallels the bay front. We had to get up early each morning to watch the sun rise from Anastasia Island and Matanzas Bay. Mike enjoys his role as host and has a staff of eleven well trained people who stayed on when the Wiebers took ownership. . Mike told this Writer that Bayfront enjoys a high rate of repeat guests and that about three fourths are from the northern Florida region. Last year Bayfront Marin was voted Number One B & B in St. Augustine by Folio Magazine. >P>Also on Avenida Menendez is Westcott House with Joy and Andrew Warren as owners and hosts. It offers 16 guest rooms, all antique furnished. Breakfast is offered either on the porch or can be enjoyed in the guest room. Westcott House was named "one of the Five Best Bed & Breakfast Inns in NE Florida' by Palm Coast Living Magazine.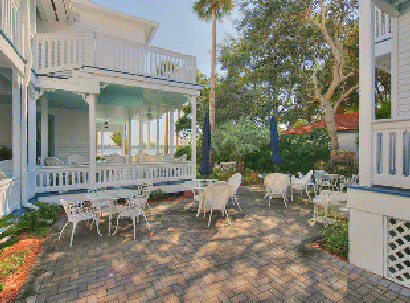 It was built in the late 1800s by Dr. John Westcott who became a major developer in St.Augustine and that area of Florida. Of classic Victorian architecture it overlooks Matanzas Bay. Here guests take a step back into history. Besides its many comforts and luxuries Westcott House take pride in its breakfdast and social hour menus.
Somewhat unique from the usual B & B is Casablanca Inn. What sets it apart is the fame it has enjoyed from its Tini Martini Bar, a rarity for the B & B format. The bar offers outside porch seating and tables. Its selection of Martinis gave its name and there is also an outstanding wine list. Casablanca is also the largest of the Inns of Elegance with twenty rooms and three suites. They all enjoy a Mediterranean ambiance combined with classic Southern hospitality. The rooms offer all aminities and some have fireplaces and private patios.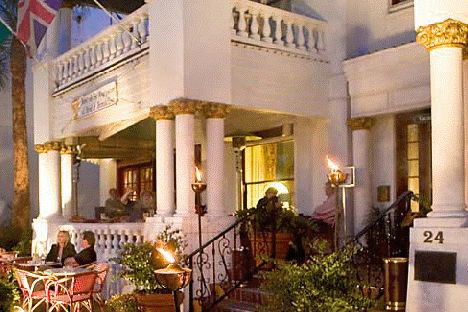 The Casablanca also offers a "Secret Garden" which is certainly no secret except for its location. Innkeepers are Nancy Cloud and Michael Miles. The Atlanta Journal Constitution named Casablanca among "Ten Great Inns of the Southeast'.
Inn on Charlotte is the smallest of the Elegance group with eight guest rooms. They are in a plush home filled with authentic antique furnishings. Each room represents a famous or legendary person from St. Augustine's historic past. Rodney Holeman is Host and Owner.
The house was built in 1918 by a local attorney who wanted an elegant home on a quiet tree lined street and so it has remained to this day. It is one of the oldest Bed and Breakfast Inns in St. Augustine opening in 1993. In 2003 it enjoyed a restoration which included meanful antiques as well as whirlpools in evey room. It was named one of the top ten romantic Inns in Florida by the Palm Beach Post.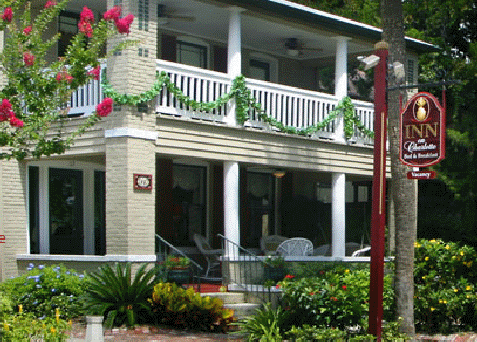 We have stayed at B & B's in many parts of the country from California to Washington, Maine to Florida and some in between. We decided long ago in meeting hosts that indeed they are people who enjoy people. . After all my visits one thing still puzzles me though, what are you supposed to do with the pillows.
.
.
Back to Table of Contents..
Last Update:9/10/11
&copy 2-11 Joe Hilbers All Rights Reserved.
Graphic Design by Impact Graphics