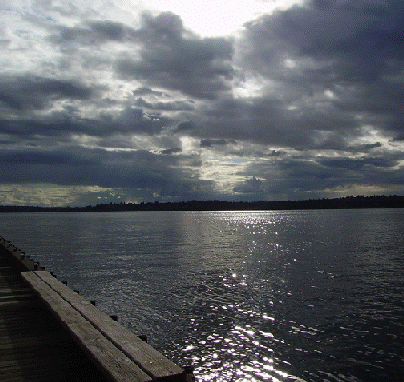 "Seattle--Our tour was all about food and wine'" By The Editor
.
We enjoyed some memorable dining experiences on our Seattle adventure. Boka Kitchen and Bar, located at Hotel 1000, showed us a food and wine pairing dinner with vintages from several countries. We opened with a corn chowder with corn and crab fritter. The wine a French 2009 Domaine de la Quilla Muscadet. The salad was warm asparagus with baby frisee, poached egg with a bernaise sauce. Here we enjoyed a glass of Heinz Eifel 2009 German Riesling.
A Washington State 2009 Sauvignon Blanc from Di Stefano Winery was served with Taylor Shellfish mussels in a pickled tomato broth. Our next fish course was Columbia River Sturgeon served with baby beets and beet puree and a dill mousse. Our wine an Oregon pinot noir from Route Stock 2009. Next to arrive was Veal Cheek, a new dish for us, tender and flavorful. It was accompanied with ricotta gnudi, peas, morels and lemon. Matching it perfectly was another Washington wine, Heaven's Cave 2009 Merlot.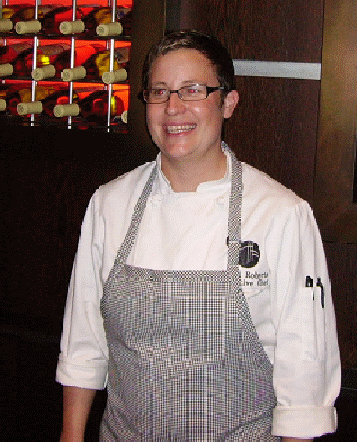 For dessert Executive Chef Angie Roberts presented us with fresh locally harvested strawberries in a short cake with sweet biscuit and Devonshire cream. Italy was the source for our accompanying La Fiera Moscatto. Chef Roberts is from Washington and grew up near a kitchen as her mother was cook at a logging camp. She sows an innovative cuisine at Boka using fresh local products whenever possible. Her use of several ingredients with each appetizer or entree present many flavors. Pouring the wine for us was a smiling `Mi-Suk Ahn, Boka bar manager. Boka Kitchen & bar is located at the Hotel 1000 in downtown Seattle at 1010 First Avenue, telephone 206 357-9000.
At Willows Lodge in Woodinville the Barking Frog restaurant has a reputation for excellence. Under Executive Chef Bobby Moore the menu is exciting and provocative. Our dinner proved this as well as the restaurant's reputation for having an extraordinary selection of wines, most showing the pride Washington demonstrates in its wine industry. From a tantalizing selection of appetizers we selected the Dungeness crab with pickled fruit. Our wine was Chateau Ste. Michelle Luxe 2004 sparkling wine which we thought exceptional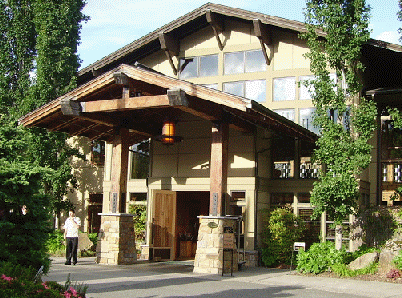 Our entree was oven roasted Alaskan Halibut with garden fresh peas and fingerling potatoes. Other wines we tasted included a Trust Rose made from Cabernet Franc grapes grown in the Walla Walla region. Also a Stevens Black Tongue 2008 Yakima Valley Syrah as well as a 2008 Lourine 2008 Pinot Noir from the Willamette Valley.
Willows Lodge and the Barking Frog Restaurant are located in the heart of the Woodinville Wine Country, but only thirty minutes from downtown Seattle. The Lodge is at 14580 NE 145th Street in Woodinville, telephone 877 424-3930, web wwwwillowslodge.com.
Bin on the Lake is the premier wine bar and restaurant at the Woodmark Hotel adjacent to Lake Washington. Here Executive Chef R. Paul Hyman had waiting for us a five course dinner with well chosen wine parings as accompaniment. Chef's Amuse Bouche was Ahi tuna Tartare served on a handmade potato chip accompanied by a sparkling Brut Rose from Lucien Abrecht of Alsace Lorraine.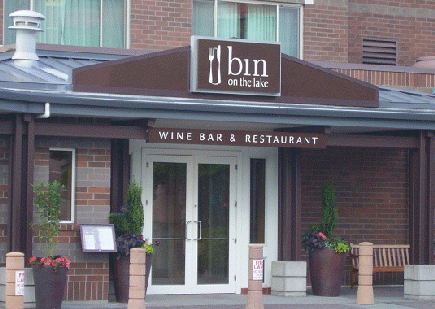 First course was organic beets fresh picked on a bed of herb bread and mellow goat cheese, both from local sources. It was paired with DeLille Cellars Chaleur Blanc, a sauvignon blanc-semillion blend from Washington. Next to arrive was Moulard Foie Gras from Oregon presented with fresh figs, almonds and Medjool date jam. Our wine Chateau Ste Michelle Eroica Riesling.
Copper Rive wild salmon is treasured as the very best and this was our entree with roasted marble potatoes, Ligurian olives and olive oil cured tomato with Genovese basil pesto. Here the chef paired it with Domaine Serene Yamhill curvee Pinot Noir.
Dessert was a dark chocolate pudding cake with candied orange slice and Mascarpone. Our wine a 20 year old Tawny Port by Taylor Flodgate. Assisting Chef Hyman was Sous Chef Michael Bailey and Tournant Chef Jenae Christiansen.
Chef Paul Hyman hails from New Orleans and at Bin on the Lake he shows a contemporary northwest cuisine with emphasis on using the freshest local produce and products. To go with the cuisine there is an extraordinary wine list favoring the wines of Washington State and Oregon but with ample choices from almost every wine producing country. Bin on the Lake has a casual ambiance with outdoor patio and lakeview seating both inside and out and a comfortable bar and lounge. Our sommelier was Aaron Long.
Bin On The Lake is located at 1270 Carillon Point, Kirkland, Washington, telephone 425 803-5595.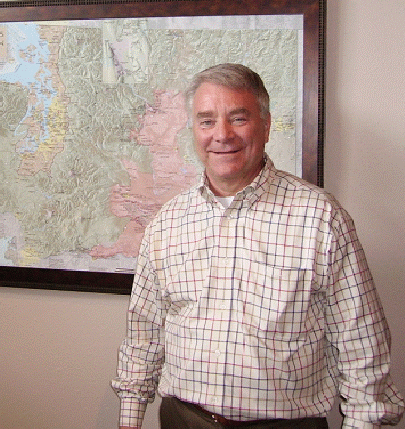 We thought Terry Thompson has come up with a great concept at his Urban Enoteca in Seattle. It opened last November as a wine and food venue offering under one roof a tasting room where six Washington wineries maintain a permanent presence. The wineries represent several Washington appellations and offer wines of many varietals. Then there is the Library Lounge with a resident Chef offering everything from local cheeses and charcuterie to full paired food and wine dinners.
Urban Enoteca is a large facility which can host four hundred people for dinner and 700 for a social event. There is also a Sunday brunch. On our visit we had the opportunity to visit each of the wineries. At Fielding Hills we chatted with Valerie Croley who is tasting room manager. Grapes for their red wines come from the Wahluke slope ava. Fideltas at Red Mountain makes Bordeaux style red wines from the Columbia River terroir. Cote Bonneville wines originate from the Yakima Valley ava. Cave B Estate wines are from the Columbia Valley-Ancient lakes while Five Star Cellars wines are from Walla Walla.
Urban Enoteca is located at 4130 First Avenue South in Seattle. Telephone 206 467-9463. Check the website www.urbanenoteca.com for hours of operation.
Back to Table of Contents..
Last Update:11/10/11
&copy 2011 Joe Hilbers All Rights Reserved.
Graphic Design by Impact Graphics