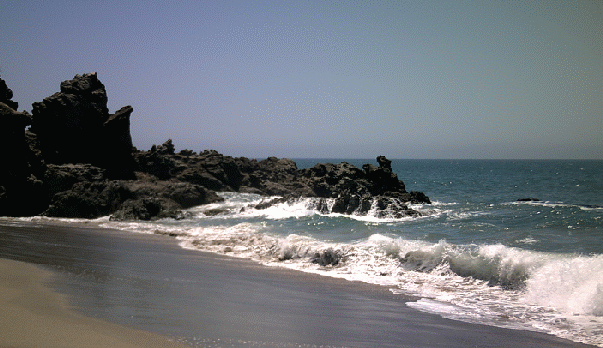 "As usual the picnic basket also contained good wines"
By The Editor's Vineyard.
As usual our outings this past summer were a balance of day trips to the mountains and picnics at the beach.
One day when the Valley was sizzling hot we took refuge at Sycamore Cove on PCH north of Malibu. The change of climate as usual at the beach was startling with low coastals keeping the temperature in the low 60s and having us reach for a sweater. There was a high surf running and throngs of surfers were racing around PCH looking for just the right break. However Sycamore Cove drops off so fast from the sandy beach that there are no waves suitable for surfing which was precisely why we chose it.
The picnic basket brought forth the usual assortment of goodies and thinking about possibly cool weather we chose a bottle of 2009 Forest Glen Pinot Noir as our wine. We thought Winemaker Ed Moody has done nobly with this pinot noir. It had the earthy aromas particular of this varietal, lively fruit and a remarkably long finish. Actually it would have been even better with some heartier fare than what our picnic basket offered that day but it was just right as for the weather. Good buy at $11
Highway 38 between Redlands and Big Bear Lake had been closed for some months so when it did reopen we were anxious to make the scenic drive once again. Actually it had been a good number of years since we had made this passage to the Lake. It was a perfect day for this trip, hot in the flat lands and a breeze to go with the forest sun and shade. We drove up to Big Bear and stopped just long enough at Bear Mountain to note the new lifts since we last had been there.
Then slowly backtracked until we arrived at Mill Creek Campground. Then it was time to bring out the goodie basket and an ice chest which held a newly released sparkling pink Mocato. I believe even people in the wine industry have been surprised by the astonishing popularity moscato has achieved in a very short time. So we thought the timing was prefect for Winemaker Bob Stashak to bring out Allure, a sparkling pink Moscato. With our outdoor lunch we loved the wine. This Writer did mess up by not bringing some true champagne style glasses along but then one can't have everything. So the allure of the pink color was somewhat lost in our plastic cups. But the wine was a delight, full of fruit, fresh on the palate and the bubbles making it a special event. With a $13 price tag Allure is an inexpensive way to surprise and spoil guests.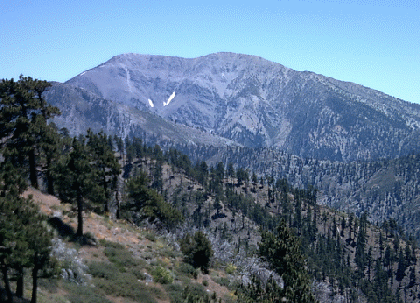 Another road that was victim to last winter's rains was Highway 2 into the San Gabriel Mountains. As soon as Cal Trans announced that it was again open we were on our way for a day outing over familiar ground and views we treasure. About half way between La Canada and Big Pines there is a delightful picnic area with views down to Bear Canyon and the abandoned road that once led to Azusa. It is called Eagle Roost and offers picnic tables, a rest room and a short nature trail that describe the foliage.
Here we brought out our chairs, the well worn picnic chest and a bottle of well chilled Huntington 2010 Dry Creek Valley Sauvignon Blanc. We have never made a secret of our attachment to this varietal. This Hahn Family Sauvignon Blanc offered much crispness, refreshing fruit flavors and dryness for a clean palate. We considered this an exceeding good vintage of this varietal and priced nicely at $14.
Back to Table of Contents

Last Update:11/5/11
&copy 2011 Joe Hilbers All Rights Reserved.
Graphic Design by Impact Graphics