The Coachella valley Preserve offers a perfect desert oasis
.. By Joe Hilbers
The question was 'why did it take us so long to discover the Coachella Valley Preserve?' Over decades we have sought out unusual scenic desert destinations and then written about them.
But it took some photos of the Preserve on Facebook to alert my son, Jeffery, to the possibilities that it would be a perfect place to visit on a cloudless winter day. So it was only days later that the two of us were at the Preserve. It is remarkably easy of access located on a highway that provides access to Desert Hot Springs on the west side of Coachella Valley halfway between Palm Springs and Indio.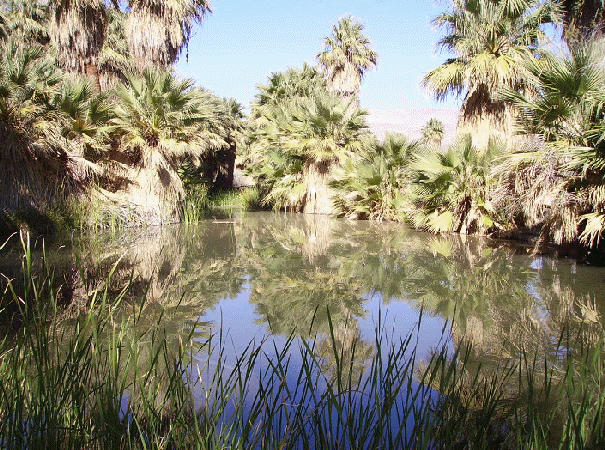 First view of the Preserve is its native Fan Palms of California, named Washingtonia Filifera. These mark the site of the Thousand Palms Oasis which is also the headquarters of the Preserve with a visitors center as well as tables placed among the palms for picnics. Here too trails fan out in several directions. We took the McCallum Trail which leads to the beautiful oasis pond set enticingly among the palms about one mile from the Visitors Center. On this sun drenched winter day it was a delightful walk with fine views of the parched Indio Hills on one side and the Santa Rosa mountains opposite.
Thank the San Andreas Fault for this pond and Oasis. The fault runs directly underneath the Preserve and it is this that provides the water which reaches the surface year round. It is also how the Fan Palms flourish since they are shallow rooted and need water close to the surface. At the Thousand Palms Oasis some of these trees are one hundred and fifty years old. They are the only palm species that retains the dead fronds and these trees have" whiskers " that reach to the ground.
At the Preserve we brought a picnic lunch to leisurely enjoy at a table under the Washingtonias. Our Mortadella sandwiches and slicesof honey melon were perfect with this wonderful place of natural environment.
The McCallum grove and pond is a serene place and a great subject for photography. There are benches for sitting and leisurely enjoying the shade of the palms. Going to and returning from the pond there are signs which describe some of the desert shrubs and plants. The Visitors Center is a picturesque cabin constructed by a early homesteader and now is open for information and also as a place to see artifacts of earlier eras.
The Coachella Valley Preserve is managed by the Center for Natural Lands Management with both federal and state agencies involved in its protection. It is open to the public daily but it is wise to check actual hours by calling 760 343-1234 or on the web at www.cnim.org.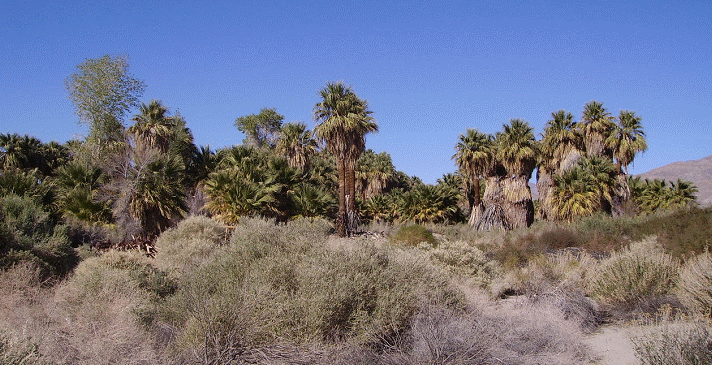 Back to Table of Contents..

Last Update:9/1/11
&copy 2011 Joe Hilbers All Rights Reserved.
Graphic Design by Impact Graphics