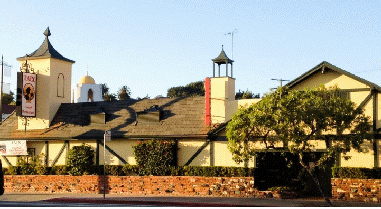 "Los Angeles--Taix, a restaurant now celebrating 90 years"
Our latest visit to Taix Restaurant reminded us once again how much we enjoy French country cooking and cuisine.
The occasion was to take part in Taix's 90th year celebration continuing its title as the oldest family owned restaurant in Los Angeles.
This celebration which continues through the month of July co insides with two French holidays--Bastille Day and French Independence Day.
Taix is now operated by the third and fourth generation of the Taix family. Included in the celebration is a special pre fixe three course dinner as well as a different special French wine that will be available each day of July.
Taix has always had the reputation of serving its French cuisine in classic style with modest pricing. The ambiance is Continental with white table linen, its traditional French menu items served on dishes with the Taix logo and imprint, in comfortable booths and walls decorated with paintings. The dining areas are broken up to smaller rooms with a more intimate atmosphere.
Michael Taix, is grandson of founder, Marius, and son of Raymond. He has been at helm of the restaurant for thirty years and he has moved the restaurant with changing customer preferences while maintaining the cuisine that has many loyal diners of many years. As wine became ever more popular he has established an award winning wine list and here one can find at least one vintage from almost every wine producing country in the world.
The French wines include an outstanding collection of first growth Chateau vintages, some with famous names. The list also includes a large selection of California labels, many from boutique wineries. Compared to many restaurants wine pricing is most modest, with many priced only marginally higher than retail store prices. Good dining values in cuisine and service have always been one of the keys to the restaurant's success.
Successful restaurants must continually reinvent themselves and at Taix menu changes do take place but only over a long period of time. But the menu has always been large and continues so. The luncheon menu has eighteen entrees listed with another full page devoted to appetizers, soups and sandwiches. Each day of the week a different soup is featured.
Taix also has banquet facilities. There are six rooms seating from 20 to 200 people including the Champagne and Alsace room, the Wine Room and Rhone for smaller events. For special events breakfast, lunch or dinner can be prepared with special menus available.
In the last decade Taix has become popular with the younger generation that has taken Echo Park and Silver Lake as their own. Taix now enjoys a surge in its bar and lounge with this 25 to 40 year old group of 'hipsters' that often does not start until 11 p.m. and then extends to closing time. On weekends the kitchen now stays open to 1 a.m.
Our dinner opened with the restaurant's famed baked French onion soup, followed by calamari and then a house special, oven braised ox tails. Others at our table had the Escargots de Bourgogne, baked lamb chops and NY steak.
The classic French dessert Tartan Tarte completed our wonderful evening. This prepared Apple based dessert is one of our favorites, not readily available on most menus but always so at Taix.
The Taix menu also offers daily specials which change on a regular predictable basis. If you enjoy braised lamb shank arrive on Wednesday, on Saturday, Duck a l'Orange with wild rice or on Tuesday, oven braised oxtail.
Our waiter was Jose Fragoso who has been with Taix for 32 years. We also met and chatted with Bernard Inchauspe who has been with the restaurant for 52 years. Actually there are eleven members of the staff who have been with the restaurant for at least 25 years.
But it is the wonderful French cuisine that brings people back to Taix again and again including this Writer
As part of the 90th anniversary celebration at Taix French Restaurant Frog Legs Provencale are once again on the menu. Owner Michael Taix announced that the popular menu item was back after being absent because of a shortage of smaller size legs.
Frog legs or "Cuisses de Grenouille" are a dish that originated and is traditional in the Dombes region of Southeastern France. The Taix family was originally from the Hautes-Alpes in Southeastern France before moving to Los Angeles about 1870.
With the Chef's Frog Legs Provencale back on the menu it did not take us long to decide on a return visit to Taix to dine on this savory French country dish once again.
When ours arrived the plate was heaped with a large collection of delicate and tender small legs in a sauce.
The sauce was a mix of herbs with a buttery texture and an aromatic white wine base. Our Waiter, Joel Pena, saw to all our needs and especially the warm French bread which was just what was needed for dipping into that wonderful sauce. Like many of the staff at Taix Joel Pena has enjoyed a long career at the restaurant, actually thirty four years.
And we had to take a photo of Joel and another waiter, Armanda Fausto who has been with Taix 25 yeers.
At present the Frog Legs Provencale are only available on the dinner menu.
Taix is open seven days a week for luncheon or dinner. There is a Happy Hour for 3 p.m. to 6 p.m. Monday thru Friday with reduced prices that apply to both drinks and appetizers, most popular with people departing downtown after work.
Taix is located at 1911 West Sunset Blvd., with amply off street valet parking. Telephone 213 484-1265, web wwwtaixfrench.com. And yes for the neighborhood hipster crowd there is now a bike rack as well.
Back to Table of Contents..
Last Update:

&copy 2017 Joe Hilbers All Rights Reserved.
Graphic Design by Impact Graphics