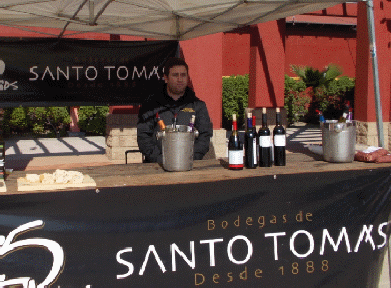 "Ensenada--Bodegas de Santo Tomas, Baja's oldest winery, continues its expansion"
by The Editor
It was in 1791 that vineyards were planted and wine made by the Padres at Mission Santo Tomas de Aquino about 30 miles south of Ensenada. In 1888 Bodegas de Santo Tomas became the first commercial winery in Baja California and it was located adjacent to the site of the original mission. As one travels south from Ensenada one goes over a ridge and then descends into a picturesque valley and this is where vineyards are to this very day. Santo Tomas has had much growth since we first visited it so many years ago.
In 1932 Bodegas de Santo Tomas was purchased by a man named General Abelardo Rodriquez who also established a large presence in Ensenada with winery and bottling facilities. We had visited the original site in Santo Tomas many years ago but had never been to the Ensenada facility. So on our most recent cruise aboard Carnival Imagination we noted that one of the shore excursions included a tour and tasting at the Santo Tomas winery.
So on our most recent visit to Ensenada we went to see Bodegas de Santo Tomas. It is no longer an operative winery but includes storage and bottling facilities and also what was once the winery is now a museum showing the winery equipment and huge barrels of a much earlier era.
Next we moved to the handsome Tasting Room where we sipped four wines ST 2016 Chardonnay, ST 2015 Rosa, ST 2014 Blanco, 2015 Cabernet Savignon and a dessert wine Solera Tinto. We also tasted some of the locally produced olive oils.
Since then Bodegas de Santo Tomas Winery has established a new tasting room on Route 3 in the Valle de Guadalupe as well. This tasting room includes an outdoor patio and far reaching views of Valle de Guadalupe known for its beauty.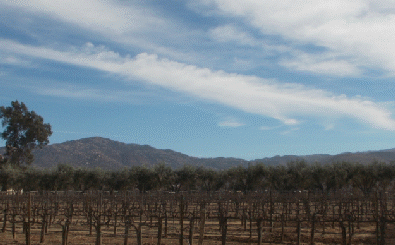 Varietals currently being produced at Santo Tomas include Cabernet Sauvignon, Sauvignon Blanc, Chenin Blanc, French de Colombard, Viognier, Chardonnay, Palomino, Rosa del Peru, Misión, Grenache, Carignan, Barbera, Merlot, Tempranillo, Cabernet Franc, Petit Verdot, Petit Syrah, Ruby Cabernet, Syrah
In addition to wines, the on-site store features clothing, hats and locally crafted olive oil. Guided tours of the facility and grounds are also available by reservation.
Address is Km. 95 Highway 3 Tecate-Ensenada, San Antonio de las Minas.
Back to Table of Contents..
Last Update:8/16/17
&copy 2017 Joe Hilbers All Rights Reserved.
Graphic Design by Impact Graphics