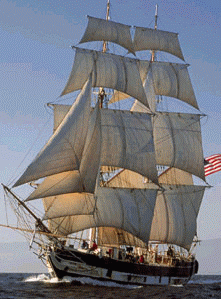 "Southern California--It has its very own Riviera

by Joe Hilbers
They call it Southern California's Riviera and with good reason. Moving north from La Jolla one passes through a delightful series of beach side cities alternating with miles of beaches, some state parks. North of San Clemente and just before San Juan Capistrano there is Dana Point. And here you move into history as well.
One of this Writer's objectives was to tour the Brig Pilgrim, located at Dana Point, named for the man who made it famous. Here is moored a full sized replica of the ship that Richard Henry Dana shipped on in 1843 from Boston and destined for the 'hide trade' in California, then still a part of Mexico.
The book about his experiences "Two Years Before The Mast" captured readers not only in America but Europe as well. And there is the memorable passage in the book where he described how they cast the hides off the cliffs to the beach to then be loaded aboard ship. This is now Dana Point and the cliffs are still to be seen and was of course later named for the Author.
On board the first thing one notices is how small the Brig really is, how tall the masts and how grim life on such a vessel must have been for months and often years. One marvels how such ships, and men, managed to survive the storms rounding Cape Horn.
The replica of the Pilgrim was built in Denmark in 1945 as a three masted schooner for work in the Baltic. It was converted to the dimensions of the original Pilgrim in Spain and sailed into Dana Harbor in 1981.
Now there is a volunteer crew, a cadre of dedicated knowledgeable volunteers who keep the Pilgrim maintained, not a small task for a 72 year old wooden ship..
The Brig Pilgrim is moored at Dana Point Harbor in front of the Ocean Institute. It is open to the public on Sundays from 10 a.m. to 2:30 p.m. For more information check the web at www.oceaninstitute.org.
One of the many fine State Beach Parks on the South Coast is Doheny located at Dana Point. Just about all outdoor recreational activities abound at this State Park with over a mile of sandy beach and for most of the year warm water. There are 121 family campsites and another 170 picnic tables and 99 barbecue grills on a special five acre reserved area.
At the entrance to Doheny State Beach Park there is a Visitor Center with aquariums, a simulated tide pool and splendid collection of mounted animals and birds that inhabit Southern California. There are also photos showing the early history of the park as well as local surfing greats. Children love this place. Adjacent is the Butterfly Garden where each Fall the Monarch Butterflies arrive on their migration to warmer climates each winter. The Monarch Butterfly logs hundreds and even thousands of miles on this annual migration. For more information on Doheny State Park call 949 496-6172 or on the web at www.dohenystatebeach.org.
The Lux Art Institute in Encinitas is devoted to encouraging the artistic process by inviting artists to live on the site while creating their art. It was opened in 2007 located on a four acre site which overlooks the San Elijo Lagoon.
In 2014 an Educational Pavilion was opened and it was here that our visit took place. Ernesto Gonzalez, facility manager, met us and showed us the rooms used by visiting students engaged in an assortment of crafts with instructors.
Also here is the Linda Formo Brandes gallery with exhibitions of visiting artists and students. Classes include Teen oil painting workshop, print making and book art techniques. Lux Art Institute is surrounded by a wildlife preserve and includes a native habitat one acre garden. It also includes a tiered amphitheater available for special events.
The Education Pavilion is free to the public and open Monday thru Friday 9 a.m. to 5 p.m. on Saturday 9 a.m. to 12 p.m. The Artist Pavilion has a $5 fee for visitors and it is open Thursday and Friday from 1 p.m. to 5 p.m. and on Saturday from 11 a.m. to 5 p.m.
The Lux Institute is located at 1550 South El Camino Real, Encinitas, Telephone 760-436-6611, web www.luxartinstitute.org.
At Laguna we moved inland on Laguna Canyon Road where we made a wonderful discovery.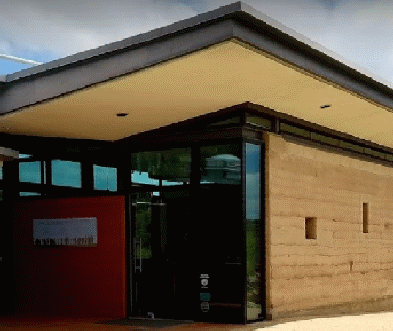 This is Laguna Coast Wilderness Park and its James and Rosemary Nix Nature Center. At the Nature Center we received a personal tour of the premises.. This Park with its 6,600 acres is a monument to dedicated people in Laguna Beach who strived for many years to preserve this region of the Santa Ana mountains in its natural state for recreational use.
It joins several other preserves in the area including Aliso and Wood Canyon Park as well as Crystal Cove State Park for a total of 20,000 acres.
The Nix Center has been carefully designed to serve the Park and shows throughout the talents of Laguna Beach artists. Inside are beautiful oil paintings of scenes in the Park and there is a replica of the countryside at each trailhead. This area of Orange county is all an ancient seabed of the Miocene era, 90 million years ago and fossils of marine life are plentiful and faithfully reproduced at the Center.
The Laguna Coast Wilderness and the Nix Center are open daily from 9 a.m. to 4 p.m. There is a parking fee. For more information check www.lagunacanyon.org or call 949 923-2335.
For most of a century Laguna Beach has been regarded as a haven for the arts. Indeed the Laguna Beach Arts Association will celebrate its 100th anniversary next year. Then in 1979 the Laguna Art Museum was founded which in 1987 became the current Laguna Art Museum.
The Museum enjoys a scenic location situated adjacent to Heisler Park with views of the City's shoreline. Its theme is California and its permanent collection includes works of some 800 artists representing a span from early 19th century to the present.
Two special exhibitions were being displayed during our most recent visit to the museum. They were by Phil Dike and Ben Messick. Phil Dike was truly one of California's own. He grew up in Redlands and studied art at the Chouinard School of Art in Los Angeles. He then traveled through much of Europe before returning to teach at Chouinard in 1931. The Exhibition was entitled "At the Edge of the Sea" since much of Phil Dike's works enjoyed a beach or ocean theme.
For many years he was story designer for Walt Disney Studios contributing to such classics as Fantasia and Snow White. Later in life his works became much more abstract with his people in more mystical forms and his familiar beach and ocean themes in patterns.
However his love for the beach and sea never wavered throughout his life.
Ben Messick's Exhibition was entitled "Memories of Los Angeles" and showed daily life in that City during the 1930s and 1940s. His paintings, drawings and lithographs were always of ordinary people from familiar places like MacArthur Park, Pershing Square and Olivera Street.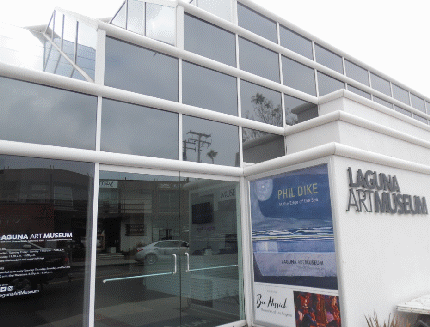 Besides its featured Exhibitions the Laguna Art Museum offers a full schedule of programs and events. It is open six days a week, closed Wednesdays and major holidays. Hours most days are from 11 a.m. to 5 p.m. It is located at 307 Cliff Drive in Laguna Beach, Telephone 949 494-8971, web www.lagunaartmuseum.org.
We visited the Museum on a perfect summer afternoon and strolled through adjacent Heisler Park, as well, enjoying views of a calm Pacific Ocean and the cliff lined rocky shore which is a Marine and Tide Pool Preserve.
Back to Table of Contents..
Last Update:8/27/17
&copy 2017 Joe Hilbers All Rights Reserved.
Graphic Design by Impact Graphics