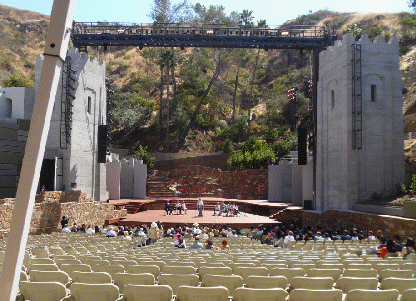 "Hollywood--A renovation has brought new life to the Ford Amphitheater"
By The Editor
The dedication ceremony that revealed the renovation of the John Anson Ford Amphitheater proved a most interesting event. The Ford has a long history, first built in 1920, then a fire required a rebuilt Ford in 1931.
Somewhat neglected through the years much needed to be done to restore and prolong its life as a cultural resource and architectural landmark. A landmark it truly is with its dramatic location carved out of two mountainsides. The renovation was the first since 1931.
The Ford now seats 1200 and new is The Zev, actually named Zev Yaroslavsky Terrace, which includes the Ford Terrace Cafe as well as new offices. Crumble Catering will direct the Cafe operation.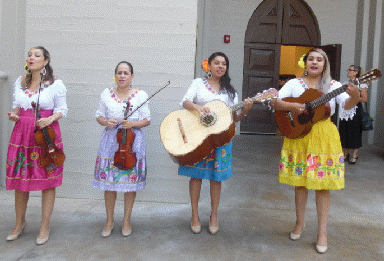 P>The Zev name is in honor of retired L A County Supervisor Zev Yaroslavsky who championed the Ford revitalization during his 20 years as 3rd District Supervisor. The renovation included a new two tiered stage, expanded dressing rooms and new stone staircases.
The stage has been designed to look like the Gates of Jerusalem with new sound system and 522 new lighting fixtures. The new sound system will make the 1200 seat amphitheater one of the best in the country.
An inaugural "Ignite@The Ford Series" will start a large summer series of concerts, shows and events. Under the heading 'L:A's Freshest Venue" a large number of jaza festivals, ballet, line dances and more are scheduled right through October.
The opening was well attended and included civic leaders, and those involved in the construction and renovation which started in 2012 and is now complete. Also a large number of media were there.
Following dedication at the Theater all moved to the Zev Terrance for refreshments and luncheon prepared by Crumble.
The new cafe at the Zev will allow the Ford to present hot food for the first time with a new state of the art kitchen and a gourmet menu. Executive Chef is Torres Gonzalez.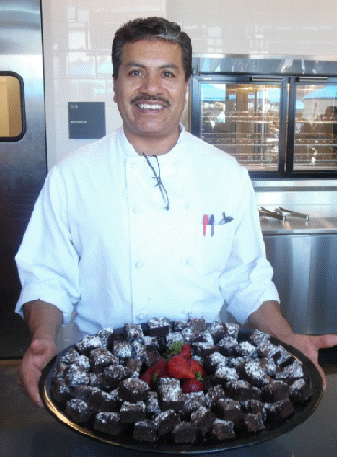 The Ford Amphitheater is located at 2580 Cahuenga Blvd East in Hollywood just off the 101 Freeway between Hollywood and Universal Studios. There is ample off street parking. For tickets call 323 461-3673. Located in a county regional park the Ford is owned by the County of Los Angeles and operated in partnership with the Ford Theater Foundation..
Back to Table of Contents

Last Update:8/5/17
&copy 2017 Joe Hilbers All Rights Reserved.
Graphic Design by Impact Graphics