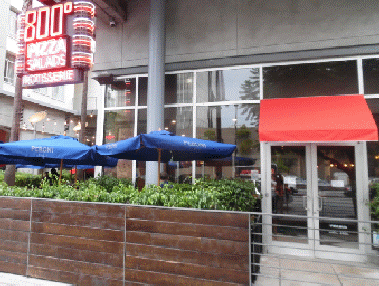 "Hollywood--The remake of 800 Degrees made for an exciting coming out party"
.. By The Editor
Somehow events that take place in Hollywood always seem to take on an extra degree of excitement and glamour. And of course you can not get any closer to the real Hollywood than on Vine Street.
So the opportunity to see and experience the changes that have been made at 800 Degrees in Hollywood proved an exciting occasion..
It was in 2012 that 800 Degrees first appeared on the Los Angeles restaurant scene created by Chef Anthony Carron to present authentic Neapolitan style pizza. And then quickly expanded to other locations, not only locally but actually world wide.
Now Chef Carron and CEO Tommy Lee were presenting a completely new decor and ambiance to 800 Degrees located on Vine Street in the heart of Hollywood plus additions to the menu. Noting that pizza and Rotisserie chicken had close ties in Naples, Italy Chef Carron has added the chicken to the menu.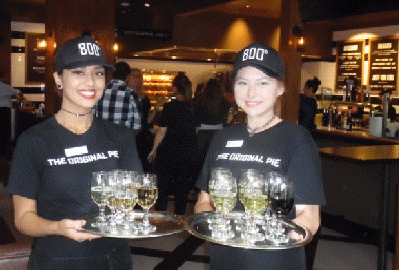 So it was that at the occasion that displayed this new 800 Degrees look and menu we had set before us a plate of half Rotisserie chicken accompanied by Rotisserie roasted fingerling potatoes and the choice of six different sauces.
This after refreshments that included new wines and brews as well as cocktails from a bar that is also now part of the 800 Degrees scene. The remake shows with new chairs and tables inside as well as an expanded outdoor patio that includes the new bar.
The addition of the Rotisserie chicken shows with new toppings for some of the pizzas as well as interesting new salads.
The sauces for the chicken include a middle eastern Tahini sauce, a spicy tomato sauce and our favorite, the Piri Piri sauce. The chicken can be ordered as quarter, half or whole, all with sides and sauces.
In attendance, in force, were members of the media as well as well known personalities. 800 Degrees Hollywood is located at 1521 Vine Street in Hollywood. Telephone 323 329-9656, on the web at www.800degreespizza.com.
. Back to Table of Contents..

Last Update:

&copy 2017 Joe Hilbers All Rights Reserved.
Graphic Design by Impact Graphics