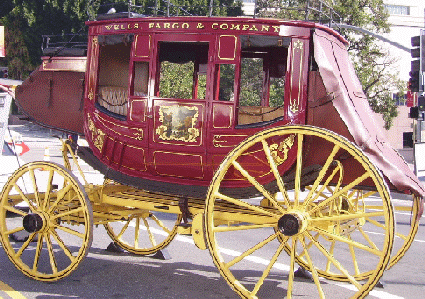 Los Angeles--The Discover The Arts campaign opened with a flourish at Disney Concert Hall'"
By The Editor

It was a mid winter day that showed Los Angeles at its very best. The Media was on hand, the Mayor was present and it all happened in such comfortable balmy weather that it took place on the outside patio of the Music Center's Walt Disney Concert Hall. It was the kickoff of the Discover The Arts campaign. This three month campaign, now in its fourth highly successful year, highlights the many arts and museum attractions available in the City for locals and tourists alike.
Mayor Antonio Villaraigosa told of how important a role the arts have played in both the cultural and economic life of the City almost from its very beginnings. As an example he cited the fact that in 2011 the City hosted a total of 27 million visitors, a new high and with over one billion dollars spent by them during the visit.
This Discover the Arts program is sponsored by Wells Fargo and the campaign offers discounts of up to fifty percent on admissions to over fifty cultural institutions in Los Angeles and surrounding cities. Two for one admissions are available for such places as the Autry National Center, Hammer Museum, Petersen Automotive Museum and dozens of others. Also the Chinese American Museum, California African American Museum, Museum of Tolerance and the Getty Center.
For music lovers these offers include Los Angeles Philharmonic, Opera and Master Chorale. Cirque du Soleil's Iris and Music Center.
Besides other speakers the Media event was surrounded by a Cirque du Soleil Truck which offered free prizes as well as the opportunity to purchase tickets for Iris at the Kodak Theatre and Ovo in Santa Monica. We add here that we recently attended the Iris performance at the Kodak Theatre and was truly dazzled by the exciting acts and performances. For us it was an evening to remember.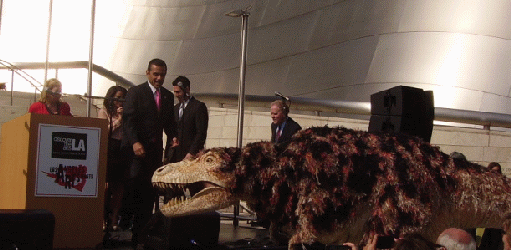 We also snapped photos of the Wells Fargo Stagecoach like ones used to travel the Old West, as well as a 1953 custom Cadillac originally owned by Actress Rita Hayworth and now on exhibition at the Petersen Museum. Greeting the Mayor was a life size dinosaur puppet from the Natural History Museum's Dinosaur Encounters.
Add performances by the Los Angeles Chamber Orchestra and Ozomatli, L. A.'s Culture Mashers and it all proved to be a most worthy introduction by L.A. Inc., The City's Convention and Visitors Bureau, for the Discover The Arts campaign.
Learn more about the campaign and its offerings on the web at discoverlosangeles.com/thearts.
Back to Table of Contents..

Last Update:3/9/12
&copy 2012 Joe Hilbers All Rights Reserved.
Graphic Design by Impact Graphics