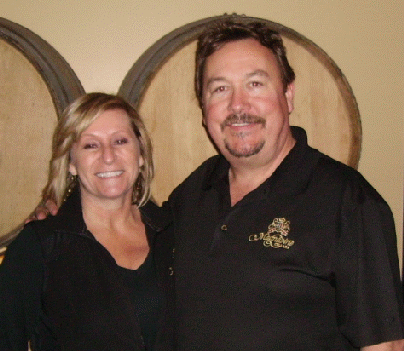 "Oxnard--The Ventura WINO dinner proved memorable with Magnavino Cellars wines and Cafe Zack cuisine"
by The Editor
Eons ago this Writer did a series of articles entitled 'Success Story'. Each focused on a business and its owner who had through ambition, drive and talent achieved immediate success and added a contribution to its community. Now we can add one more.
Magnavino Cellars, located in Oxnard, is the creation of Robert and Barbara Wagner. Situated in a part of Oxnard that has become an industrial center that continues to expand the Winery offers a most attractive tasting room and adjoining is the barrel room where the serious business of making wine takes place.
Robert Wagner's exposure to wine came about 20 years ago when he toured wineries in Italy from the boot to the alps. He came home with a desire to make wine and started as a home winemaker in his garage. This soon expanded to include the house where his wife, Barbara, said a move for the barrels must be made.
We should point out here that both Robert and Barbara have most successful careers, his in sales and marketing and hers in marketing and promotion.
So was born Magnavino Cellars which produced its first wines in 2008 and 2009. These met with immediate success as the vintages were quickly sold out. In 2010 the Wagners moved to their present location and met with continued acceptance of their wines in 2010 and 2011. In two years their Wine Club has expanded to 400 members.

We were at Magnavino Cellars for a dinner of the Wine Investigation for Novices and Oenphiles, WINO, which was catered by Cafe Zack, long one of Ventura's best restaurants. Owners Hector Gomez and Alvonso Bello were personally on hand to present an elegant five course dinner which matched the Rob Wagner's wines very well. Opening was Scallops Provencal which was accompanied by the 2009 Sauvignon Blanc. A 2010 Viognier came with the Sweet Corn Crab meat soup.
Now secure in knowing we were part of a very special evening we soon settled on the Beef Short Ribs, oven roasted, with an excellent 2009 Sangiovese. Next, lamb tenderloin which had been marinated with a Tamarind Port wine reduction which rated some bread dipping. The wine was 2009 Cabernet Sauvignon which just may be Magnavino Cellars showcase vintage. Certainly it was exceptional, true to the varietal and a softness that came from two years in French oak.
Robert Wagner uses grapes from the Lodi appellation for all the varietals he produces. Whites include Sauvignon Blanc, Pinot Grigio, and Viognier. Reds are Grenache, Sangiovese, Zinfandel, Tempranillo, Cabernet Sauvignon, Syrah and Petite Sirah. We enjoyed the Petite Sirah with our dessert of Expresso Chocolate Pate.
The barrel room easily accommodated the eighty fortunate people who attended that evening's WINO event. Certainly both the three star cuisine of Cafe Zack and Rob Wagner's wines more than lived up to expectations.
Magnavino Cellars is located at 961 North Rice avenue in Oxnard just several blocks from the Ventura freeway. The tasting room is open Saturday and Sunday from 11 a.m. to 6 p.m. or by appointment. The Barrel Room is available for special events.
Back to Table of Contents..
Last Update:3/1/12
&copy 2012 Joe Hilbers All Rights Reserved.
Graphic Design by Impact Graphics