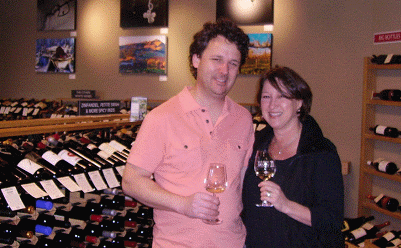 "Napa--Walking around downtown discovering wine tasting rooms and shops is fun"
.. By Jeanne Bartlett
Back Room Wines is a wine shop in Napa that has its own wine bar and its mission is to "Recommend and sell the best small prodution wines of the world with great customer service." This is an enterprise serving an overlooked need. In the age of grab it off the shelf, cookie cutter shopping for wine, Daniel Dawson, Napa Wine Merchant, has searched the world market for small-production, rare, and cult wines and then matches these finds to his customers.
In the summer of 2002 Dawson opened his establishment. In 2008 he moved to his present location at First and Main Streets to be in the busy hub of present-day Napa. Aficionados of Napa Cabernet know that they need only to check out Back Room Wines as it has access to that varietal from wineries that normally only sell from their own premises. This expertise is not limited to Napa or even California wines but includes Oregon and Europe.
I was a fortunate member of the International Wine Food & Travel Writers Association, IFWTWA, who visited Napa in December of last year. We were privileged to hear about a customer service program from Dawson and Chris Foster. Regular customers have information on file about their preferences. There is a customer base record composed of actual sales and random information the proprietors enter. These notes are kept handy and customers are able to receive recommendations of wine based on their special desires.
A fun feature of this enterprise is their tasting room. A great and most appreciated perk is that all of the wines for the tastes are at retail price, an advantage you won't get in a restaurant. I can say from experience that we found a comfortable corner, a plushy couch and a handy table to set our glasses on. There was no high pressure, just the right amount of insight about each wine we tried.
In Napa, take advantage of this special wine happening. Here you can ask for a recommendation and you get the answer what do you like, just tell them then prepare to be pleasantly surprised by just the wine you were searching for. Back Room's Wine Bar is open seven days a week at 1000 Main Street, toll free phone is 1-877-322-2576. Check out the websitewww.backroomwines.com for information about their special events and tastings.
The friendly atmosphere of Back Room Wines and Dawson Foster almost made it a gathering place for our group of Writers while touring downtown Napa. Tool Box Wine Company
The definition of a tool box is a case for carrying or storing tools. In Napa the Tool Box is a place for having fun and drinking affordable wines that give back. Just visit the Tool Box Wine Company at 1021 McKinstry Street in Napa and you immediately catch an air of frivolity beginning with there motto, "serious wines, playful marketing." In this spirit the search for a name brought them to the theme, everybody needs a tool box. You might enter the tasting room and find the server wearing a tool belt and carrying wine in a holster.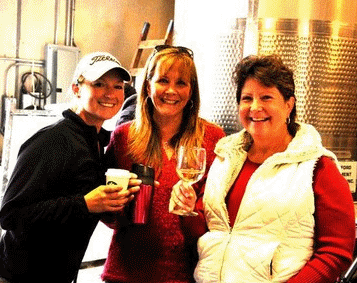 Three fierce female founders, Thrace Bromberger, Kate Hamilton Shaffer, and Nancy Otton, set out to have a winery and a tasting room where you could celebrate life with wine that is not only high quality but easy on the pocket book. They source their juice for the wine from premier vineyards for the high caliber of their vintages. The "give back" part is the donation of a portion of all proceeds to Habitat for Humanity. Hamilton has raised over $5.5 million for women and children's causes. No formality, they say, just walk in and you are welcome. If you a large group they would appreciate a call to Katie, 707,252-8665. As far as these three women know they are the only "girlfriends" to be exclusive owners of a winery.
The theme of "toolbox" is carried out by the stark white shelves that line the room with vivid red wine and various bright tools in them. Then there is a saw and pliers hanging on the walls ready for workers. A sturdy metal table stands near the walls that might be for serious carpentry but is actually available for you to draw up a chair and sit down to enjoy a glass of wine. Hamilton Shaffer says they welcome everyone but "we are geared for people in the construction, building and engineering,"
Their wine menu contains five varietals and for variety they are each from a different appellation. The Cabernet hails from Sonoma, Chardonnay from Oak Knoll, Pinot Grigio, from Clarksburg, Sauvignon Blanc from Dry Creek, and Merlot from Napa Valley. The day I sampled their wines I was particularly impressed with the Pinot Grigio. That day in December had been unseasonably warm and the Pinot I had was a deep golden yellow, light bodied and crisp with a floral aroma.
Their winery with over 2,000 square feet of space is situated at 902 Enterprise Way. in the "South Urban District" within the Napa Valley Corporate Park. There is actually a tasting room there that can handle small groups if you call ahead. Tool Box Wine Company, 707.252.6885. www.toolboxwine.com
Ceja Vineyards >P>Ceja Vineyards' tasting salon is a sparkling gem in new and exciting downtown Napa, Calif. Walking into the tasting room is like entering an elegant estate. From the sweeping cherrywood wine bar banked by lighted mirrors, to the muted earth tones of the welcoming couches and chairs, there is an air of beauty and inviting friendliness. You need to take a moment to appreciate the art work, laid-back music and conversation, and then make a trip to the wine bar to enjoy a tasting.
At the bar you have the pleasant, unhurried selection of four wines. You will find just as much help as needed and the assistance offered can be for the novice, a collector or anyone in between. There is quite a menu of vintages from which to choose. On a visit to Ceja's establishment I started the sampling with white wines, both the crisp Sauvignon Blanc and the elegant Chardonnay. Either of those would be a great choice, or you might want to try the Bella Flor, a dry Rosé.
There are five reds you might opt for, beginning with Vino de Casa, the delightful house wine. The other options are Sonoma Coast Pinot Noir, South Carneros Merlot, South Coast Syrah and Cabernet Sauvignon. For the lighter taste I decided on the Pinot Noir and then enjoyed the bold Syrah. Once you have secured your wine you can plate some of the cheese that is available and take your selection to the seating area.
The foundation or vine of Ceja Vineyards has four branches, Pedro Ceja, President and owner, Amelia Moran Ceja, President and owner, Delia Ceja, Director of Sales and Marketing, and Armando Ceja, Winemaker. The planting of that first vine did not come easy, and Pedro Ceja described the process as, "Creating a beach with one grain of sand at a time with a lot of work."
Pedro and Armando are brothers, born in Mexico. Their family immigrated to the U.S. in 1967, settling in St. Helena, Napa Valley, and the entire family worked in the vineyards. Amelia Moran Ceja's family moved from Mexico to Napa at about the same time. Amelia and Pedro met picking grapes at the age of 12. They married in 1980, and in 1983, they partnered with Pedro's parents and brother to buy a piece of land in Carneros. Armando was interested in wine from his earliest years. He later studied enology and viticulture at U.C. Davis and became vineyard manager and winemaker at Ceja Vineyards. Following in the family footsteps are their daughter, Dalia Ceja, who is Director of Sales and Marketing, and their son, Ariel Ceja, who is Manager at Ceja Vineyards.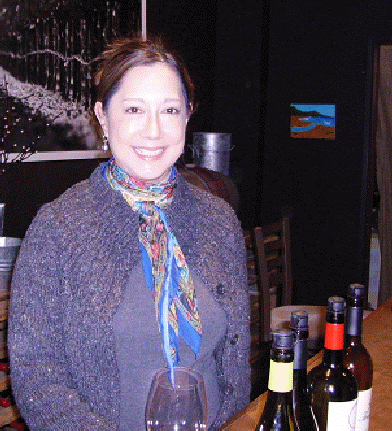 During a media trip with the International Food, Wine and Travel Writer's Association I was privileged to meet several members of the Ceja clan. It was the dynamic Dalia who took us through a tasting of the wines. Dalia is a graduate of San Francisco State University with a B.A, in Marketing and Communications. Along with promoting family wines, Dalia puts forth awareness of authentic Mexican cuisine. I have read the Ceja blog with thoughts from Delia, along with recipes and wisdom from Mom Amelia and other members of the family, and thoroughly enjoyed it.
The featured paintings by artist Maceo Montoya of Woodland add so much beauty to the salon and I would be remiss if I did not comment on the saying, "Vinum.Cantus.Amor," translated as Wine, Song, Love," which hangs on the wall of the tasting area. Anyone who spends time with the members of the Ceja family knows that this slogan is what the Ceja family lives by.
Open to the Public Daily, Sunday - Thursday – 11:00 am. – 6:00 pm, Friday – Saturday - 11:00am – 8:00 pm at 1248 First Street, Napa, CA 93459, Phone 707.226-6445 www.cejavineyards.com
Back to Table of Contents..

Last Update:3/1/12
&copy 2012 Joe Hilbers All Rights Reserved.
Graphic Design by Impact Graphics