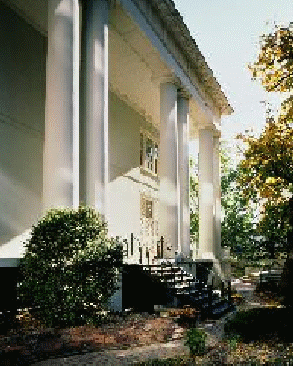 Richmond, Virginia-- Confederacy Memorabilia abounds for Civil War buffs
.. By Joe Hilbers
Richmond, Virginia is a city whose fame precedes a visit. This is especially true for those who, like this Writer, have a lasting interest in the Civil War. Drive down 5 Boulevard and you will see statues of Robert E. Lee, Stonewall Jackson and Jeb Stuart.
On our visit to Richmond one of the places 'must see' was the Confederate White House, home of the Jefferson Davis family during the Civil War. Located in the heart of historic downtown Richmond guided tours are offered daily.
Our guide was an articulate, knowledgeable college student. It was with much contemplation to think we were looking at rooms and furnishings that had been the scene of conferences with President David and Generals Robert E. Lee and Stonewall Jackson. And that as Grant's forces moved in Richmond President Abraham Lincoln had also visited this house.
Adjacent to the Davis home is the Museum of the Confederacy. Here we were able to connect names of famous Confederate generals with their portraits and, as our short visit allowed, to mall over exhibits, each depicting events of famous battles.
The Museum is located at 1201 East Clay Street, telephone 804 649-1861.
We found the Confederate War Memorial Chapel a poignant place to visit with its stained glass windows that honor soldiers that fell during the War between the States.
It is located at Grove Avenue and North boulevard next to the Richmond Museum of Fine Art. The Chapel was originally part of a complex that was built to house Confederate veterans in the 1880s. It is now known as the Pelham Chapel and was dedicated to the 260,0-00 Confederates that died during the war. Pews in the chapel are hand-hewn originals.
Admission is free, open 11 a.m. to 3 pm. Wednesday through Sunday.
Back to Table of Contents..

Last Update:3/1/12
&copy 2012 Joe Hilbers All Rights Reserved.
Graphic Design by Impact Graphics