St. Augustine offers an amazing diversity in its culinary options. Not unusual when you consider the multi nationalities, races and cultures that the city has been exposed to in its 450 year old history. For this Writer it meant some truly exciting culinary adventures and experiences.
The ethnic diversity was remarkable and on our short visit we experienced French, Greek, Italian, Polish and Russian culinary specialties. We had already been treated to the chef skills of Jean Stephane Poinard when we arrived in St. Augustine. A year earlier we were on a Caribbean cruise aboard Holland American's Rotterdam when Chef Poinard demonstrated his culinary skills at the ship's Culinary Arts Center. On that cruise he was guest chef at the International Food, Wine & Travel Writers Conference at Sea.
Now we had the opportunity to visit his Bistro de Leon in St. Augustine. And Chef Poinard was ready for our group of Writers with a menu that was a preview of one he was preparing for a dinner at James Beard House in New York on Beaujolais Nouveau Day. As a sixth generation chef, originally from Lyon, France, Chef Poinard naturally offered each course in French. However we will use mostly English in our description.
First course was a split pea soup with bacon chips. Next came a Beef tail raviole with a port juice reduction and asparagus heads. We thought it was the best port reduction sauce we had enjoyed within memory. We like frog legs and we greeted Chef Poinard's entree with enthusiasm. The boneless frog legs were served over a tomato garlic pain perdu with a watercress cream.
For our palate and a slight recourse there was a glass of Granite de vin rouge a la creme de cassis. Then a fish course of flounder filet cooked with a red wine sauce with bacon and pearl onion. Our dessert was roasted pineapple in Madagascar vanilla bean and rhum.
Our wines were served in carafes imported from France and traditional in Lyon. Our bread and other pastries are baked on premise and on tempting display in the restaurant.
When we left Bistro de Leon located at 12 Cathedral Place that evening we were sure that the folks at James Beard House were in for a special evening as we had just experienced.
Another day we took the walking tour lunch which is an award winning concept of Alice Sutherland. This tour is especially designed to show the culinary influences that are now a part of St. Augustine. First stop for us was Gaufre's & Goods, Inc. a Greek and Polish restaurant located on Aviles Street, the oldest street in the United States. Here we had Ola's Pierogies, stuffed with sour Kraut and Mushroom, potato and cheese and meat. We also sampled the stuffed cabbage and Pyzy, Silesian dumplings stuffed with meat, traditional in south Poland. Here the restaurant and the street take one back to the Old World. Next stop was Italian fare at La Pentola with Chef Jorge Talavera showing us cheese ravioli in cherry cream sauce and camareones al Ajillo. Chef Jorge also shows continental fare on the menu.
Moving on, now not quite so briskly, to the Athena Restaurant operated by the Chryssaidis Family. Our Greek tasties here included Saganaki, flaming cheese, as well as most appealing Gyro lamb that reminded us of Istanbul.
On the last stop on our eating tour we were to tangle with another French chef Claude Franques whose fame is in chocolate. He operates Claude's Chocolate in St. Augustine and also in Ponte Vedra. Talk about 'the kid in the candy shop'. However here we thought ahead thinking of the long jet ride home. So our purchase was two huge chocolate chip cookies which would keep us nourished en route home. This worked perfectly except for the envious glances of our fellow passengers.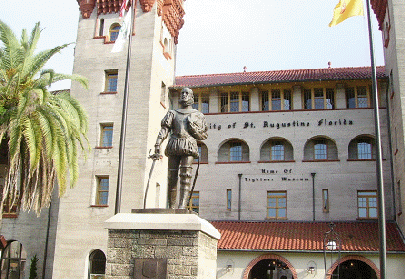 It would be hard to imagine a more romantic setting than our dinner at Cafe Alcazar. Located in the Lightner Museum, which began its existence as the Hotel Alcazar one hundred and twenty years ago, the Cafe has a truly unique ambiance. Our host was George Chryssaidis who is one of the premiere restaurateurs in St. Augustine with two other restaurants besides the Alcazar. They are the Athena which we visited for lunch and Georgie's Diner.
Here the evening began, after our tour of the Lightner Museum, with cocktails and appetizers presented by the Cafe Alcazar staff. Then we moved downstairs to the dining area while Greg Pieper entertained us with a wonderful selection of piano music. At this point Chef Jesse got busy. We started with one of our host's special prides, his own families olive oil, still produced in the olive groves of their native Greece. Our tasting of the Frixa olive oil with assorted breads was a fine starter. Then we moved on to a sesame shrimp appetizer followed by Angelemono, the traditional Greek soup, followed by an equally traditional Greek salad. Our entree was roulades of chicken breast with Peruvian mashed potatoes and broccoli buds. Dessert was Alcazar's cheese cake.
The Cafe Alcazar is open for lunch with dinner only served as a special event the first Friday of the month or for a private party like our group of Writers. Rhett's Piano Bar & Brasserie was my kind of place. I love piano bars and in St. Augustine I found a man who likes them even more so. His name is John Arbrizzani and like this Writer he grew up listening to the old standards and hearing them played in piano bars and regretted their passing from the bar scene in so many places. So deciding such a place was just what St. Augustine needed he opened Rhett's last year. As a restaurateur he is no stranger to the City since he also owns the highly successful Scarlett's Bistro located adjacent.
The bar is well stocked and upstairs there is an intimate dining area and a champagne lounge as well. Our group arrived at Rhett's ready for some late evening R & R and looking forward to cocktails, a sampling of the dessert tray and lots of good piano music. I enjoyed a long conversation with John Arbrizzani and told him my only regret was that Rhett's is a long way from the San Fernando Valley.
I did have one criticism. It seems that Rhett's has one of those new digital pianos with no place for a teary eyed patron to lean on while listening to "Nature Boy" or "Send in the Clowns"
Think Russian when you enter Sara's Crepe Cafe. An attractive, proud woman, Owner Margarita Abramov, explains that Russian food also includes crepes called Blini. At Sara's she has combined both the Russian Blini and French Crepes with classic recipes that go well as appetizers, entrees or desserts. Sara's is a newcomer to St. Augustine but opened to instant acclaim with it Russian icons, dolls, paintings and memorabilia, much of it Margarita's family heirlooms.\
The restaurant is named for her grandmother, an intrepid , memorable woman who was able to survive the worst of Nazi occupation and imprisonment. The gaily decorated interior with its bright color decor also offers a large screen video featuring classical music entertainment. We enjoyed our sampling of crepes like the Napoleon with fresh eggs and smoked ham as well as the Count Amaury with beef tips and mushrooms. Best of all the dessert crepe of sweet strawberries with vanilla ice cream.
We liked O.C. White's for its honest seaside decor and downhome ambiance. The bar is friendly with the look of a local watering hole. Our group arrived for lunch after a morning spent cruising on Matanzas Bay with Naturalist Zach McKenna and his Eco Tour.
White's offers a menu with much seafood and all at our table followed the dictates of our morning seafaring experience. The Mahi fish and chips sounded good to us and proved a good choice. One at our table had a crab stuffed portabello sandwich which looked like an even better choice. There is also the patio for either lunch or dinner and we found the staff courteous and efficient. It all added an all American addition to our culinary adventures.
---

Back to Table of Contents..
Last Update:3/1/12
&copy 2012 Joe Hilbers All Rights Reserved.
Graphic Design by Impact Graphics