Surveys have shown that when people plan vacations culinary experiences are high on most people's lists. And this truism is certainly true for the Editor and staff members of Vittles. So it should come as no surprise that our recital and recap of our culinary adventures on the southern Oregon coast will be extensive.
In Reedsport Lauree Serang and her Harbor Light Restaurant provided a remarkable luncheon for us at the Umpqua Discovery Center. Here we sat outside overlooking the River to a buffet assortment that included halibut, salmon, local oysters on the half shell, crab legs in a house sauce as well as Ahi tuna. The mushroom soup, a house specialty, will be long remembered. The Harbor Light Restaurant has been serving this kind of fare since 1950. Our wine was King estate 2010 Oregon Pinot Gris.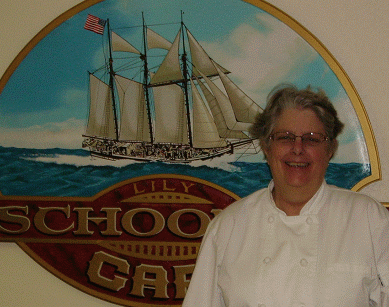 For supper we were back adjacent to the River at Lily Schooner Cafe. Here Owner Chef Newman Humble presented some of her signature salads and specialty sandwiches. The salads included Dungeness Crab, apple cranberry, chef special and Mediterranean. But first we had to sample both her Italian sausage soup as well as the clam chowder. Then there were the specialty sandwiches like Salmon, Fiesta, Beef, Albacore tuna Melt and Turkey D'lite. Desserts are special with Chef Nerwman so we sampled both the Criminal chocolate and Volcano. She has operated Schooner for eleven years and serves these goodies seven days a week from 10 a.m. to 3 p.m. The restaurant overlooks the river with wonderful views and has patio dining.
Our culinary experiences in Coos Bay-North Bend were not limited to our crab crack. We visited the portland Bagel Company for breakfast which offers a countless list of bagels in all flavors and sizes.
Then we visited Outdoor Inn where Mark and Gina Daily have established a most unusual cafe with a large amusement area for children. It also features the 'best clam chowder on the central coast', winner of this award two times running. We naturally had to try a bowl.
The Hilltop House Restaurant and Lounge in North Bend has a seventy seven year old history and is now owned by Chef Joseph and Jodi Zamora. Here we tasted four Oregon wines including Melrose 2010 Sauvignon Blanc, Abacella 2008 Merlot, Melrose 2008 Baco-Noir and Williamette Valley Vineyards 2010 Riesling. We carded both the Abacella Merlot and Williamette Riesling as our favorites. With the wines we enjoyed the Chef's own Manhattan styles clam chowder and home made bread. The Hilltop House Restaurant is locatred at 93405 Wilsey Lane, North Bend showing a Continental menu, an excellent wine list and an intimate bar lounge. While in Coos Bay and North Bend we stayed in luxurious rooms at the Mill Resort and Casino. Their premiere dining is at the Plank Room Restaurant and here we were treated to another explosion of Oregon seafood including oysters on the half shell, Dungeness crab legs, large prawns and a wonderfully presented salmon with most delicate flavors. The Resort is operated by the Coquille Tribe of native Americans on land that has been home to its people for countless centuries. The Mill Casino opened in 1995 and was followed by the hotel in 2000, the 100 site RV park in 2006 and the Hotel Tower where we stayed in 2008. The Resort has expanded to become an important economic factor in Coos Bay.
Before leaving Coos Bay in the morning we stopped at Kaffe 101, a unique sandwich shop with spacious room, comfortable chairs for leisurely meetings or a place to enjoy morning coffee, bakery items and the local newspaper. We had our usual cup of tea and a tasty orange cranberry muffin while lounging by the fireplace and thinking hey this is just like home.
In Bandon we found some classic downhome dining at the Station Restaurant which serves food Americana for breakfast, lunch and dinner, and in fact serves breakfast all day long. We ordered the fried sticks zucchini for a lunch appetizer and then a well prepared fish and chips. Another in our group had an enticing plate of fried oysters. Owner Jon Vining stopped by to say hello and tell us of the longevity the Station has enjoyed in Bandon.
We also found time to visit Misty Meadow which produces jams and jellies from Oregon fruit and of course we had to sample some these tasties.
For dinner it was McFarlins Bar & Grill, one of Bandon's most popular watering holes and a bar menu of favorite local food. The menu offered chicken and shrimp salads, house specialties like fish and chips, huge burgers and Chicago style pizza. There was also Octoberfest beer tasting the night we were there and Jay Zink, beer specialist for Western Beverage, was on hand to explain some of the featured beers of the season including Widmer Hefeweizen. Our group tested the menu with frickles and onion rings for starters then pulled pork sandwiches, roasted chicken, beef brisket or for this Writer a half pound burger with bleu cheese and bacon. Nobody leaves McFarlin's hungry.
In Bandon we stayed at the Bandon Inn in a room with a view of Old Town, the bay and the Pacific Ocean. We took advantage of the excellent WiFi to catch up on our e -mail and used the micro wave to make tea. Who could ask for more?
As we moved down the Oregon coast on Highway 101 our culinary experiences seemed to increase even faster than our movements. One day they started at Bandon Baking Company and Deli with Owners Chris and Kim Powell displaying a large assortment of tempting pastries and breakfast goodies. We settled on a huge cinnamon roll, in fact so big, that we shared some of it with another of our group. And we left Bandon Baking with a weighty box of cookies to sustain us through the day.
Lunch found us at Redfish, a restaurant sitting on a bluff offering sweeping views of the Oregon coastline at Port Orford. Owner is Chris Hawthorne and he has created Redfish as a memorable dining experience. The wine list is huge and the kitchen staff headed by Jeremey Kelly as executive chef. His credentials reach back to New York and Louisville, Kentucky. Our two hour lunch here opened with a corn clam chowder and a plate of fresh greens. Next to arrive a crab cake followed by a french dip style beef steak strips and concluding with Creme Brule.
That evening we were in Gold Beach and our lodging was at the Pacific Reef Resort. This Resort offers oceanfront rooms in a variety of prices and styles. We had a two story condominium with a living room and patio that allowed one to step right out to the beach and the luxurious bedroom upstairs. Our only complaint was that we were so busy that we had little time to truly enjoy our accommodations.
We again went to the waterfront that evening and entered the Port Hole Cafe. Owner Tony Antunes has been offering fine food to locals and visitors alike for over twenty years.
Seafood here arrives daily from fishing boats as they return to port with their catch. We had to try the clam chowder, the local oyster shooter and the catch of the day, Ling Cod. This is one of our favorite fishes and here was beautifully prepared with a light breaded coating with the cod flaking to the fork.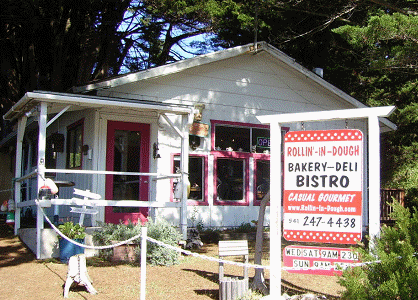 In Gold Beach our lunch stop was at Rollin' In Dough Bakery & Bistro. Owner Chef Patti Joyce was on hand to greet us and present a menu of sandwiches, soups, salads and dessert. We had the Italian roast beef sandwich which came with cheese, fried onions and peppers as well as a pasta salad. The Bistro is open for breakfast and luncheon Tuesday thru Sunday at 94257 North bank, Rogue River Rd., telephone 541 247-4438.
We also stopped in to visit with Mary Bonstein who owns the unique Rogue River Apple Works. Here she features Oregon jams and jellies and lists her offerings as 'A Taste of the Past". Our Lodging in Brookings was grand indeed at the Best Western Beachfront Inn. Our room offered a fine view of the adjoining beach and later we congratulated Manager David Snazuk on the grand sunset he arranged for us. As the sun set we were standing on the beach taking photo after photo until Old Sol had disappeared below the horizon.
The Dinner at O'Hollerans Steakhouse and Lounge in Brookings proved to be a culinary adventure. Rodney and Eileen Minnier are the proprietors and the restaurant is a tradition in Brookings. The menu is extensive whether for steaks or seafood. Our group of Writers leaned toward the seafood everywhere we went and so at O'Hollerans as well. We opened with the Calamari strips served with both tarter and cocktail sauce. Our entree was Pacific Razor clams breaded and grilled. These arrived on a huge plate with barely room for the accompanying potato and broccoli buds.
In all the menu offers twelve seafood items as well as seven cuts of steaks. The restaurant is nicely divided into a bar lounge and separate dining room. The decor is natural Oregon woods and beams including the tables and chairs. The result is a very casual and comfortable ambiance.
We also had to seek out some night life in Brookings so wandered into the Pine Cone Tavern. This local watering hole was well populated when we arrived and we were greeted by Tavern Owner Sonya Billington who handed us a bar menu of specialty drinks featured. We leaned on the bar for some people watching observing the camaraderie of the local clientele. One of these, an attractive young blonde in a somewhat high state, threw her arms aroung me in a hug calling me her Grandpa. Oh well, time and tide. Then I retreated to look on as some of our group engaged in spirited competition at the pool table. PC Tavern is located at 629 Chetco Avenue which is also Highway 101 in Brookings.
The next morning we were a quiet group as we had breakfast at Sebastian's Restaurant. Here breakfast is taken seriously and with a full menu designed for hearty appetites. This Writer apologized not for dispensing with a huge plate of French Toast and noticed we were not alone in displaying a good appetite. Sebastian's Restaurant is at 16011 Boat basin road in Brookings.
As we journeyed back to Reedsport to close out our adventurous week we stopped at Langlois General Store which has over decades developed a legendary reputation for its Hot Dogs. I added two Hot Dogs to the 613,000 that have been sold to date, and yes that figure is correct. The homemade mustard and pickles atop the Hot Dogs made for a tasty lunch.
In future issues of Vittles we will visit some of the individual communities along the Southern Oregon Coast and describe their unique attractions.
Back to Table of Contents..
Last Update:3/15/12
&copy 2012 Joe Hilbers All Rights Reserved.
Graphic Design by Impact Graphics