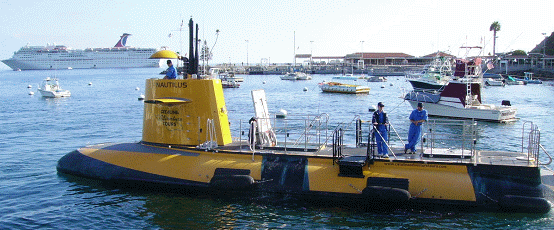 "Catalina Island--It was 'Dive, Dive' aboard the Nautilus"
by The Editor
Our adventures on Catalina Island appear endless. So it was inevitable that we would have to board the Nautilus for an underwater look at the marine life that surrounds the Island. This adventure started at the end of the Green Pier as the Nautilus came into view. The ship is semi-submersible with the passenger deck below the water line while the top deck and conning tower are above the surface.
The passenger deck is provided with large windows and comfortable seats for views both to port and starboard. Soon we 'shoved off' toward Lovers Cove with lights flashing indicating we were 'diving'. The ship proved to be a magnet for fish and there is a very good reason why this is so. Each seat is provided with a push button to launch torpedoes which are actually balls of fish food. Launch a torpedo, call out 'fire one' and instantly schools of Opel Eye fish are seen swarming by your window.
More relaxing was gliding through elegant forests of kelp, swaying gently like trees in a breeze on a land forest. Here they were about 40 to 50 feet tall but they can be over 200 feet in length and offer a refuge for fish. We also saw schools of calico bass and a solitary barracuda.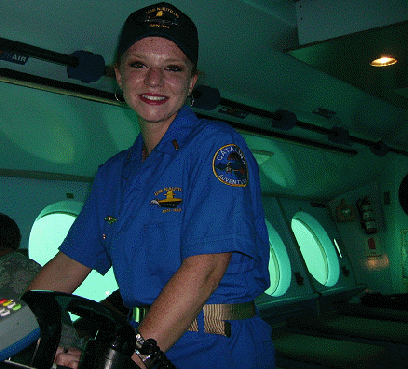 Explaining what we were seeing and the identities of the fish was Crew member Amy. We also chatted with deck hand Tyson who explained that during the summer season the Nautilus makes night cruises as well since the ship is equipped with 18,000 watts of halogen lighting to see fish in the night habitat. The crew was all neatly clad in their uniforms.
We took our one league cruise during the winter season. The 45 minute cruises are offered daily. The passenger deck places viewers about seven feet below the ocean surface.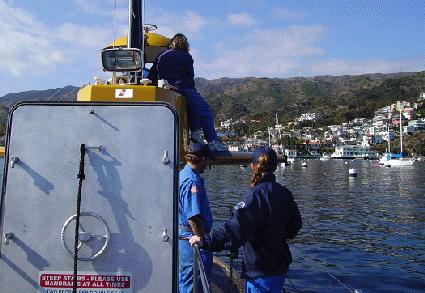 Once back moored at Green Pier we clustered on the top deck and talked briefly with Captain Ray. We thought the only thing missing was the music sound track from that classic submarine cinema "Das Boot." It would have been the perfect accompaniment as we pushed the torpedo button and said "Fire One". It is questionable who had the most fun this old man with a still youthful imagination or the many children aboard.
The Nautilus is just one of several tours offered by Catalina Adventure Tours. For more information call 562 432-8828. On the web at www.catalinaadventuretours.com.
Back to Table of Contents..
Last Update:3/15/12
&copy 2012 Joe Hilbers All Rights Reserved.
Graphic Design by Impact Graphics