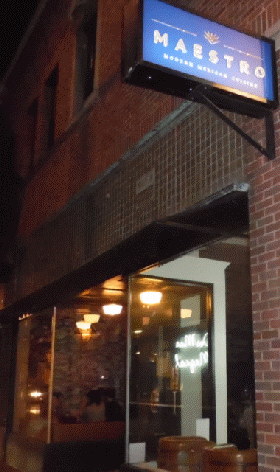 Pasadena--Maestro Restaurant shows true Mexican cuisine
.. By Joe Hilbers
When one leaves the border areas and Baja on a visit to Mexico the cuisine makes a remarkable change. Visit the central regions of the country or follow its Pacific Ocean coast and one finds a completely different and unique cuisine.
Gone is Tex-Mex and Southwest which residents of Southern California are exposed to 24/7.
So it was our pleasure to discover in old Town Pasadena a restaurant that whisks you back to places like San Migul Allende or Puerto Vallarta for true Mexican cuisine. This thanks to Chef Partner Elena Vega. The restaurant is Maestro and the menu she has developed shows the dishes of both the heart land and coast of Mexico.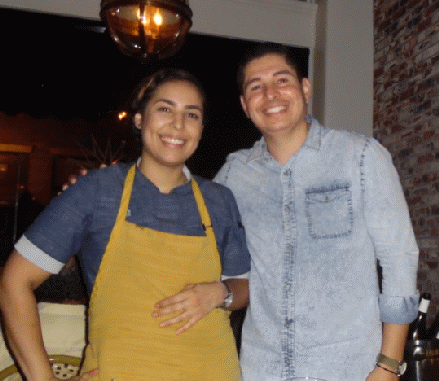 Born and educated in Southern California Elena went back to her roots, and especially her Grandmother, to develop the foods now featured at Maestro. With this cuisine and an exciting bar featuring classic and original Mexican spirits and cocktails you have the reason for Maestro becoming an instant success in Pasadena, especially with the local population. With Partner Sergio Martinez Maestro has you in Mexico for beverage and food.
Here is an interesting menu with items like Duck Carnitas, roasted tomatillo and escabeche, or Fish of the Day with Vera Cruz sauce, capers and fire roasted tomatoes or Lamb Barbacoa with nixtamal tortilla,
At the bar there is a brother team of bartenders who are true artisans of their craft. Here cocktails like Margaritas , Mezcal Campfire, La Elena gin and Cazuela Tequilla move off the bar with amazing grace and speed. Sitting at the bar and watching Rodrigo and Ivan Fabian ply their craft was a wonderful form of entertainment and we watched with admiration at the deftness cocktails with many ingredients were made.
Manager of the bar and beverages is Paul Gonzalez.
The Maestro building, showing it is indeed part of old Pasadena, offers a perfect ambiance for this true Mexican cuisine. The theme is carried out in many ways, everything is served on Peltre plates, always in use in Mexico both at home and in restaurants. Alongside the building next to an alley called Bisg Bang there is a delightful patio The bar is L shaped with limited seating but I thought the Fabian brothers should sell tickets to watch their show.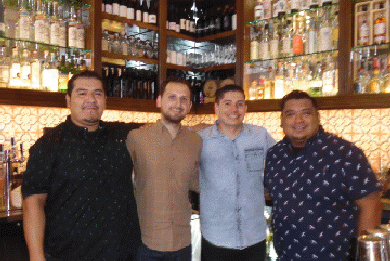 Our dinner was a preview of Chef Elena's Fall menu. We opened with a Kuimiai Oyster Shooter with a Maestro Margarita. Then a tasty appetizer called Heads Cheese Tostadita followed by Kale Orange Salad.
Next Scallop atop Huilacoche rice and mushrooms. Served with it was 2013 Deovlet Chardonnay from Santa Barbara County appellation. With the entree which was Mole free range chicken with avocado puree, queso fresco and jocoque. Our wine was Porter Creek 2014 Pinot Noir from the Russian River Valley.. Dessert was Carrot Cake Tres Seches and Los Javis Mezcal.
We were much impressed with the most knowledgable wait staff who were willing and able to answer our many questions about some of the foods that were not familiar to us.
Maestro is located at 110 E. Union Street in Pasadena. It is open six days a week, closed Mondays. Hours from Tuesday through Thursday 5 p.m. to 9 p.m. Later closing on weekends which also features a brunch. Telephone 626 234-4463.
Back to Table of Contents..

Last Update:9/3/17
&copy 2017 Joe Hilbers All Rights Reserved.
Graphic Design by Impact Graphics