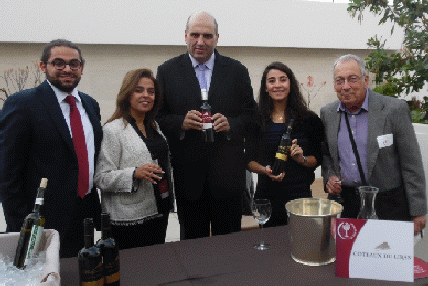 Beverly Hills--Lebanon showed quality wines to match its long history
.. By Joe Hilbers
When we learned that there was going to be a tasting of Lebanese wines at the Beverly Hilton Hotel in Beverly Hills it was a must that we attend. For many years we have been fascinated with the wines of Lebanon since they date back to the very earliest growing of grapes and making of wine.
When it comes to wine Lebanon has a history that extends back almost six thousand years. The land and climate was friendly to viticulture and it was peopled by Phoenicians who were renown principally for their wide travel and trading. They were shipping wine to Egypt two thousand years before Christ. Modern vineyards and winemaking received fresh stimulus when the French arrived in the country during the last half of the 19th century. First by Jesuit monks and then by French vintners.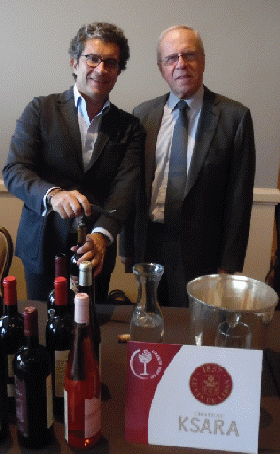 For a number of years to explore wines from Lebanon we visited Phoenicia Restaurant in Glendale where Restaurateur Ara Kalfayan has always matched his award winning Lebanese cuisine with the wines of that country.. . Ara would give us free reign to explore his wine cellar and seek out some of the classic vintages from that country.
Chateau Kefraya is produced in the Bakaa Valley just 18 miles from Cana where the Bible tells us Jesus turned water into wine. Chateau Ksara makes French styled blends and the winery dates back to 1857. Chateau Fakra offers red wines from the Kfardebvian Valley north of Beirut. Another Bakaa Valley winery is Domaine Wardy. Most of the red wines are blends of classic French varietals like Cinsault, Mourvedre, Syrah and Cabernet Sauviginon. Cave Kouroum features wine blends of Cabernet Franc, Petite Verdot and Syrah. Chateau Ksara also offers a white wine blanc de blanc of Sauvignon, Chardonnay and Semillon In the last two decades the number of wineries in Lebanon has expanded dramatically. Most vintners are using French varietals but still to be found are some of the original varietals like Obaideh and Merwah. P>So the Lebanese Wine Day event was the perfect place for us to continue our education on these wines of many millennia.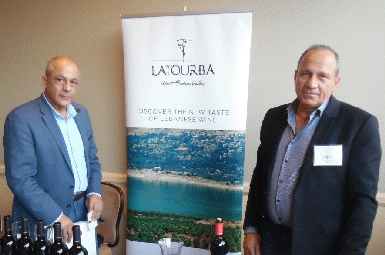 P>Chateau Kefraya Comte de M, a French chateau style blend of Cabernet Sauvignon, Mourvedre and Syrah aged 16 months in French Oak. It was a very good wine, hearty yet smooth and with a long finish. Chateau Ksara 2014 Reserve Du Couvert which was a blend of Syrah, Cabernet Franc and Cabernet Sauvignon. This winery dates back to 1857. Here we had a most unusual wine, Massaga 2015 a Rhone styled blend, also from the Bahaa Valley, a blend of Censaulis, Grenache, Cabernet Sauvignon and Mourvedre. Mellow and with a hint of sweetness.
Some thirty wineries were represented at the Beverly Hills tasting and it was very well attended
Back to Table of Contents..

Last Update:11/23/17
&copy 2017Joe Hilbers All Rights Reserved.
Graphic Design by Impact Graphics