Rarely ashore in this age are people recognized and greeted as polite and courteous as aboard a cruise ship. Ship's guests are always met with a friendly smile, and after just one day are greeted with your name by the cabin steward. This is all possible thanks to the training crew members receive and as a result become true professional at whatever their assignment.
Most crew members sign contracts for six months, then have two months off before returning but not necessarily to the same ship.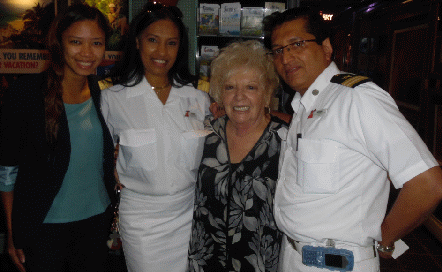 One evening we ascended to the very top of Miracle to dine at Nick & Nora's Steakhouse. This provided us with a memorable dining experience. On two levels the restaurant offers the finest in prime beef as well as exquisite service and extensive wine list.
Our adventures ashore started at Mazatlan which is one of the oldest cities on Mexico's west coast. It seems that our trips to this fascinating place are spaced one decade apart. The first was when we flew from Los Angeles to spend a holiday at one of the resorts along the beach. From there we wandered far and wide into the interior. Next trip was aboard a ship that was hosting an International Food, Wine & Travel Writers conference.
This time we were guests of Julio Birrueta, director of the Mazatlan Tourism Board, who arranged our motor tour. As we moved from the ship through the old town we were amazed on how much had changed in ten years.
In recent years international tourism to Mazatlan has climbed consistently and is now considered one of the top winter destinations worldwide. Young millennials have discovered Mazatlan as they search for new sea and land adventures. As we moved through Nuevo Mazatlan there was much new growth and new construction.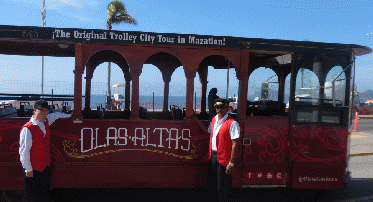 Our destination was Pueblo Bonito Emerald Bay Resort & Spa where we toured the legendary facility and then moved to The Bistro Restaurant where its exhibition kitchen shows a classic Mexican menu. Our hosts were Julio Birroeta of Mazatlan Tourism, Yubel Sanchez of Sinaloa Tourism and Yibran Jesus Flores Ontiveros, Groups and Conventions Manager for Emerald Bay Resort. We opened with Sushi & Sachimi and then followed with the mango fish fillet while admiring the lush tropical scene surrounding us.
At Emerald Bay think luxury at every level.
As we returned toward downtown and our ship we noted that the City was hard at work to bring out the true beauty of the coast line and beaches.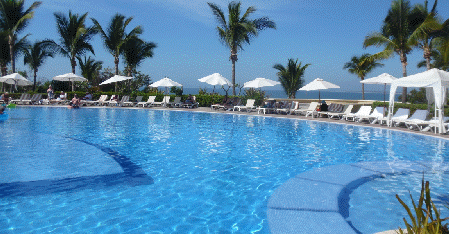 Back to Table of Contents..
Last Update:11/25/17
&copy 2017 Joe Hilbers All Rights Reserved.
Graphic Design by Impact Graphics