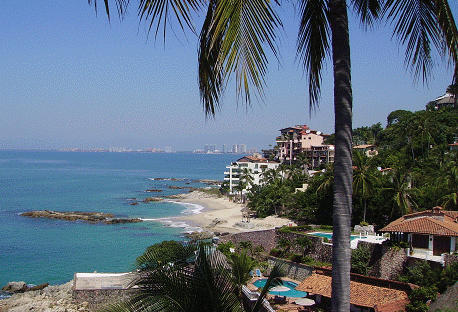 "Puerto Vallarta--Once again our visit proved to be an adventure"
by The Editor
How wonderful is the kindness of strangers when they see that you need help in some situation. This was evident to us in Puerto Vallartas when we had a problem. Thanks to Sujey Cardenas who heads the Puerto Vallarta Tourism Board we were scheduled to meet one of her coworkers and a driver once we left Carnival Miracle.
The place of meeting was spacious and we could not find them or they us. Local citizens and total strangers, some barely spoke any English, came to our aid and made a phone call to the Tourism Board. Only then did we finally connect with Mtra. Xaviera Gutierrez Ruiz and her driver, Manuel.
:Once connected we were off on a motor tour of this bustling city of over 350,000 residents and many tourists as well since we arrived at the beginning of their high season which extends from November to April. Local knowledge
Our Driver Manuel had been born and raised in the City and had some interesting facts about it and knew every side street and alley. First was Malecon, the beach walk with its examples of Mexican sculpture. Then to the historic square and heart of the original town with its classic church "Our Lady of Guadalupe.'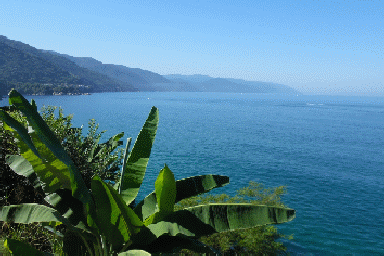 El Set Restaurant and Bar overlooks Mismeloya beach and it was here that the 1962 film "Night of the Iguana' was on location. Everyone agrees that this film put Puerto Vallarta on the map worldwide.
Our first visit was on a press trip in 1979 and in Puerto Vallarta we stayed at the El Camino Real hotel, then the first high end luxury hotel there. Now such four and five star hotels abound in the region and included as part of the tour as we followed the road that flanks what is the city's own riviera.
Every visit we have made to Puerto Vallarta the changes are vast and it now seems harder to escape from the USA as there were two WalMarts, a Cosco, McDonalds, Subway and the list continues to grow.
Then Xaviera treated us to a wonderful luncheon at La Palapa Restaurant and Bar which literally is beachside with many tables spread on the beach. Here we opened with cocktails. For me a Pina Colada and there is a story here.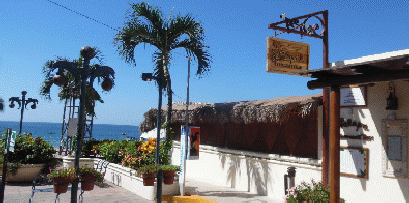 For this Writer Pina Colada is the drink of travel and romantic places. We are barely aboard a cruise ship before seeking out one of its lounges to have another of these noble cocktails placed before us. And somehow we invariably link the drink with Mexico. We cannot think of our memorable adventure to Copper Canyon, that unforgettable train trip, without also recalling, yes, the Pina Coladas served us at luxurious hotels and on a yacht trip to the bay at Los Mochas.
Then there is the trip to Mazatlan where we blended time at our beach hotel with adventurous treks to the back country. Oh yes, and then at Puerto Vallarta, using the same style agenda, where we explored both deserted coves and beaches as well as the surprisingly beautiful mountain country that few tourists ever see. The Pina Colada Ritual
For us old habits die hard so aboard the Carnival Miracle bound for Mexico's Riviera ,once again, we toasted our departure with a Pina Colada explaining to my traveling companion that this drink was, well indispensable, an inseparable link with whatever else occurred on our cruise. I now call it the Pina Colada Ritual. So of course it was most necessary to enjoy yet another at the most scenic La Palapa.
After our grand luncheon it was back to the dock and our good bye to Xaviera and Manuel who had treated us so well.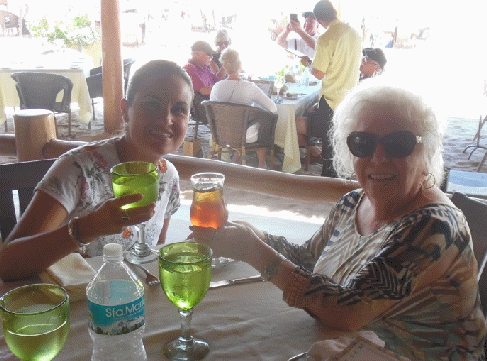 Our last view of the City was at 5 p.m. when, once again, this Writer was called upon to help Captain Rocco Lubrano get the ship out of port. And of course we had to be up at 5:30 a.m. to help dock the ship in Long Beach. These long ship watches are very trying.
Back to Table of Contents..
Last Update:11/25/17
&copy 2017Joe Hilbers All Rights Reserved.
Graphic Design by Impact Graphics