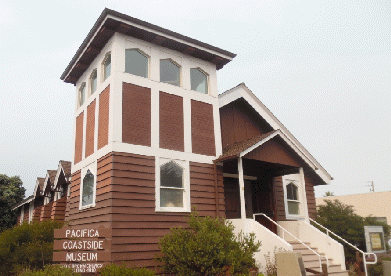 "Pacifica combines urban services with matchless seashore beauty"
by Joe Hilbers
California enjoys one of the world's most scenic coastlines. Nestled along this coast are beach communities and cities, some devoted to serving visitors with classic beach pursuits, while others using the seashore as the backdrop for a stable urban community.
One such in this latter grouping is Pacifica which is currently celebrating its 60th year as a California city. Situated only a few miles from San Francisco Pacifica has through the years been able to develop its own decor, ambiance and services that are very much its own identify.
Geography has played a role in this development of a city that has managed to maintain an image of a small friendly community while being surrounded by larger more dense cities on three sides. To the north San Francisco, to the east, a range of mountains, separate it from the vast populations of the Bay Area Peninsula.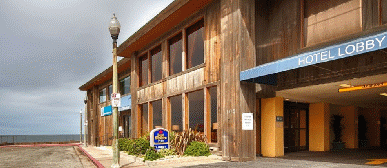 On our recent visit to Pacifica we immediately noticed this small community friendliness with almost everyone we met. Here people have time to get to know each other and are most willing to welcome and aid visitors. This framed by the scenic rugged Pacific Ocean shoreline that here alternates between sandy beaches and rugged rocky headlands.
Besides having all the basic services of the community Pacifica has much to offer the visitor. There are a number of beautiful inns and hotels with frontage by the ocean including The Lighthouse Hotel which we stayed. Also some exceptional restaurants, some with an ethnic cuisine, that also took in the beauty of the coast and sea.
At the Best Western's Lighthouse Hotel our room offered, besides a long list of amenities, a view of the surf breaking just yards from our full glass patio window. We had much to do in exploring what Pacifica has to offer but our hotel and room showed much of its seaside beauty. The convenience of the Lighthouse Hotel with easy access from the amply spaced parking garage to our room and the friendly most efficient staff was much appreciated.
The Best Western Plus Lighthouse Hotel is located at 105 Rockaway Beach Ave., just a block off Highway One in Pacifica. Telephone 650 355-6300, web www.bestwesternlighthouse.com.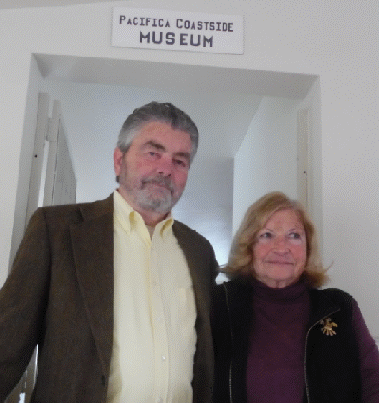 When visiting a new community we always start with a call at the Visitor Bureau and Chamber of Commerce. In Pacifica this was just down the street from our hotel and here we met Jamie Monozon, chief executive officer. Jamie immediately suggested a meeting over breakfast and again just down the street was The Breaker, which seemed to be headquarters for many of the town's citizens.
Our dining experiences, the restaurants we visited and in some cases, their long history, will be covered in a separate Vittles story.
To learn about Pacifica's early history Jamie recommended a visit to the Little Brown Church and its historian Kathleen Manning. After breakfast we were there in a very short time. This was another joy about Pacifica, every place we visited was just a few minutes away.
Little Brown Church has a history of its own. It was built in 1910 just a short distance from the railroad station. In that era there was a railroad, named Ocean ShoreRailroad, that extended from San Francisco along the coast to Santa Cruz.
Over decades the church enjoyed many roles including services, community center and meeting place, a public school and movie house, than headquarters for the Pacifica Police Department. Now a project under the title Pacifica Community Museum Center has taken over after an extensive renovation.
All of this was related to us by Kathleen Manning who is executive director of the new museum. Along with Docent Paul Slavers we toured the museum which includes memorabilia from the Ocean Shore Railroad, which ceased operations i 1920, as well as the early history of the region dating back to the explorations of the Spanish who discovered the region.
The Little Brown Church Museum is located at 1850 Francisco Blvd., in Pacifica. For hours call 650 359-5462, on the web at www.pacificahistory.org.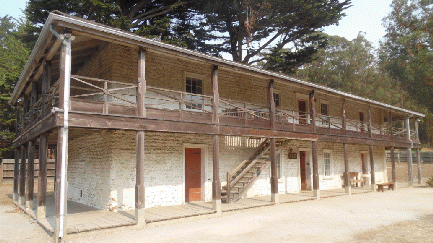 Our investigation of the region continued with a visit to the Sanchez Adobe Historic Site. The building was constructed in the 1840s with timber from a wrecked Spanish Ship that went aground at Point Pedro. Originally the home of Don Francisco, over the next hundred years it has had many roles including a hotel, artichoke packing shed, bordello and speakeasy during Prohibitiion. In 1947 the County of San Mateo purchased the five acre site and after restoration was opened to the public in 1953. It is the second oldest building in San Mateo County and now houses exhibits dating back to the original Ohlone Indians which had a village on the grounds.
Nearby is the Sanchez Art Center. Here we met Executive director Cindy Abbott who had much to tell us about the Center and how it has developed. Originally an elementary school it fell in disrepair after the students were transferred to other newer schools. Pacifica, thanks to the beauty of its natural surroundings, has always been a haven for artists and so it was decided to make the abandoned school an art center. Much renovation was necessary and some work is still being done. Now the Art Center serves several difference purposes including art exhibits, learning classes for children and families, exhibitions like the Art Guild of Pacifica which is holding its 58th annual awards Artists, while this is being written, as well as new exhibitions in two different show rooms. Another role for the Center is renting work rooms for local artists. Sanchez Art Center is located at 1220 Linda Mar Blvd. Pacifica. For mor information call 650 355-1894, on the web at www.sanchezartcenter.org.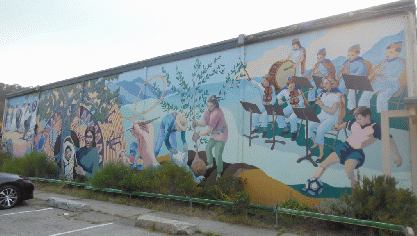 The very word castle brings about interest and imagination so, of course, we had to check out Sam's Castle. And indeed a castle it was situated atop one of the highest points in Pacifica with a view that sweeps over the city and its magical coastline. I It was built in 1908 by a San Francisco magnate, Henry Harrison McCloskey. His wife was born in Scotland in a castle so the Pacifica structure was modeled to duplicate it. Over the next century the castle had many roles including a speakeasy during Prohibition, a brothel, and during World War ll a Coast Guard barracks. In 1959 the late Sam Mazza purchased the castle and then filled it with exquisite works of art and antiques he had acquired during his career as a decorator for 20th Century Fox. After his death the Sam Mazza Foundation took over the property which has been renovated and is now open to public tours by the Pacifica Historical Society. We were met and greeted by Jeanette Cool, executive director, of the Mazza Foundation who related its history to us. Then Scott Cunningham of Cunningham Design, who has been responsible for the renovation and remodeling, took us on a personal tour of all the castle rooms and described some of the fantastic paintings and works of marble sculpture. It proved to be a remarkable experience.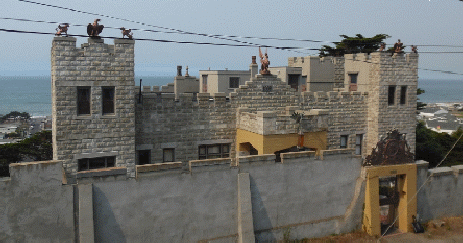 Sam's Castle is located at 900 Mirador Terrace, Pacifica, web www.sammazzafoundation.org.
Back to Table of Contents..
Last Update:10/20/17
&copy 2017 Joe Hilbers All Rights Reserved.
Graphic Design by Impact Graphics