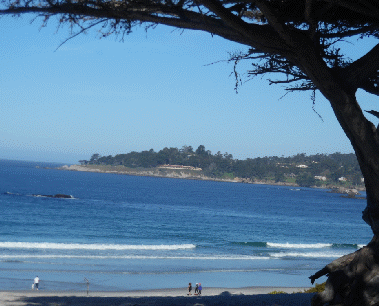 "Carmel By The Sea--This timeless, idyllic community has been designed to relax and delight people "
.
The fame of Carmel By The Sea extends far past the borders of California, and indeed of the USA. Its charm and ambiance have remained basically unchanged through the decades and its location by the nearby fantastic seascape still gives the visitor the feeling that all is well in the world.
Downtown Carmel invites one to a pleasant stroll while leaving your car idle and if you are using your car it costs nothing, since this town does not have parking meters and free two hour parking can be found everywhere.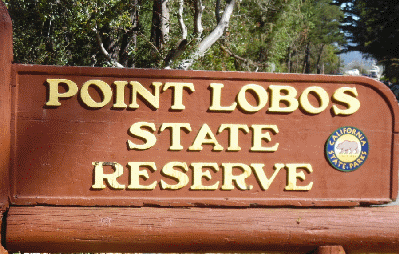 We did use the car for the surrounding countryside has much to explore. We had long wanted to visit Point Lobos State Reserve with its stunningly beautiful wild coastline, its majestic forest and miles of well maintained hiking trails.
At one place we found and information booth with a docent who has been offering his wit and local knowledge to people like us for ten years. The result was we came into possession of a Cypress Grove Trail brochure which also relates how the Allan Memorial Grove came about to preserve the unique Monterey Cypress trees. The Cypress Grove Trail is a loop trail that winds through coastal scrub and woods o cliffs and ocean views.
Actually Point Lobos has an interesting past being in the early days a whaling station, an abalone cannery, a granite quarry and shipping point for coal. Later A.. Allan started acquiring land recognizing the value of the cypress grove. In 1933 Allan's heirs donated fifteen acres in Allan's memory and later sold much of the present Preserve to the California State Park system.
Our stay at Carmel By The Sea was blessed with a remarkable of number of cloudless, windless sunshine filled days which were perfect for the many scenes that d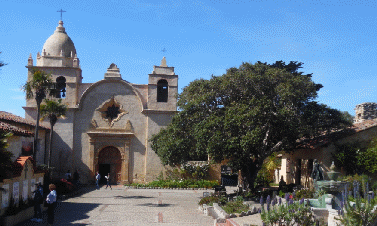 We also had to visit and photograph Mission San Carlos Bopromeo del Rio Carmelo. Here the graceful Basilica Church, the center of the Carmel Mission, is registered as a National historic Landmark.
All the communities of the Monterey Peninsula are close together mileage wise and Monterey and its famed Old Fishermen's Wharf were only minutes away on Highway One from our base at Hofsas House.
There is much to see at the Plaza and at the Wharf itself. We made a visit to the History Museum and Custom House.
Carmel By The Sea is just that with a long stretch of beautiful white sand beach, the white color due to the underlying rock that the sea slowly grinds to sand. The beach is very popular and in easy walking distance from almost anyplace in the business end of town. Also there is a scenic road along the coastline from Ocean avenue to Carmel River State Beach.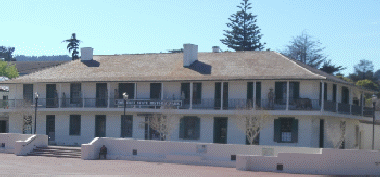 In town there are nineteen wine tasting rooms and bars, all showing the wines of the Monterey appellation which has become recognized as one of California's best for Chardonnay and Pinot Noir. And in May the annual Winemakers Celebration takes place.
While strolling through downtown we discovered the Fifth Avenue Deli and once inside, with a view of the tempting delights, decided to buy lots of goodies to take home and enjoy in our very own kitchen.
And waiting for us there was a bottle of 2013 Ventana Pinot Noir, from an estate grown vineyard located in Monterey's Arroyo Seco. So we moved from kitchen to balcony to watch the sunset and golden glow that followed and then back to the kitchen for our dessert Tiramisu.
Our stay at Hofsas House was a delight with a room that was actually a suite. It is located on San Carlos Street, north of Fourth Avenue in Carmel by the Sea. Early on it was decided the this city would not have house numbered addresses and so there is no mail delivery except at the post offices. However all the streets are well marked and there are excellent maps for finding locations. For more information on Hofsas House Hotel call 831 624-2745, on the web at www.hofsashouose.com. and on Facebook. Oh and don't even think of visiting Carmel By The Sea without a camera.
Holman Ranch is located in Carmel Valley on County Highway 16 just 20 miles from Carmel by the Sea. When we arrived in Carmel Valley our first stop was at the Holman Ranch Winery Tasting Room. Here we met and chatted with Duncan saving our tasting experience for another time. He gave us the simple directions to the Resort which is on the outskirts of town. The Ranch sits on the flanks of the Santa Lucia range and one soon arrives at the hacienda with its grouping of guest accommodations. Here you will find unique early California architecture buildings ideal for weddings and private functions of all kinds, all encompassed by lush gardens.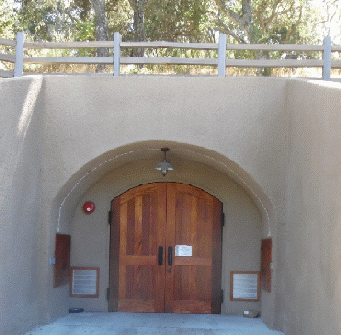 The Holman Ranch Winery was one of the reasons for our visit and we soon were on our tour with Nick Elliott, who is guest services manager. Everything is on the property including the vineyards and the wine cave carved into a mountainside where the estate grown grapes are harvested, crushed and cellared. We toured the hillside vineyard of Pinot Noir noting the clusters of berries and Nick told us that here in the Carmel Valley harvest generally begins earlier than in other appellations. Three varietals are currently grown including Chardonnay, Pinot Noir and Pinot Gris. Earlier there were some plantings of Sauvignon Blanc but they now gone. We tasted the last 2013 vintage of Sauvignon Blanc and thought it excellent. < P>The wines are produced and sold in two labels, Holman Ranch and Jarman and this second includes an interesting story. The Jarman brand is named in honor of the late Jarman Lowder, wife and mother of the family that has created the Resort of today.

In her memory one dollar of every bottle of Jarman sold goes to the Alzheimer's Drug Discovery Foundation. The two wines under the Jarman label include a 2013 Pinot and a 2014 Chardonnay, both estate grown and one hundred per cent of the varietal. Both labels have their own wine societies and the Jarman wines sold only in its own tasting room located in Carmel Valley. We had the opportunity to taste both of these wines and were impressed with their quality. Both varietals enjoy French oak barrel aging.

We also tasted a large number of the Holman label wines including a 2013 Pinot Gris, 2013 Virgin Chardonnay, and two Pinot Noirs, each from different hillside vineyards and both with fifteen months in French oak barrels and then six months in steel before bottling.. At Holman Winery Greg Vita is the consulting winemaker with a reputation for producing outstanding vintages.

The Winery cave is new being completed in 2012 and includes 3600 square feet, all underground with a constant temperature year round of 60 degrees, perfect for aging the wines in barrels and bottles.
Back to Table of Contents..
Last Update:10/19/17
&copy 2017 Joe Hilbers All Rights Reserved.
Graphic Design by Impact Graphics