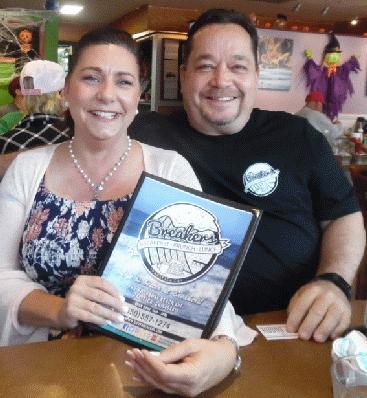 Pacifica--Ocean views make for dramatic dining opportunities"
By The Editor

On our recent visit to Pacifica we immediately noticed a small community friendliness with almost everyone we met. Here people have time to get to know each other and are most willing to welcome and aid visitors. This framed by the scenic rugged Pacific Ocean shoreline that here alternates between sandy beaches and rugged rocky headlands.
This friendly atmosphere was most noticeable when we had breakfast at The Breakers with Jamie Monozon, chief executive officer of Pacifica Chamber of Commerce and Visitors Center. The Breakers is open for breakfast and lunch each day and also appears to be the gathering place for much of the local population.
Owner is called Steve by just about everyone in the place including the staff. There is a huge breakfast menu and the morning we were there the special was pumpkin hot cakes.
House specials include Eggs Benedict, Florentine, Louis and Lox and Bagels. Lunch menu includes triple decker sandwiches as well as grilled Panini sands.
The Breakers is located at 145 Rockaway Beach Avenue in Pacifica. Telephone 650 557-1274, open seven days a week freom 7 a.m. to 3 p.m.
Well fortified with a great breakfast we were ready to see more of Pacifica.
Besides offering all the basic services of the community Pacifica has much to offer the visitor. There are a number of beautiful inns and hotels with frontage by the ocean including The Lighthouse Hotel which we stayed. Also some exceptional restaurants, some with an ethnic cuisine, that also took in the beauty of the coast and sea.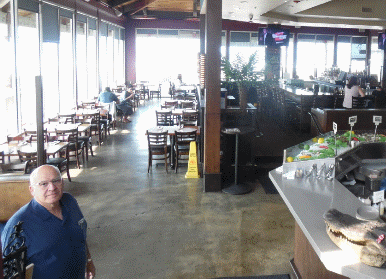 The seaside location of some of Pacifica's restaurants greatly added to our dining experiences during our visit. At Puerto 27, which features Peruvian foods, we had a table with a window view of the rugged coastline and lines of breakers.
This restaurant is the true success story of Julio Perez and his wife Zoila who left Lima, Peru for a better life in the US. Now Puerto 27 has four locations in the San Francisco area. We did have the opportunity to chat with Julio Perez and he gave us a tour of the restaurant with its three stories, all with sweeping views of the adjacent ocean.
This is a big restaurant with a large bar and lounge and several dining rooms. Our waitress, Maria, was most helpful as we studied the many Peruvian Ceviche and Antcuchos, street style skewers, on the menu.
I ordered the Puerto Pasta with shrimp, chorizo, basil, aji amarillo cream and shaved manchego cheese. It arrived in a huge bowl with about twice the amount of pasta I could eat.
My dining partner went with the salmon with was grilled with squid ink calamari rice and mango salsa criolla. It would take many visits to explore the many interesting appetizers and entrees on this menu.
For dessert I ordered the vanilla bean pisco flan with roasted strawberries while my partner decided on the Mango cheese cake with raspberry sauce.
Puerto 27 is open seven days a week from 11 a.m. to 9 p.m. with a Brunch menu on weekends. It is located at 525 Crespi Drive, Pacifica, Ca. Telephone 650 733-7343, on the web at www.puerto27.com.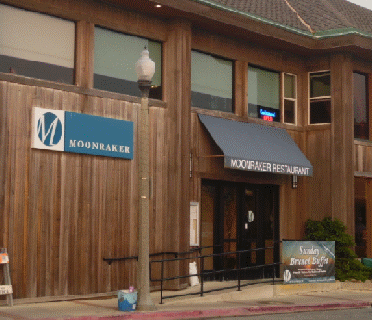 Located in the Lighthouse Hotel is the Moonraker Restaurant. Here again a most comfortable bar and lounge as well as the dining room offers patrons a never ending seascape with both rocky headlands as well as a long sandy beach.
Executive Chef Jason Yeafali and Sous Chef Joel Perez has assembled a most pleasing menu with much seafood starting with a extensive oyster bar, classic soups like clam chowder and lobster bisque and many appetizers. The main menu has a excellent mix of both land and sea entrees. There are also three different surf & turf entrees. Moonraker is open for breakfast, lunch and dinner.
The Best Western Plus Lighthouse Hotel and Moonraker Restaurant are located at 105 Rockaway Beach Ave., just a block off Highway One in Pacifica. Hotel Telephone 650 355-6300, web www.bestwesternlighthouse.com. Moonraker telephone 650 557-7025, web www.moonrakerpacifica.com.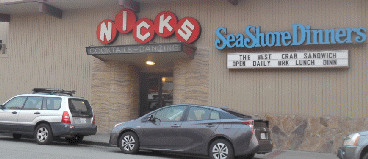 Across the street from the Lighthouse Hotel is a legend of the area, Nick's Seashore Restaurant. A Greek emigrant named Stalios Karagianis came to the coast and in 1927 opened a small eating place. With a hard to pronounce name, he changed the name to Charles Gust and this is the name the family still uses in operating the restaurant which has grown in size and stature through the decades.
We dined one evening at Nicks and we were not alone, the restaurant was packed. Fortunate for us our waiter was Tom Schlieve who has been with the restaurant 18 years and is something of a legend himself. The restaurant menu is huge and along with the mix of seafood and land entrees much Italian fare as well.
My dining partner and I both love calamari so we opened with a plate of it that we shared. Then what caught my eye was "Nick's famous grilled crab sandwich", I love dungeness crab and so ordered the sandwich which arrived topped with tomato on grilled Wedemeyer sourdough which we had open face. We never touched the bread but feasting on Nick's garlic bread which is a tradition along with the heaps and heaps of crab.
My dining partner spotted the Coquille St. Jacques. Here is an entree not often seen on today's menus and since she loves scallops ordered it. It cam e with mushrooms and all sauteed in a white wine hollandaise sauce.
The bar at Nick's often features live entertainment and dancing.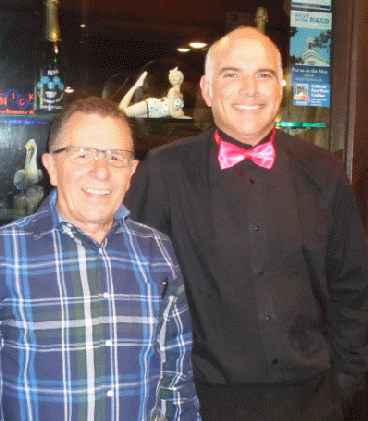 Nick's Seashore Restaurant is located at 100 Rockaway Beach, Pacifica with much free off street parking. Telephone 650 3900, web www.nicksrestaurant.net.
Back to Table of Contents..
Last Update:10/21/17
&copy 2017 Joe Hilbers All Rights Reserved.
Graphic Design by Impact Graphics