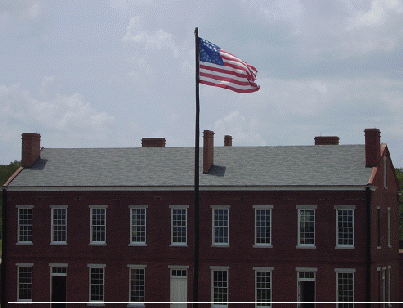 Fernandina, Florida--Our trip included a visit to Fort Clinch State Park
Our visit to Fort Clinch State Park at Fernandina, Florida, while relatively brief, was most rewarding. Greeted by Angelo at the gate we drove through lush vegetation till we reached the Fort itself. The Fort was actually built before the Civil War but was never completed. When hostilities began in 1862 Confederate infantry quickly took possession of Fort clinch but with advance of Union forces along the Atlantic Coast it was abandoned on orders of General Robert E. Lee.
When Union forces took control work went forward to building it as it appears today. Thanks to the CCC in the 1930's the Fort was renovated and today looks as it did in 1864. Actually no Civil War battle was ever fought here.
The State of Florida acquired the property in 1935 and created the Park as it exists today with a campground and a full schedule of events throughout the year. In touring the Fort today you are likely to meet a soldier in Union uniform since volunteers are there as 'living' historians. From its ramparts one has a fine view of Fernandina beaches and the cannon, still in place, make for great photo opportunities. Inside the barracks one sees how the soldiers were quartered.

Park hours are from 8 a.m. to sundown, Fort hours 9 a.m. to 5 p.m. There is an admission charge and gift shop at Fort headquarters. Fort clinch State Park is located at 2601 Atlantic Avenue, Fernandina and signs will lead you there. Call 904 277-7274 for more information.
Back to Table of Contents..
Last Update:

&copy 2012 Joe Hilbers All Rights Reserved.
Graphic Design by Impact Graphics