Downtown Napa offers a wealth of dining experiences with a wide variety of ethnic fare and ambiances that range from outdoor lunches overlooking the Napa River to established five star dining houses. We were already familiar with the UVA Trattoria and Bar from a previous visit and again was not disappointed with its classic Italian cuisine.. It has been a longtime favorite with the local populous.
We opened with Arancim fried pesto risotto balls in a spicy Marinara sauce, then a salad with locally produced goat cheese mixed with spinach, almonds and pear slices. Our wine here an Italian Kris Pinot Grigio. Our entree was a housemade gnocchi with pulled short ribs which brought raves from our group and was served with 2009 Russian River Mario Sangiovese. Dessert was Tiramisu that was just about the best in memory. UVA offers entertainment well and we thoroughly enjoyed the duo of James Todd at the piano and Ted Timper on bass as they played all our favorite old standards.
UVA Trattoria is located at 1040 Clinton Street in Napa. Telephone 707 255-6646. We rated it four stars.
We also visited Carpe Diem Wine Bar for some tasty small bites that are their specialty. Owner Steven Distler, a former New Yorker, explained the wines as we dived into tasties like Double duck pot stickers, Quack'n cheese, flat breads with roasted wild mushrooms or the Italian Stallion with prosciutto Calabrese style with some spice and Mediterranean with artichoke hearts. Also crispy breaded green olives with goat cheese. Our wines were a Blue Plate Chenin Blanc and Elizabeth Spencer 2008 Pinto Noir. Executive Chef is Scott Kendall. Carpe Diem Wine Bar is located at 1001 2nd Street in downtown Napa. Telephone 707 224-0800.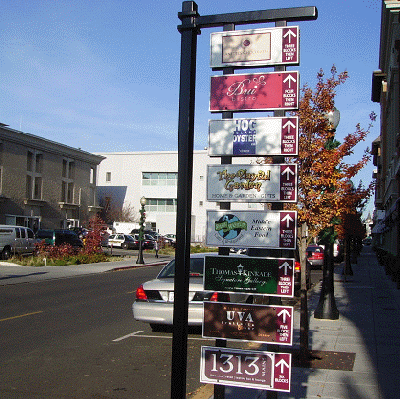 The creation of a new dining scene in downtown Napa has not gone unnoticed. In a newspaper poll rating all Bay Area restaurants by city Napa had twelve listed in the top category, more than any other city in the poll.
A must for foodies is the new Oxbow Public Market. Located across the bridge at Third Street, the center, now two years old, houses many small independent suppliers of food items with everything from fresh seafood to gourmet teas, coffee, bakery goods and much more. We immediately moved to the hog island Oyster Company counter. And in a very short time had a plate of freshly shucked Tomales Bay oysters before me. My dining partner ordered the most exciting clam chowder we have ever seen with the bowl crowded with clams still in the shell. Then it was a cupcake at Kara's counter and a cone at Three Twins ice cream.
One evening we visited the elegant Westin Verasa Hotel for appetizers and sparkling wine at their Bank Bar and Lounge. The appetizers were prepared by Executive Chef Ken Frank of the hotel's fine dining room, La Toque. We also viewed one of the rooms which are patterned like mini condo units. We would have liked to take the kitchen home with us but it would not fit in the car.
Restaurant Cuvee has been part of Napa's dining scene for some years but recently took a dramatic turn when acquired by Noble House Hotels and Resorts a national firm with outstanding properties in many parts of the country.
Cuvee is a large restaurant with an intimate bar and lounge as well as fireplace lit patio. There are two dining rooms, we ate in a dining area with unfinished wood walls and game trophies for a relaxing ambiance. Our dining opened with trays of antipasto and calamari. Then a personalized 'first tastes' which for this Writer was Carpaccio of golden Beet garnished with bacon and cheese. Other selections included creamy cauliflower bisque or seven hour pork belly. Entrees listed had some hearty items but we chose the Brown Butter Sea Scallops with sweet potato hash and scallion decorated with shoestring slice apple. The chicken and dumplings of a dining partner looked exciting as well as the giant sized Nimon Ranch Pork Shank. Every entree was liberally sided with fresh veggies and the Chef showed a remarkable inclusion of spice and natural flavors.
Restaurant Cuvee is located at 1650 Soscol Avenue in Napa, telephone 707 224-2330, web cuveenapa.com.
We knew instantly we would like Eiko's. It's nice to be greeted by a host dressed elegantly in fashionable suit and tie. This was Fellippe Esteves, general manager and barman extrodinaire. Eiko's features modern Japanese cuisine in an elegantly styled cocktail lounge and restaurant. It is another of the smart restaurants that have opened in downtown Napa in the last few years. For openers Fellippe rolled his table service cart before our group and built before our eyes a most unusual array of cocktails, some flamed, others smoked but all exciting to both sight and taste.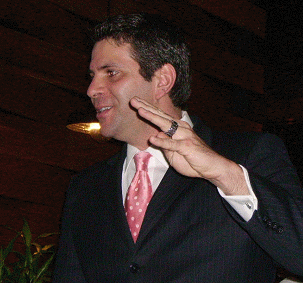 Then we settled down to enjoy some of the excellent Japanese fare opening with a bowl of country miso. This with green beans in their pods with sesame dipping sauce. Next came a plate of sushi including Albacore tuna, salmon, octopus and halibut. Then mounds of classic sushi rolls including California, Tekka Maki and avocado.
Upscale, modern and popular with young people Eiko's is located at 1385 Napa Town Center, corner of First Street and Franklin. Open for lunch and dinner five days, dinner Saturday and Sunday. Telephone 707 501-4444.
When you enter a restaurant where all but your reserved table is crowded with happy diners you know you have arrived at the right place. And so were we on arriving at Grace's Table. Located in downtown Napa Grace's Table is the creation of Chef Owner Mauro Pando. He calls his restaurant a global kitchen since the menu features flavors from many countries and places. Mauro is certainly qualified for this styled cuisine since he moved across three continents as a chef before opening Grace's Table four years ago to instant success.
For our group Mauro presented five interesting starters including grilled goat cheese in grape leaves, an iron skillet cornbread which is a house specialty, a Dungeness crab cake that made us look for ' seconds', a Alsace flatbread with proscuitto and chanterelles and roasted beets with avocado, blue cheese and lemon vinaigrette. Our salad with pear, candied walnuts, goat cheese and Frisee.
Fortunately we held back some on the above enticements for our entree of burgundy braised lamb shank ravoli and rack of lamb chop Gremolata with raised Kale and jus. Certainly this fare lived up to its billing as offering flavors from around the world. Besides the fine cuisine we admired the wait staff who proved to be true professionals in what was a completely full restaurant with every table occupied.
Grace's Table is located at 1400 Second Street in downtown Nap and open for lunch and dinner seven days a week. Reservations are often necessary so call l 707 226-6200.
Demonstrating the success of the new downtown image of the City of Napa is that all the restaurants we visited and much else was within walking distance of our lodging. In fact we never moved our car from first arriving and until leaving Napa.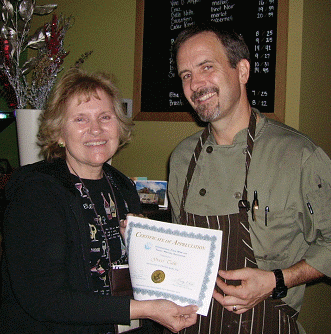 True our lodging at Napa River Inn enjoys a perfect setting for a visit to downtown Napa being located at the foot of Main Street in Historic Napa Mill adjacent to the River. It is also a perfect example of the transformation that has taken place in the downtown area. Originally a red brick mill that dates back to 1884 it is now officially listed on the country's roster of national historic places.
The Inn now includes three buildings with a total of 66 guest rooms many of them with views of the Napa River and the Riverbend Performance Plaza and Promenade river walk. The rooms all reflect the elegance of the 1800s, most appropriately since the original building is now the oldest in downtown Napa.
Adjacent to the Inn is Sweetie Pies which serves excellent fare for breakfast and lunch. Breakfast sent to your room at the Inn is available from Sweetie Pies but we preferred to check out all the pastries and goodies in person each morning during our stay. These included a selection of breakfast pastries, fresh baked breads and hot and cold drinks.
Downtown Joe's, where we had breakfast one morning with Mayor Jill Techel, also represents some of Napa's early history. From 1870 to 1920 and Prohibition it was the site of the Napa City Brewing Company which produced beer all of those years. Now Downtown Joe's, besides being a landmark restaurant, is again a brewery and we had the opportunity of meeting Brewmaster Colin Kaminfki. Currently Colin is making ten handcrafted ales as well as British styled Porter and Irish styled Stout. The menu features a large selection of pub faire favorites.
Downtown Joe's Brewery is located at 902 Main Street. Call 707 258-2337 for special events which include live music and comedy nights.
Back to Table of Contents..
Last Update:5/15/12
&copy 2012 Joe Hilbers All Rights Reserved.
Graphic Design by Impact Graphics