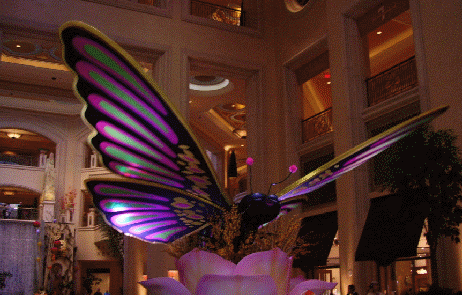 "Las Vegas--The Venetian/Palazzo proved a most interesting work place in Sin City"
by The Editor
Here I was back in Las Vegas and staying at the luxurious Venetian /Palazzo Hotel. My Palazzo mini suite offered all one could ask for. Well, maybe more that I wanted since the suite included a desk and on that desk my laptop. This proved to be a constant reminder that I was not here on vacation but on assignment. The event was the annual conference of the International Food, Wine & Travel Writers. This included two solidly filled days of seminars, lectures and chef demonstrations.
OK. So it did include a few goodies like the Blue Man Group show, dine arounds at some of Venetian/Palazzo's finest showplace restaurants but back at my room that laptop kept beckoning to me. Yes, I had been in Las Vegas many times on assignment as a reporter in the distant past covering conventions but that was way back in the days when an uncrowded group of hotels stretched along a street called The Strip.
This was a different Vegas, really, really big and just seeing all that is available at the Venetian/Palazzo would take days and heaven knows how many gigabytes of type to put on my laptop.
On registering I was given a Welcome Map and \I thought this would be a real help, ha. The Casino level listed 26 restaurants and lounges, also 19 shops. Second level (now it really gets tough) 32 restaurants-lounges and 96, that is ninety six shops. Then add a perfect labyrinth of meetings rooms, each seemingly larger than the last. Now perhaps you see the dilemma of the Writer who is suppose to report on what is available and to participate in as much as possible. All this at Venetian/Palazzo which is plush, first rate and five star. The restaurants with chefs of national fame, the shops covering everything form Harley-Davidson to Billionaire Italian Couture.
I gave up, made a nasty face to my laptop and found a bar, not at all difficult at the Venetian/Palazzo.
Our culinary experiences at Venetian/Palazzo included a dine around one evening that took us to three showplace restaurants all operated by famed Chef Emeril Lagasse. We started at Lagasse Stadium which is just about the ultimate sports bar. Truly a dream place for the fan. TV screens just about wall to wall, comfy swivel chairs for viewing while imbiding, also boxes with true stadium style seating. Looking around we thought we should have been wearing our sweat shirt and pants here.
Chef De Cuisine Scott Pajak had prepared some exciting appetizers and starters for our group of Writers. We had to hold back on the huge BBQed prawns and ahi tuna slices which Scott prepares with his own recipe. There were also large sized crab cakes and buffalo wings prepared two ways. We had to keep in mind that this was just the first stop. Next up was Delmonico Steakhouse at the Venetian. Greeting us was Michael Olsen, general manager. Once seated in the ornate dining place Chef de Cuisine Ronnie Rainwater took over. Ronnie is from southern California and looks like he played line backer for USC.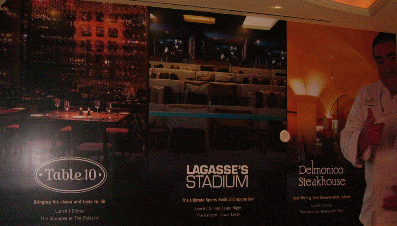 Our entree was Delmonico's tournedo of tenderloin. When this arrived our table became suddenly very quiet. Now it was Kevin Vogt, master Sommelier's turn as he poured Roy's Napa blend of Cabernet Sauvignon - Merlot as our wine, one of 2600 listings on the wine list. Reportedly Delmonico has the largest wine list in town. We found time to chat with Tuan Tran, assistant manager who gave us some idea of the scope of the restaurant with seating for up to 300, with 250 being average most evenings. Delmonico is open seven days a week.
Once again it was time to move on and so we arrived at Table 10, another restaurant established by Emeril Lagasse. Table 10 stresses the new American cuisine with regional produce and products harvested at their peak, something that has been a linchpin in Emeril's concepts and recipes. Decor at table 10 hints at the New Orleans background of Chef Emeril and in fact is named for a tradition he established with his staff there. They would regularly meet to discuss new ideas and culinary concepts at table 10.
Greeting us at Table 10 was Sean Roe, who is culinary director for Emeril's Homebase in Las Vegas. This evening his pastry chef presented us with a dessert that was a sampling of what to expect at Table 10. There were white chocolate puffs, chocolate cake, a creme tart and a lemon-blueberry creation just added to the dessert menu. Sean added that Emeril Lagasse had been in Las Vegas the previous weekend for meetings with the staff.
Always thinking Italian this Writer had to seek out Lavo, one of the hottest newcomers to the strip. Located adjacent to the lobby of the Palazzo Lavo opened to such success that a second Lavo is now in N.Y. thus reversing the usual trend of restaurants moving west from New York to Las Vegas.
An impassioned Massimiliano Campanari is Executive Chef and inspiration for Lavo. The cuisine is classic Northern Italian. Some of this restaurant's fame rests with the meat ball and of course we had to try this creation which the chef credits his grandmother for the recipe. Massimiliano's meatball is the size of a softball made mostly with veal. It arrives in its own iron pan with a topping of two cheeses and rests in a classic tomato sauce. How popular is this meatball at Lavo? Well the staff prepare 100 freshly made each and every day.
Looking over Lavo's menu we noted the absence of Oso Buco, on of our favorites, and asked a restaurant associate about its absence. He loftily explained that Oso Buco was southern Italian. This did not rest too well with this Writer raised on the Sicilian fare of his Grandmother and Mother.
One day on my own I visited the Grand Lux Cafe at the Palazzo showing no identity as a Writer. I wanted to measure it as the general customers do. And I am happy to say I was impressed with the friendly style and courtesy of the staff starting with the hostess who asked whether I wanted a table or to sit at the bar. I chose the bar since this is an advantageous position for watching the staff at work and how the flow of service moves.
The same courtesy was present with the bartender who handed me the menu and the waitress who brought my order. My conclusion was that all is well with Palazzo dining. I enjoyed the huge extent of what the Venetian/Palazzo has to offer, both those who arrive either for business or pleasure. The facilities available for our relatively small group of writers, all members of the IFW & TWA were above reproach. We were awed on how well other truly massive business conferences being held were taken care of by a staff who approached it as just another day at work.
Besides the amenities, countless in number, we were most impressed with the courtesy of the entire staff and at every level. There was a general atmosphere by the staff of wanting to please. If asking directions, often a necessity with so big a place, the staff member would not just point out the direction but often personally lead you. It doesn't get much better than that.
Back to Table of Contents..
Last Update:5/15/12
&copy 2012 Joe Hilbers All Rights Reserved.
Graphic Design by Impact Graphics